Trevor Stone – Teaching, Learning, and Performing Art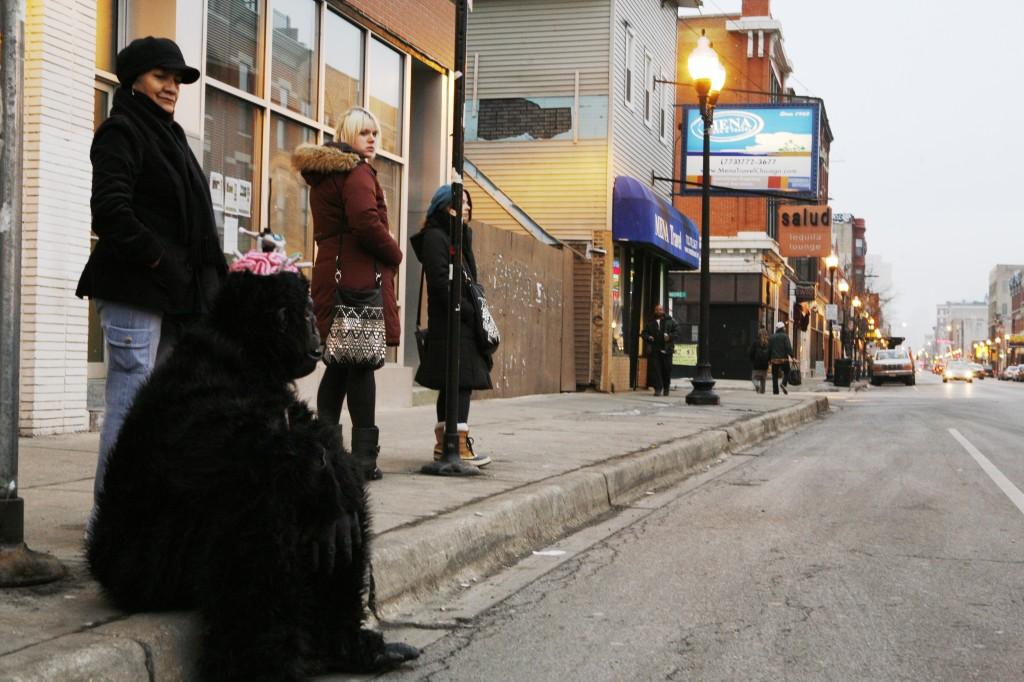 Jonas Gearhart-Hall
February 1, 2011
Trevor Stone, Visual Arts Coordinator at the Neutral Zone, has been working with the NZ for around six years to help teens create art. Walking into the NZ one of the first people you will meet is Trevor. He pulls people in and shows them around NZ. If you're a teen artist then you are welcomed to  just stop in and work on art. Trevor will give you ideas or just talk to you about life.
Trevor, along with Natalie Berriz and Sarms Jabra, runs the art programs at the NZ. Some of the programs offered by the NZ include screen printing, digital photography, re-form (sewing and sculpture creating), and the Visual Art Council (VAC).
Outside of the NZ, Trevor keeps in touch with his art life by doing interactive performance art. "Mostly its interactive performance. I like to do a lot of collaborative work," Trevor said. Trevor works a lot with Natalie and Chris Sandon, a friend of both Trevor and Natalie,  to create interactive performances that pull people in and  make them part of the performance.
They have a monthly gig at the Museum of Contemporary Art in Chicago. It's the first Friday of every month. They do interactive performances with people visiting the museum. Their upcoming performance in February is a giant head or mask with braces. Its going to be like the game operation, except that you have to pull candy out of the braces. If you hit the braces, it buzzes.
In addition to performing at museums, they take their props, costumes and acts to local neighborhoods and restaurants. Bars and restaurants in downtown Ann Arbor and Ypsilanti know them and just let them in. Trevor said that he believes the restaurant managers think "Oh these kids are back and they do weird stuff… ok fine." Trevor added that "They know that people will chuckle and have a good time with us, so they just let us in. So we do dances and engage the public and play games."
Trevor regards a giant sculpture of a cat as his favorite piece. "I think that the 12 foot long, 9 foot tall cat was one of my favorites just because of the size of it and because it was gross. We could entertain a crowd," Trevor said.
Another favorite interactive performance that they did was dress up in primate costumes and give the audience complete control over their actions. This way, they could have more personal one-on-one interactions. "Whatever the crowd would say, like 'Primate one do this', the person in the suit would have to improv and do that action," Trevor said.
"Those were probably the two funnest ones," Trevor said.
Trevor was inspired by a performance artist named Guillermo Gomez Pena. "He had some interesting psychological performance art situations. He would have a line of students go to one  side of the room and form a chain of all the students holding hands about 2 feet off the wall.  Then he would send someone to the other side of the room and he would say "run full speed like you are going to run right through that wall and trust that people will stop you and catch you. And no one could do it,"Trevor said. Guillermo just ran at full speed at the wall and trusted the students to hold him – and they did.
When Trevor was younger he went to a couple of art high schools where teachers took him seriously and completely supported and believed in him. Trevor says that one of his inspirations was "meeting other teens that were absolutely dead serious about doing art." That inspired him to get really serious about art too.
Trevor hopes that he is able to pass on some of that support to teens who are serious about being artists, and give them opportunities. "You can do this, you don't have to wait to be an artist, you can do this now," said Trevor.