Dirty Advertising: Why You've Never Watched a Man Clean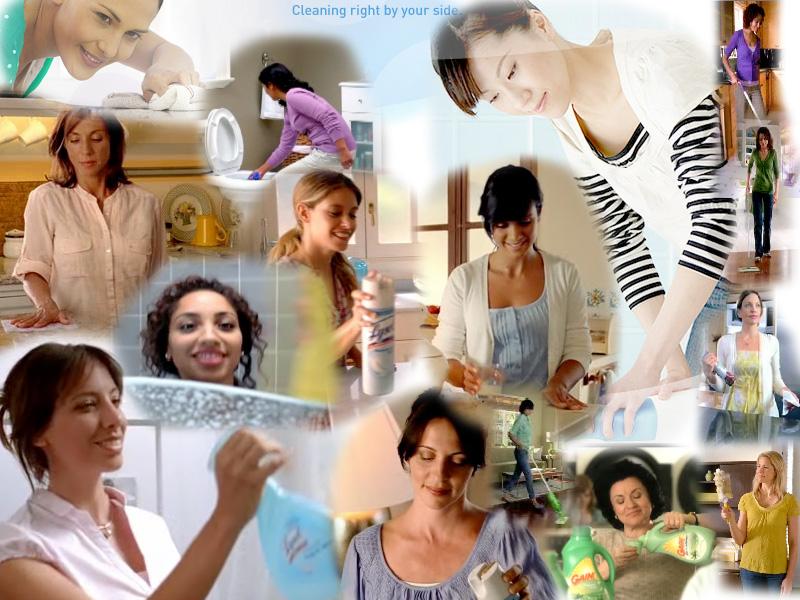 Anne Wyszewianski
March 18, 2011
The advertisement begins with a messy counter, a stained shirt, a dirty toilet, or a spill on the floor. Then, no matter what, one thing happens: a woman comes and cleans it up. It's not always a young woman, or a thin woman, or a white woman. But it's always a woman.
I have spent hours watching commercials, searching for them, downloading them. I have seen so many advertisements now that I can practically recite standard lines and brand names. I set out on this odd mission with one goal: to find a commercial that showed a man cleaning.
While almost all recent cleaning commercials feature women of various ages, body types, races, and ethnicities, they never seem to show a male person cleaning. Men are shown occasionally, but almost always as the ones who created the mess. Often, in fact, a man will spill something, and his wife astutely grabs her cleaning supplies and remedies the situation. The man, portrayed as inept and helpless, smiles as his wife does her duty. He shows that cleaning is for women, and women only.
After viewing dozens and dozens of videos–and feeling increasingly hopeless–I was able to find one commercial that depicted a male individual cleaning. It was an ad for Viva paper towels, and it showed an older man and his wife trying to clean up after their very dirty adult son, Mike Rowe of Dirty Jobs. The camera pans down, and the viewer, likely without realizing it, witnesses something incredibly rare: the elderly father wipes the paper towel across the doormat. It is a brief, one-second shot, but it gave me hope. At least one brand had broken the gender barrier.
The commercials clearly see value in showing racial diversity; they almost uniformly include white, black, Asian, Hispanic, and racially ambiguous characters. While none of the couples are interracial, at least many of the friend groups portrayed are diverse. So the question arises: Why, if they make such a concerted effort to include ethnic minorities, do companies continue to discriminate based on gender?
It's not like men do no housework whatsoever. In fact, according to a 2009 U.S. Bureau of Labor Statistics study, while women do spend about 2.3 hours a day on household activities, American men contribute an additional 1.4 hours on average. Women of the 21st century are not the housewives of the 1950s; they are now accepted into the most prestigious universities, hold important positions, and every year the gap between genders slowly closes. Undaunted by this progress, on their official websites, Bounty, Tide, Clorox, Dawn, Scrubbing Bubbles, Cuddle, Glade, Scott, Lysol, Snuggle, and Swiffer all advertise their products as if they were tampons, completely for-women-only: there are flowers and small children everywhere, and stock photos of smiling white, Asian, and black women adorn the pages. It is an unwelcoming environment for men, and actively promotes women as the intended users of their products. They almost all declare, "Moms choose [this product]." Not a single site claims that Dads choose their product.
The message is most disturbing when put into the context of young American girls and boys, who on average spend around 28 hours each week watching television, according to A.C. Nielsen Co. As they watch woman after woman cleaning, smiling, cleaning, smiling, they may begin to believe that the fake-reality is true, that women must clean, and men are usually clumsy and lazy. This degrades young girls and boys alike, ostracizing girls who dislike cleaning and boys who enjoy it.
There is absolutely nothing wrong with a man cleaning. There is nothing strange, disturbing, or odd about a man happily wiping up a spill. But thanks to the advertising industry, Americans may be slowed down in their progress towards gender equality, as long as women feel obligated to clean and men feel out of place doing housework. Men can't be blamed for their misgivings; in all of their hours spent watching television, they have probably never seen a man cleaning up.