Madness in March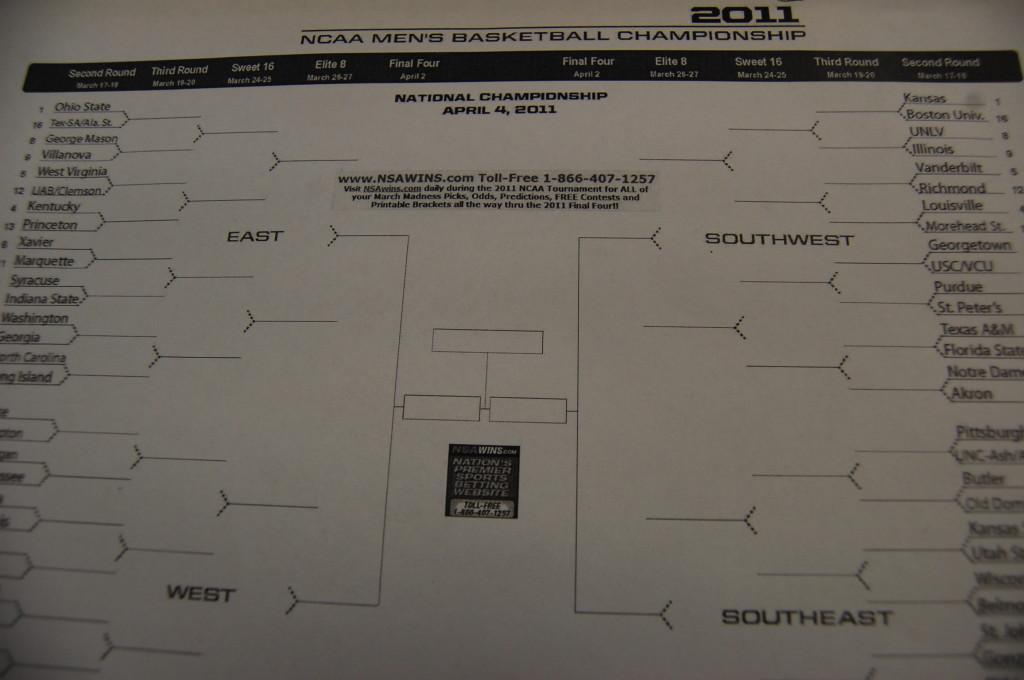 Jesse Buchsbaum
March 17, 2011
An Inside Look at the 2011 NCAA Tournament.
Let the madness begin. It's that time of year again, and March brings a new and improved bracket, with 68 teams competing for a championship.
Selection Sunday was March 13, and the committee made some surprising decisions in deciding who would participate in the tournament and in seeding. Leading the discussions were the notable teams not to be given a tournament berth.
Colorado was a team that most considered a lock for the field of 68 teams, after winning 21 games in the formidable Big 12. The Buffaloes had four wins over teams in the top 25, including two victories over teams ranked in the top ten. University of Alabama at Birmingham, for the sake of comparison, won 22 games in the weak Conference USA, and played just one game against a ranked team, which they lost by 21 points. Virginia Commonwealth has a similar resumé, with 23 wins in the Colonial Athletic Association and just one win over a ranked opponent – then #25 George Mason. And yet, both VCU and UAB made the tournament, while Colorado was snubbed.
Other notable teams excluded from the big dance despite strong seasons included Virginia Tech, Alabama, and St. Mary's. Each of these teams had a legitimate argument to make the field of 68, but none made the selection committee's list.
Chair of the selection committee Gene Smith, who also happens to be the athletic director for top overall seed Ohio State, said that Colorado just had not done enough to make it into the field. "When you pull up [VCU and UAB's] resumé, and compare them against everyone else, look at how well a job they did in the regular season, they deserve to be in, said Smith in an interview with ESPN. "When you look from the beginning of [Colorado's] schedule to the end… and compare them to everyone else, they just didn't get enough votes to get in." Apparently, Colorado's wins over top 25 teams throughout the season counted for very little.
Moving forward to teams that made the field of 68, here is a breakdown of each region.
East:
Ohio State is the top overall seed in the tournament, and tops the East region. Other notable teams in the region include two-seed North Carolina, three-seed Syracuse, four-seed Kentucky, and seven-seed Washington.
Upset Watch:
Xavier has not played difficult competition this year, and I look for this to catch up to them against a very solid Marquette team. Marquette has picked up quality wins over Notre Dame and Connecticut this year, and this experience in close games against good teams will give them the edge.
Cinderella Pick:
Washington, the seven-seed, has the potential to make a deep run into the tournament. With a dynamic scorer in Isaiah Thomas Jr, the Huskies could find themselves in a close game with North Carolina in the second round.
Pick:
When it comes down to it, the Big East is the best conference in the NCAA and this will show itself in the end. Syracuse will come out on top of the East region, simply because they are used to playing good teams over and over, with their strenuous conference schedule. As well, their zone defense will prevent fatigue from being a factor. Scoop Jardine is one of the best players in basketball, and he will finally play like it on the biggest stage.
West:
In this region, there is very little disparity between the top four seeds. Duke was seeded at the top of this region, while San Diego St. is the two-seed, Connecticut is the three-seed, and Texas was seeded fourth. Each of these teams has a legitimate shot at the region.
Upset Watch:
Again, the 6 vs. 11 game is the one that I'm watching for an upset. Missouri and Cincinnati will face off on Thursday, March 17. Cincinnati, the six-seed, is used to playing faster than its opponent, but Missouri likes to play even faster. The speed will prove to be too much for the Bearcats, and Missouri will win in an upset.
Cinderella Pick:
This region has four clear-cut favorites, but if there was a team beyond those four that could make a run, it would be Oakland. Oakland was put on the national radar after beating Tennessee and coming within one point of Michigan State. They have the personnel to play with almost anyone in the country, although they drew a tough first round match-up with Texas.
Pick:
Again, the Big East will be triumphant in this region. Connecticut was the Big East champion this year behind the shooting of Kemba Walker. They will continue to ride his hot streak into the tournament and will come out of the West region on top.
Southwest:
This region features two very good teams and two overrated teams as the top four seeds. Kansas is undoubtedly one of the best teams in the country and Notre Dame has proven that it can play with the best in the country. Purdue and Louisville, however, have both hit cold streaks recently and look to turn things around in the tournament.
Upset Watch:
In the 7  vs. 10 matchup, Texas A&M takes on Florida State. Florida State's Chris Singleton looks to return for this game, and the game hinges on whether or not he is able to play. If he can, the Seminoles' defense will be too much for A&M.
Cinderella Pick:
The Richmond Spiders were seeded much lower than they should have been, after going 27-7 this season and easily winning the Atlantic 10. They have picked up marquee wins over Purdue and Temple this year and I look for them to make a run into the Sweet Sixteen despite their 12-seed.
Pick:
Kansas is a great team this year, behind the rebounding and defense of the Morris twins. The dynamic duo are two of the best big men in the country, and make up the front line of a formidable lineup for the Jayhawks. There is no team in the region that will be able to contain Kansas' offense, and I look for Kansas to advance easily.
Southeast:
The easiest region of the four is the Southeast, with Pittsburgh as the one seed. Florida, a team that I think is hugely overrated is the two-seed despite losing in the SEC finals to Kentucky. BYU is the three-seed, but is missing Brandon Davies after a violation of the school's honor code. Wisconsin, the four-seed, is a good team, but doesn't have the talent to make a deep run.
Upset Watch:
Kansas State, the 5-seed should be on alert against Utah State. The Aggies are 30-3 this season, so they know how to win. Kansas State, meanwhile, has had trouble this year with playing defense, while Utah State, in contrast, plays stifling defense for all 40 minutes. While the Aggies aren't particularly athletic, if Kansas State goes cold from the perimeter, Utah State will be able to easily pull off an upset.
Cinderella Pick:
St. John's has been playing well all season and has been beating good teams, especially in the last two months. They have beaten two one-seeds in Duke and Pittsburgh, as well as Notre Dame, a two-seed. They know how to win against good teams and can make a deep run, provided that they avoid an early let-down in the tournament.
Pick:
In this weak region, I don't see anyone but Pittsburgh even having a chance at coming out of this bracket. Pittsburgh has too much experience and talent to be challenged early in tournament play.