University of Michigan Musical Theatre Department puts on "The Full Monty" at the Lydia Mendelssohn Theater
The University of Michigan Musical Theatre Department never disappoints its audiences.  Their fall musical "The Full Monty" is no exception. "The Full Monty" is a stage adaption of the 1997 motion picture. The musical follows a man who has been unemployed for six months, Jerry, played by Joe Carroll. Trying to find work so he can pay child support for his son Nathan (Milo Tucker-Meyer), Jerry and five of his unemployed friends decide to put on a strip show showcasing real men. Jerry realizes that in order to sell tickets, the show must offer something different from other strip shows. So the men promise to reveal everything (i.e the full monty).
The show is high energy, high fun and is one of the funniest pieces of musical theater one will ever see. Alex Finke's "Life with Harold" got the biggest laugh of the night.
The most poignant and beautiful moment of the show is the duet "You Walk With Me" sung by Colin Hartman and Sam Lips.
The main actors Colin Hartman, Joe Carroll, Ted Stevenson, Danny Romeo, Sam Lip, and Danny Wilfred, have an unbelievable chemistry. The only other place you can find harmonies like their's is on Broadway.
"I thought the show was absolutely amazing! You can always count on UofM musical theatre putting on great shows, but this was so great. It's a funny show with catchy songs and the actors are all amazing," said CHS junior Hank Miller who saw the show Saturday night.
It's not too late to see "The Full Monty," shows continue this weekend at the Lydia Mendelssohn Theater: Thursday, Oct. 20, 2011 at 7:30 PM, Friday, Oct. 21, 2011 at 8:00 PM, Saturday, Oct. 22, 2011 at 8:00 PM Sunday, Oct. 23, 2011 at 2:00 PM. Tickets are available  at  http://www.music.umich.edu/performances_events/productions/2011-12/fullmonty.htm or at the UMS box office.
About the Contributor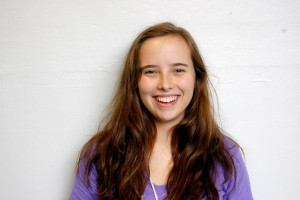 Kate Summers, Co Editor-in-Chief
Kate Summers has loved being a part of The Communicator for the past two years. She has interviewed a wide range of people from Bishop Gene Robinson, about his advice to teenagers, to CHS science teacher Courtney Kiley about her style. When not working on The Communicator she can be found stage managing shows at Pioneer Theatre Guild, baking and doing yoga. She was honored to receive second place for Multi-Media News Story of the Year from the National Student Press Association.