Jordyn Wieber, a 16-Year-Old Gymnast from Michigan, Becomes World Champion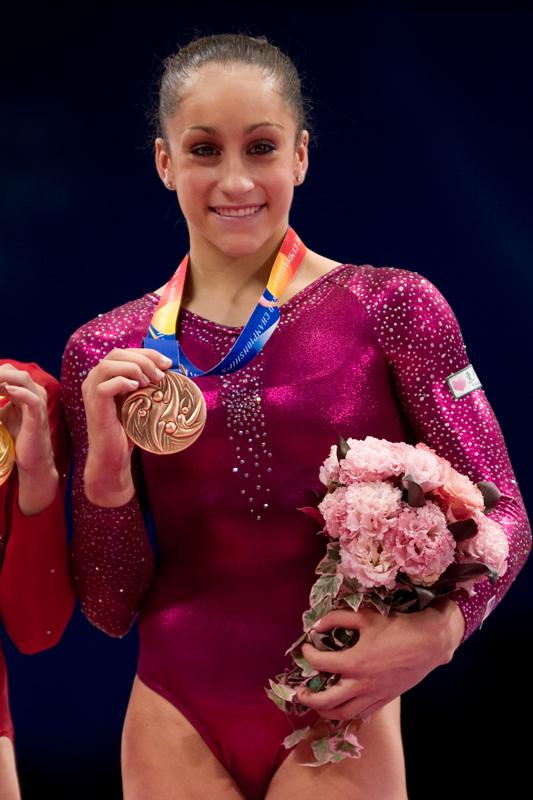 Michelle Wander
November 14, 2011
In 1991, Kim Zmeskal was the first female U.S gymnast to win the all-around competition at the world championships. Since then, gymnastics legends Shannon Miller won in 1993 and again in 1994, Chellsie Memmel in 2005, Shawn Johnson in 2007, and Bridget Sloan in 2009.
On Oct. 13, 2011, Jordyn Wieber, a 16-year-old gymnast from Michigan, won the gold medal in the all-around competition during the 2011 World Championships. Wieber also competed all four events during the team final, which contributed largely to team USA's win.
Even though this was Wieber's first world championship, it was not her first time competing against the best in the world. In 2009, she competed as a 13-year-old junior in the American Cup, and beat Bridget Sloan, who won the world championships later that year. Earlier this year, Wieber bested the 2010 world champion Aliya Mustafina at the American Cup. Wieber's success there made her a favorite to win.
"I came into world championships as the national champion, so that was a little bit of added pressure, but I try not to think about that too much. I really just try to put all that stuff out of my mind, and just do the routines I know how to do, and I don't really think about the pressure too much," Wieber said.
The iconic "perfect 10" is no longer the scoring system in elite gymnastics. Instead, two separate panels of judges evaluate each routine, and come up with two scores which are added together.
Each skill has a number value; the harder skills are worth more points than easier ones. The first panel of judges is responsible for adding all of the skills in the routine together. This is called the difficulty score. The other panel is responsible for the gymnast's execution score. If a gymnast makes a mistake, points will be taken off the original score of 10. At the end of the routine, the two panels of judges add the two scores up together for a final score, taking into account neutral deductions, such as going out of bounds or exceeding the time limit. If a gymnast does a routine perfectly, the score will be the difficulty score plus 10.0 for the execution. For example, Wieber's vault, a 2 ½ twisting Yurchenko, has a difficulty score of 6.5. If she had performed the vault perfectly, she would have received a 16.500.
During the all-around competition, Wieber started on vault, along with Viktoria Komova, a strong all-around contender from Russia. Wieber took the lead in the first rotation with a huge score of 15.716, but a mistake on the uneven bars caused her to slip back into second place to Komova, who scored a 15.400 on bars.
On the third rotation, balance beam, Wieber scored a very solid 15.266. Komova, however, earned a high enough score to maintain her lead.
"On bars, I had a little mistake, but I really feel like I came back stronger on beam and floor," Wieber said. "I hit one of the best routines I've ever done."
On floor, Wieber was second to last in the lineup, and Komova was last. After Wieber's routine of 14.800, Komova knew that she needed a score of 14.366 to win. After she finished her floor routine, the results of the competition were out of Wieber's hands. "At that point, I didn't know. I could have won; I could have been second. I just had to wait," Wieber said. Komova scored 14.333, just 33 hundredths of a point away from gold.
Wieber was successful not only in the all-around competition, but in the team competition as well. She was joined by Aly Raisman, McKayla Maroney, Sabrina Vega, Anna Li, Gabrielle Douglas, and Alicia Sacramone. Sacramone competed in the 2008 Olympics and has more international experience than the other girls on the team. They depended on her for more than just her world-class gymnastics, but for her leadership as well.
During one of the practice sessions before prelims, Sacramone tore her Achilles and was unable to compete.
"We were pretty upset about it, but she gave us a little bit of advice. She just told us that we needed to go out there and do the routines we had been practicing because we were really prepared for it," Wieber said, and continued to say, "We really just wanted to go out there and do it for Alicia."
Wieber entered competitive gymnastics when she was four years old because her parents noticed her keen balance and strength. She has been at Twistars for her whole career, and trains with John Geddert, the owner of Twistars. For an elite gymnast, workout is a huge time commitment. She does half of her schooling at home to make up for her two-a-day training sessions.
Beam and vault have always been the easiest events for Wieber. At the event finals at the world championships, she finished third on beam, fourth on bars, and sixth on floor. Aly Raisman finished fourth on beam and third on floor. McKayla Maroney won the vault final.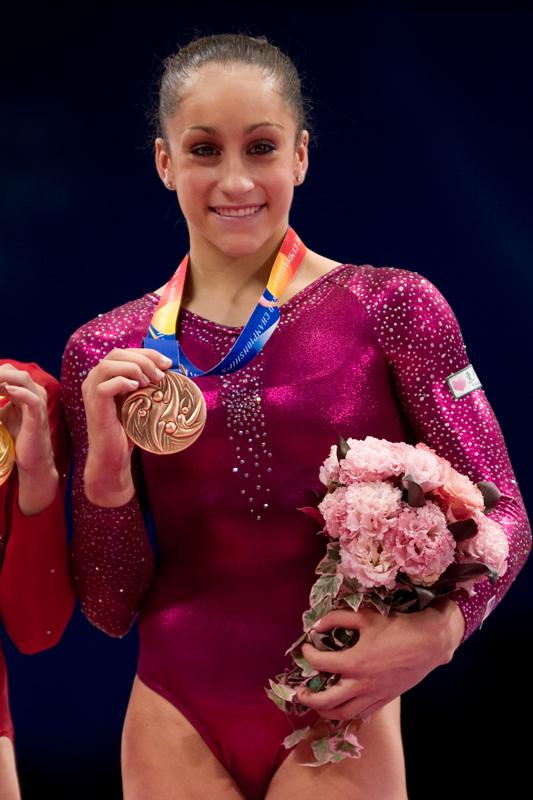 Wieber had been training all year leading up to worlds, but only took a few days off of training after it was over. She said, "To win nationals and then worlds were two huge goals of mine. They're just kind of stepping stones leading up to my main goal, the 2012 Olympics."
Photos courtesy of Twistars USA Gymnastics Club.