A Review of CET's "As You Like It"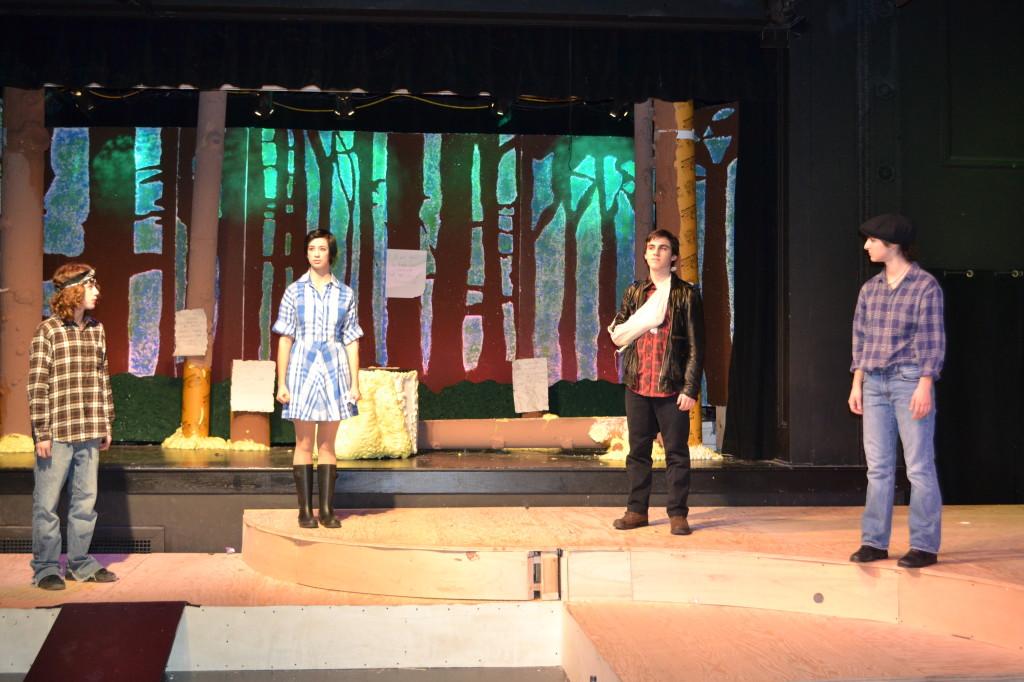 James Mackin
November 30, 2011
"As You Like It" was originally written by William Shakespeare and first performed in 1603 in the Wilton House. This time around, it was performed by our very own Community High students in CET (Community Ensemble Theater) and directed by Quinn Strassel. The play comes to life with a breathtaking scene of Duchess Senior's (Jessica Shapio) castle being taken over by Duchess Frederika (Alexandra Cubero-Matos). Duchess Senior and her people were then banished into The Forest of Arden.
Orlando (Ari Litman-Weinberg) is then introduced complaining about how he doesn't want to be told what to do. He gets into a argument with Oliver (Louis Hochster), his older brother, and says he will wrestle Charles the Wrestler (Tod Tharp). Rosalind (Becca Amidei) and Celia (Sofia Kromis) are introduced as cousins and they do a lovely job portraying that they have been life long friends. It is clear early that the court jester, Touchstone (Jack Kausch), is one of the most interesting and best actors on the stage.
The best part of the play is the wrestling match between Orlando and Charles. The crew is quickly able to set up the scene; showing off their hours of practice. This is when Rosalind and Orlando meet for the first time and fall gravely in love with each other. But besides that, Tod Tharp and Erez Levin (Announcer) do a great job bringing the real feel of a wrestling match to the stage. The same night of the wrestling match, Rosalind is banished to the Forest of Arden Touchstone and Celia both follow her. Thinking it will be unsafe there Rosalind pretends to be a man. At the same time of all of this Orlando is told that he will be killed if he stays so he leaves to go to the Forest also.
The Forest of Arden was made by the crew and looked beautiful. Duchess Senior and her people live happily in the forest and entertained the audience with live music. In the forest Orlando and Rosalind meet but a slight problem stands before them. Orlando doesn't know that it is her because she is dressed up as a man. Eventually all the problems are solved the day several marriages are set to take place.
It all ends happily. Everyone begins to sing and the setup of the wedding is gorgeous with overhanging lights and the forest in the background. They bow and it ends.
Overall "As You Like It" was a fabulous play. The cast was amazing, the production crew allowed it to flow smoothly and the band gave just the right tunes to make the play a masterpiece.
Photos by Sari Greifer