Tracy's Trees in CET's "As You Like It"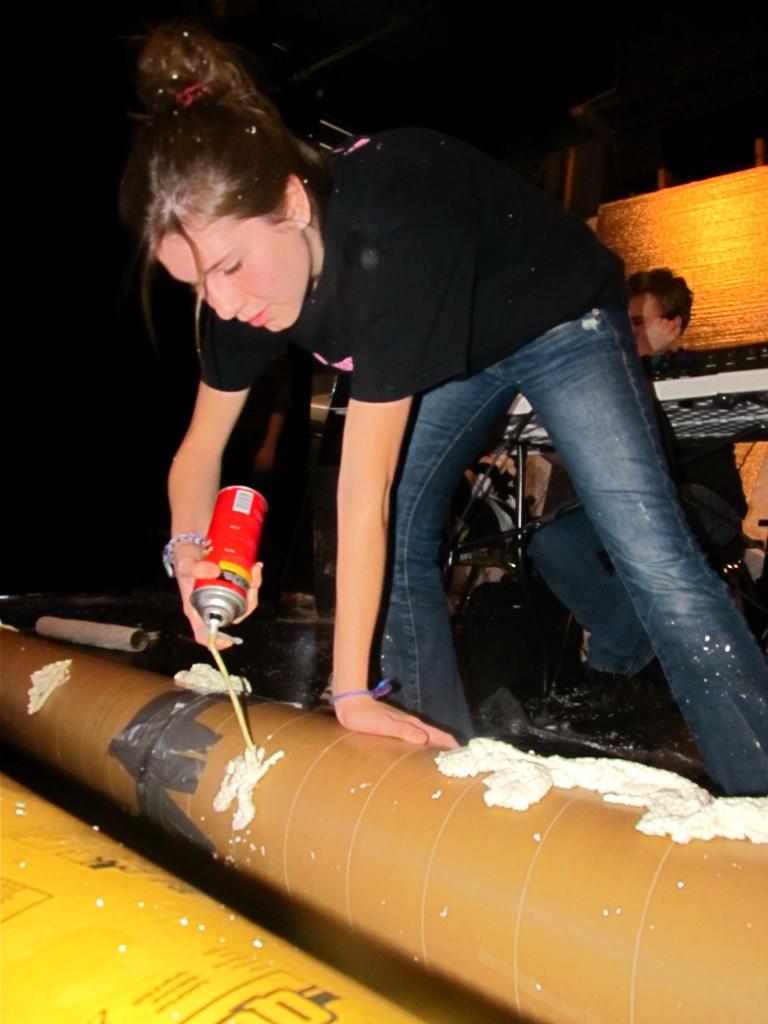 Helen Januszewski
December 14, 2011
Community Ensemble Theatre's (CET) recent production of "As You Like It", directed by Quinn Strassel, saw an incredible amount of work on and offstage. The set in particular was an impressive achievement, comprised of pieces on the regular proscenium stage above the audience, and a large wooden stage on the theatre floor.
This platform, featuring a moving piece and two ramps, gave actors multiple levels on which to perform. Starting off square, geometric and technical, this flexible acting space experienced a dramatic shift when the plot led into the Forest of Arden. For a more organic feel, a corner of the wooden stage swung off from the main square and onto an adjacent platform, creating an "S" shaped curve.
Essential to this change were the trees standing as tall as the proscenium itself, and the large trunks againstthe theatre windows. CHS sophomore Tracy Scherdt was the head of the scenery set design crew, whose job was primarily to create the trees for "As You Like It's" dynamic forest.
Scherdt was brand new to CET when she joined for "As You Like It". "I wanted to be involved in something that I hadn't really been involved in before, and CET was a very new thing for me," she said. "I also knewthat CET was a very different environment from my middle school theatre. Much more structured, but also just [a] very different group of kids and dynamic."
At first, Scherdt was put off by the close friendships within CET. "I was excited to meet new people, but that also kinda made me nervous, cause that was a specific crowd of people that I had never really interacted with, or even knew that well. So that was kind of nerve wracking,to be thrown into a dynamic where everyone knew each other and everybody had done another show," Scherdt said. "Everybody brought back jokes from Romeo and Juliet, and Little Shop of Horrors was brought up…everyone knew the words to the songs, and I didn't have the same experiences. I didn't have the same connections."
Despite these obstacles, Scherdt found that there is always room for one more in CET.  "One of the things that I learned coming in as being a new person, [was] it was easy to find somebody there, [people] kind of helped me along the way. I made a lot of friends, and I think that it's a worthwhile experience because you really make something with a group of other kids who you normally maybe wouldn't hang out with," said Scherdt.
At first, Scherdt imagined her involvement in the program would be "a kind of subordinate position, because I was new to CET and crew heads were already established," she said. However, her experience quickly changed when the scenery set design crew split from the set crew and she was made a crew head, something unusual for a brand-new member. "I came and I brought ideas," she said,  "And they put me in charge of [scenery crew], and that was really interesting because I didn't expect that at all, so I kind of ended up in a leadership role anyways, and had to take on more responsibility than I expected, but it was fun and it was worth it." Also on the tree-making crew was assistant crew heads Bri Vago and Briana O'Neal, who were involved in both the acting and technical sides of the show.
Thrown into a crew head role, Scherdt sometimes found it tricky to balance everything. " I think [the most difficult part] was finding time to put in the effort that it deserved," said Scherdt. "Finding time in my schedule to come in on extra days and … during school, especially during tech week … was really difficult to juggle school work and tech work, because both deserved a   lot of attention," she said.
Scherdt's stress peaked when tech week rolled around, as she struggled to complete her schoolwork, scenery work, and learn the ropes on the running crew. The trees, a major part of the set, experienced many problems throughout the construction process. Scherdt and her crew were eventually able to work out multiple solutions to the weak joints between the tubes making up the tall trunks, and trees were attached to the stage throughout tech week. It was a continuous process, and one that Scherdt balanced with her position on running crew.
As a part of several set changes, Scherdt discovered the difficulty of moving in the dark. "I had to wait when blackouts happened, and I had to change sets really fast, and that was scary … there was a lot of moving around in the dark, which is very nerve wracking, and avoiding killing someone in the audience with our mats and our poles," said Scherdt. "I remember, at one point we had someone fall, and then a domino effect, and [we] just had to pick ourselves back up and go back out in the dark before the lights came up. It was scary. It was intimidating, to say the least, but at the same time it was fun to be a part of."
Despite the stress and the major time commitment, Scherdt found participating in CET to be rewarding. She felt this most keenly when the cast and crew stayed after the Sunday performance to strike the stage. "It was a bittersweet moment, too, because the show is over, and it was successful beyond belief, and everyone was really happy with the way it turned out. But, it's also like you become a family with these people … and it's taking apart the sets you spent hours and hours on, and seeing the show come down before you eyes, is a really bittersweet moment," she said. Scherdt warns against joining if you are already busy, but is glad that she did anyways. "In CET, there's a lot of love," Scherdt said.