Exploring The Winter Holiday Traditions of Christmas, Kwanzaa and Hanukkah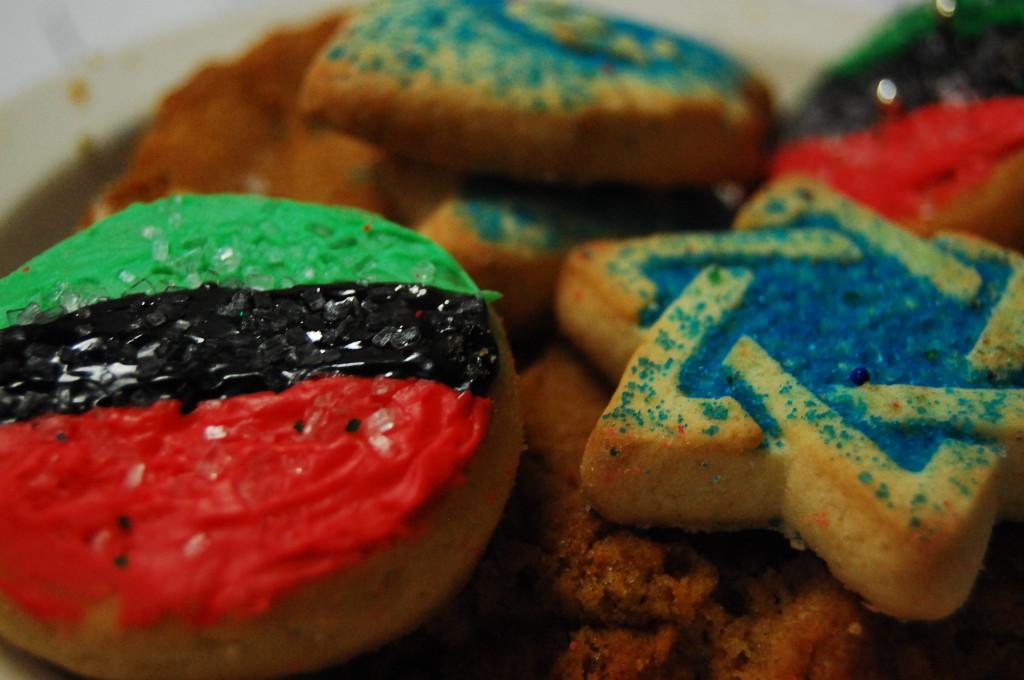 Katie Taub, photos by Jordan Siden
January 9, 2012
It has been humankind's tradition to celebrate rituals on and around the winter solstice. Decorating a Christmas tree, playing dreidel on Hanukkah and observing the seven main aspects of Kwanzaa are traditions people have taken part in since the beginnings of the respective holidays.
CHS senior Keely O'Donnell celebrates Christmas each year with her family by getting a tree. "We go to a tree farm and cut down our own tree and put it on top of the car and drive home. I go with my whole family, including the dog… We run around and try to find one that's full. We hold [the tree] while [my dad] is cutting it down, and we help carry it back."
This has been a tradition in the O'Donnell family as long as she can remember. For the O'Donnells, the perfect tree is ten or eleven feet, and very full. "The fuller, the better," said O'Donnell.
The O'Donnells also traditionally go to church on Christmas Eve. While they usually attend afternoon service, last year they attended midnight mass, which lasted from 11:30 PM to 1:30 AM.
Christmas morning for the O'Donnells includes waking up around 8:00, opening presents, and driving to Chicago to visit their family, where they partake in a Secret Santa with their 33 cousins.
Steve Coron, a CHS teacher and Art Department director celebrates Christmas each year by getting a tree with his daughter
and giving gifts to his children. However he, along with a large portion of the American population, celebrates Christmas in a secular manner. "Well I'm not religious any longer, because I don't go to church, so there is really no religious component to my Christmas, but we celebrate Christmas in that we have people over," Coron said.
Hanukkah, a Jewish celebration, is another widely observed holiday. Also known as the Festival of Lights, Hanukkah commemorates
the Jewish victory of what happened in a war against the Syrians and the miracle that the limited amount of oil in the sacked temple burned for eight straight days.
Contrary to popular belief, Hanukkah is not considered one of the major holidays of the Jewish religion.
"Hanukkah is a minor holiday in Judaism," said Rabbi Kim Blumenthal of Ann Arbor's Beth Israel Congregation. "It does not hold the importance of the High Holidays, Rosh Hashanah and Yom Kippur, or the three festivals Passover, Shavuot and Sukkot. I think its significance has been raised in our society
because it occurs at the same time as Christmas."
According to the National Jewish Population Survey conducted
by the United Jewish Communities, 4.3 million Americans
celebrate Hanukkah every year.
One of the Hanukkah traditions is the lighting of the Hanukkiah
(often called a menorah in its cultural usage), a candleholder
with nine different places for nine different candles.
Each candle represents one night, as Hanukkah is an eight
night celebration, and one to light the other candles with. "The
essence of our holiday is the desire to publicize the miraculous
occurrence of a small amount of oil lasting for eight days," said
Blumenthal. "That is the function of the Hanukkah menorah; to
remind us of this."
Another tradition strongly associated with Hanukkah is the
game of dreidel. Players spin a top (a dreidel) and lose or gain
Gelt (money, or also commonly chocolate) depending on the
side the top lands on. CHS sophomore Hannah Shevrin likes
to play dreidel because, "it reminds me of playing as a kid and
laughing hysterically. Also it's fun to see how competitive people
get."
The third most celebrated winter holiday in America is Kwanzaa.
Unlike Hanukkah and Christmas, Kwanzaa is a cultural
holiday for those of African descent, not a religious one. On the
website run by its founder, Dr. Maulana Karenga, (officialkwanzaawebsite.
org) Kwanzaa is described as "a flourishing branch
of the African American life and struggle as a recreated and
expanded ancient tradition."
Established in 1966 in the midst of the Black Freedom Movement,
Kwanzaa was created to introduce and reinforce seven
guiding principles — the Nguzo Saba. These principles are
Unity, Self-Determination, Collective Work and Responsibility,
Cooperative Economics, Purpose, Creativity and Faith. Thus,
Kwanzaa is celebrated for seven nights, with each night symbolizing
one of the guiding principles.
Winter holidays can be anywhere from eight nights to one
single day. However traditions can span over a lifetime. Despite
the differences, the holidays share one thing — they bring
people together.