Michele Norris Discusses Race and Activism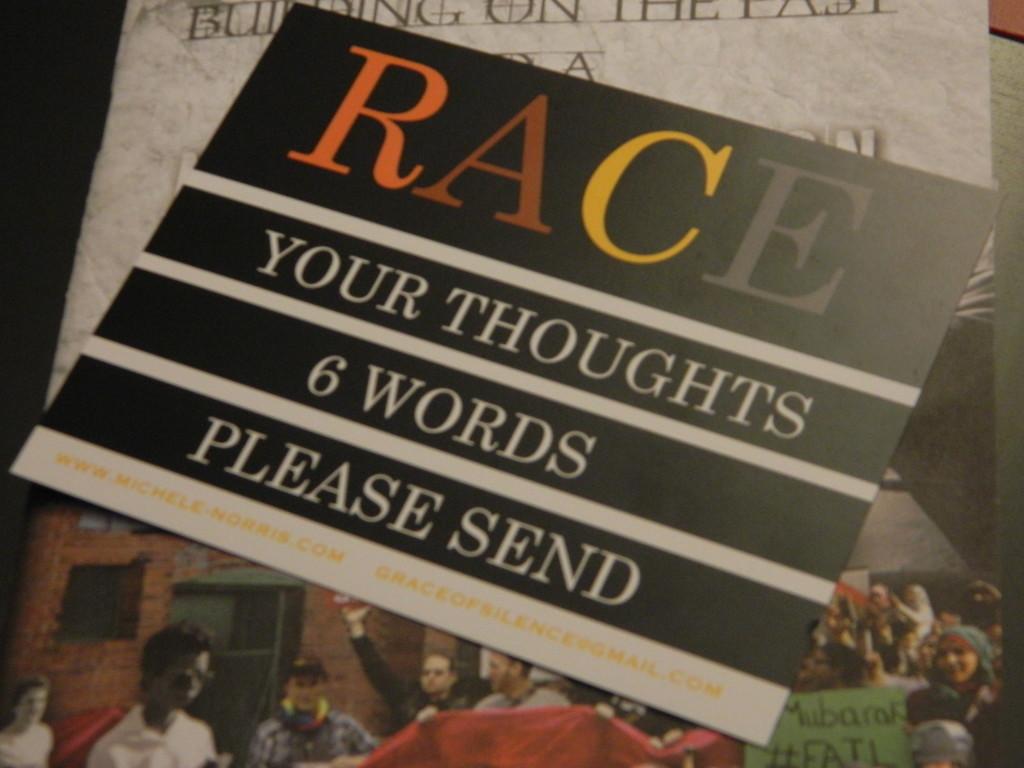 Melanie Langa and Sarah Kerson
January 16, 2012
During the 26th annual Dr. Martin Luther King, Jr. symposium at the University of Michigan, keynote speaker Michele Norris played the race card. The NPR correspondent and recent author is collecting postcards that detail the nation's thoughts on race. The post cards ask for a six word sentence or phrase that describes a personal experience or outlook on racial issues. Participants mail the cards to Norris or submit their contributions online. Norris is working to compile them with the hope that those who participate, as well as the general public, will be encouraged to examine their own opinions. The project grew out of Norris's book, "The Grace of Silence: A Memoir," published in September 2010. "I'm swimming in America's conversation about race," she said at Hill Auditorium on the morning of Jan. 16.
Norris did not originally intend for her book to be a personal narrative, but discovered family stories that lead her in a different direction. Initially she set out to write a book about a more broad vision of race in the U.S., but found those narratives within her own family history. Norris told stories of her father and her grandmother that are described in her book. The "silence" mentioned in the title of her book is a reference to the fact that Norris learned most of the stories she wrote about after the family members involved has passed away. In doing research for the book Norris discovered a family legacy that had never before been shared or discussed.
These stories represent different forms of activism. Norris's grandmother traveled throughout the midwest as an Aunt Jemima spokeswoman during the late 1940s and early 1950s. This job required her to change her appearance to resemble a stereotypical pre-Civil War southern black woman. While she dressed the part, Norris's grandmother refused to alter her speech. "She spoke like an educated woman because she was an educated woman, which is in itself a form of activism," said Norris.
Norris also spoke about technology's impact on activism, highlighting the importance of social media in events like the Arab Spring and the Occupy movement. Her speech focused on different forms of activism, and encouraged audience members to listen to family stories and participate in the fight for change in many arenas. "Sometimes activism is just the act of showing someone you can be more than anyone expects you to be … I never thought that I was raised by activists; I just thought that they were working class men, but they were activists in every sense of the word," said Norris.
Members of the audience included University of Michigan students, Ann Arbor community members and people from surrounding areas. Before Norris spoke, Senior Vice-Provost for Academic Affairs Lester P. Monts and University of Michigan President Mary Sue Coleman welcomed the crowd and honored Michigan alumni who represented the different forms of activism that Norris discussed. Coleman told the stories of two Michigan alumni who were directly involved in the Civil Rights Movement. "We're forever grateful for and inspired by their commitment to speaking out for equality," she said. Coleman and Monts honored three other members of the Michigan community who helped develop the Dr. Martin Luther King, Jr. memorial on the National Mall, which opened last summer.
Norris concluded her talk by reading some of the "race cards" that people have sent her. "Work not yet finished. Get busy," read one card. Listen to her read the cards in the audio clip below.