An Opposition's Voice: The Wisconsin Recall
In January 27, 2012 the recall petitions for Gov. Scott Walker were submitted to the state of Wisconsin. Although it is not official yet, the recall is likely to go through because of the number of names collected. Wisconsin only needs 540,208 signatures to go through, but they are likely to produce at least 720,000. If the petition goes through, Gov. Walker will be the third governor in United States history to be recalled. The only other two were California Gov. Gray Davis — who was recalled in 2003 — and North Dakota Gov. Lynn Frazier who was recalled in 1921.
Gov. Walker received national attention last February when he cut collective bargaining rights in Wisconsin. Many protested these cuts by occupying the capital building in Madison, Wisconsin.
Terri Eagen-Torkko, Laura Dresser and Adrienne Pagac have all led very different lives. However, they all have one thing in common, they are happy to see the over one million recall petitions submitted to the state to force a new election for the Wisconsin Gov. Scott Walker.
Terri Eagen-Torrkko: Close Ties
Terri Eagen-Torkko currently resides in Yipsilanti, Michigan and works as the events manager at the University of Michigan Institute for Women and Gender. Although she has not lived in Wisconsin for 22 years, she still has close ties to the state.  She grew up  there, and the majority of her family still lives there. In fact, her father — who is a life long Republican — ran for both state and local office when she was in high school. He has been very supportive of the Walker administration and even applied for a job within it. Eagen-Torkko has a different view of the governor.
"I think [the recall] is going to cost the state a lot of money, but I think that Scott Walker is very bad for Wisconsin … I'm really displeased with the union busting he has participated in, but in addition, there have been some really unfortunate things that have happened on his watch with his staff," she said.
Eagen-Torkko would like to think this grassroots process could spread to Michigan in particular. However, she hasn't seen the same cohesion here that she has seen in Wisconsin. "I feel like Michigan is a much more fractured state, not just geographically, … So I don't know if we would have the number to recall Rick Snyder, though I know a lot of people in Ann Arbor want to do that," said Eagen-Torroko.
Although Eagen-Torkko lives in Michigan, she continues to keep the people around her up to date on what is happening in her home state of Wisconsin.
Listen to Eagen-Torkko speak about the Governor here:
Terri Eagen-Torkko talks about her views about Gov. Scott Walker
Laura Dresser: The Economist
Laura Dresser is the Associate Director at the Center of Wisconsin Strategy (COWS) in Madison, Wisconsin. Dresser is a labor economist by training and works with the Wisconsin economy and on labor unions. When Gov. Scott Walker announced his plan to eliminate collective bargaining, most of the people leading the retaliation were Dresser's colleagues. Dresser is also a public sector worker, so the wage and benefit concessions and the loss of union and collective bargaining rights affect her job.
"I support the recall of Governor Scott Walker," said Dresser. "I think he's done a lot of bad for the state in the one short year he's held the highest office in our state."
One of Dresser's biggest concerns is the lack of jobs the state has. "Wisconsin has 140,000 less jobs today than it did in 2007 … There's a lot of people out of work and  families are really hurting." Dresser realizes that as Governor, Scott Walker does not effect state jobs,  however she believes he has done exactly the wrong thing with the powers he does have. "The most important thing he can do is build the platform for future economy … The first thing he did was send 800 million dollars back to the feds for rail, for high speed rail that would have connected Chicago to Minneapolis … that would have been looking to the future and that would have been jobs today, all of that he said no to. He's cut the schools. That means that when businesses are looking to locate, they won't see the kind of training and skills that they need to see," she said.
If there is an election in the spring, Dresser is hoping for "a good candidate and a victory for that candidate," she said.
Listen to Laura Dresser speak about the Governor here:
Laura Dresser talks about the powers Gov. Scott Walker has
Adrienne Pagac: The Student
Adrienne Pagac is a graduate student at the University of Wisconsin-Madison. She is the president of the Teaching Assistant Association, which is a graduate student worker union at the University. Last February, she was one of the many of people who occupied the capital building. On Feb. 14 she marched with thousands of others from campus to the capital and delivered thousands of Valentine's Day cards requesting that Gov. Scott Walker financially support the University. The protesters reminded him that they love the University of Wisconsin and that they had hoped he wouldn't break their hearts, but he did.
Pagac had many things on her mind when signing to recall petition, including the voter ID bill, money for higher education and the large income gap in the state. "I think that's a tremendous defeat and something that … every single person who participated feels incredibly proud of," said Pagac.
She hopes and believes that the people of different states are on the road to doing things similar to what she did in Wisconsin.  "People saw the way to respond was not to simply think about it when you went to the ballot box again … I think that people saw that there were other ways to show displeasure and to demand change, and one of those ways is, you know, coming together with people who feel the same way. And I think that was something that was incredible. It sparked a lot of hope and excitement in me and I look forward to more grassroots activity like that, and I hope it spreads elsewhere," Pagac said.
Listen to Adrienne Pagac talk about how the people of Wisconsin have changed since the occupation of the capital:
Adrienne Pagac talks about how Wisconsin has changed since the occupation of the capital last year
While some might disagree with the recall, over one million Wisconsin voices were heard on Jan. 27. They were the the voices of the protesters, the voices of previous supporters of Gov. Walker and those who had their union rights stripped away. They were the voices of average citizens who just want to see a positive change in their state.
Photos courtesy of Wikipedia
About the Contributor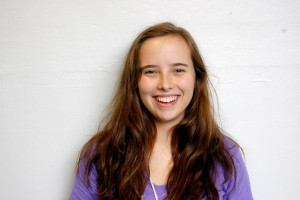 Kate Summers, Co Editor-in-Chief
Kate Summers has loved being a part of The Communicator for the past two years. She has interviewed a wide range of people from Bishop Gene Robinson, about his advice to teenagers, to CHS science teacher Courtney Kiley about her style. When not working on The Communicator she can be found stage managing shows at Pioneer Theatre Guild, baking and doing yoga. She was honored to receive second place for Multi-Media News Story of the Year from the National Student Press Association.