Pioneer Theatre Guild to open 'West Side Story' April 28
From the 30 person orchestra to the original Jerome Robbins choreography that changed musical theatre forever, 'West Side Story' is no easy production to put on. Pioneer Theatre Guild has put itself up to the challenge of doing this iconic show that will open Saturday April 28, 2012.
'West Side Story,' based off of Shakespeare's 'Romeo and Juliet,' follows Tony and Maria– star struck lovers from two rival New York gangs– as they struggle to keep their love alive.
Pioneer's production features students from five different AAPS high schools, Pioneer, Huron, Skyline, Community and Clemente. Also for the first time in recent Theatre Guild history they will have two legendary Pioneer faculty members in the cast, with long time math/science teacher Chuck White as Lt. Shrank and Music Department Chair and Director of Pioneer Bands David Leach as Officer Krupke.
CHS student Hank Miller is in the cast playing the part of  Big Action. He is very excited about the production. "'West Side Story' is a very important landmark musical in musical theatre history. It has amazing dancing, it has amazing music, it's got one amazing stories. There is no reason not to come see it. If you don't come and see it, I will be very disappointed in you. It will be fantastic. Every Pioneer Theatre Guild show is fantastic," he said.
Want to see 'West Side Story?' All performances with be held in Pioneer Schreiber Auditorium. April 28, May 4, May 5 at 7:30pm and April 29 & May 6 at 2:00pm. Tickets are $10 for Adults and Students/65+ Seniors/PHS Staff $10. Reserved seating is available at <showtix4u.com>.
Photo credit Myra Klarman (myraklarman.com)
About the Contributor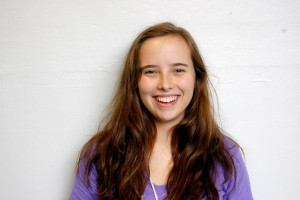 Kate Summers, Co Editor-in-Chief
Kate Summers has loved being a part of The Communicator for the past two years. She has interviewed a wide range of people from Bishop Gene Robinson, about his advice to teenagers, to CHS science teacher Courtney Kiley about her style. When not working on The Communicator she can be found stage managing shows at Pioneer Theatre Guild, baking and doing yoga. She was honored to receive second place for Multi-Media News Story of the Year from the National Student Press Association.