Rhyme, Rhythm, and Repetition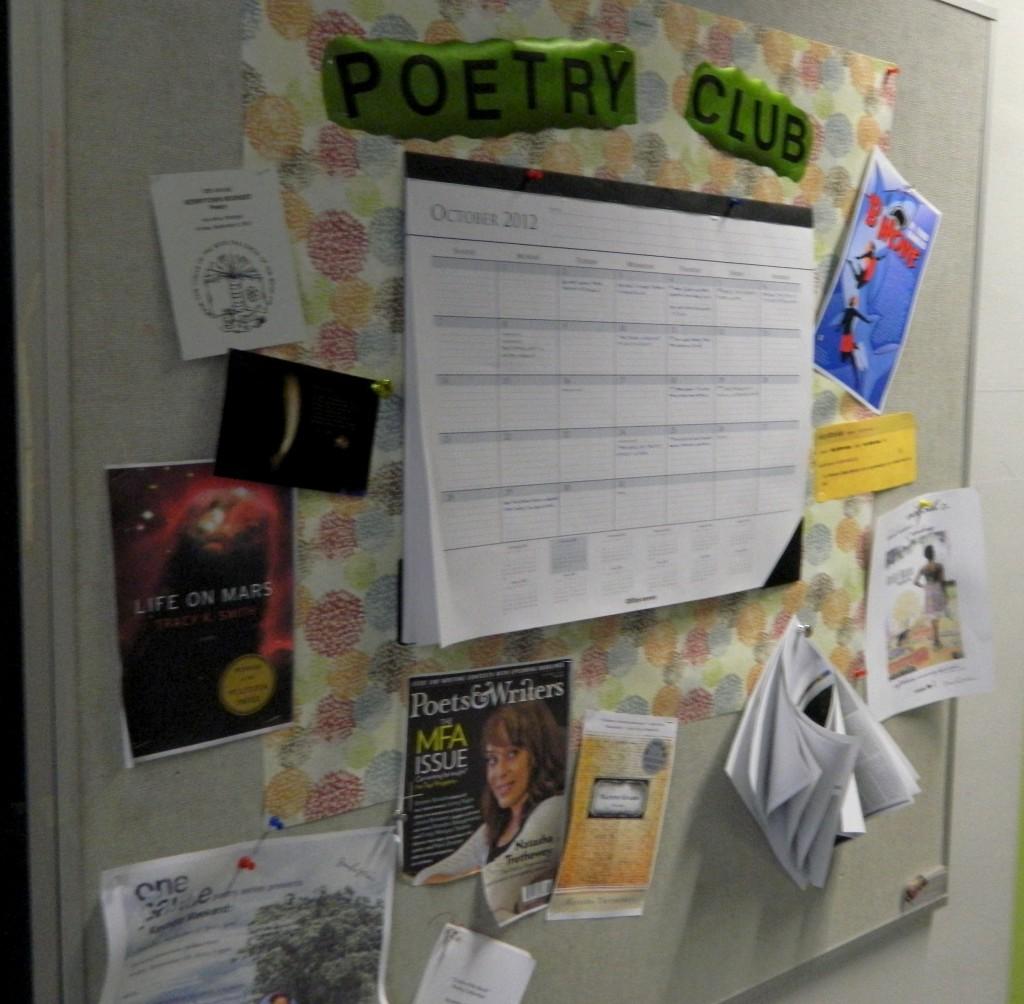 "…A need builds in me only after struggle builds around me, a mythical ether challenging this horn with its song stuck in its throat: memory, the present moment and all the notes falling between them,
struggling to get out." These words written by A. Van Jordan from "The Structure of Scientific Revolution" were also read at the first meeting of poetry club on Wednesday September 12, 2012. Meeting every week on Wednesdays during lunch in Ken McGraw's room on the third floor, the poetry club has a short history, but a long future.
Ellen Stone, a current ILC teacher, and Brian Miller, a retired English teacher, decided to start a poetry club at the end of the first semester only one and a half years ago. Even though Community held and participated in many slams Stone still felt like Community students were not participating in poetry as much as they could. They were just writing their own poetry by themselves. While teaching Writers Way with Tracy Anderson, Stone realized that students at CHS enjoy writing poetry. So Stone decided to act upon her teacherly instincts and create a poetry club.
Upon hearing from Stone that she was looking for someone to start a poetry club  with Miller  jumped at the chance and said "I've always wanted to start a poetry club!", so it's clear not only the students loved poetry but the teachers do too. By reinstating the fall reading, a reading of poetry which happens in the fall, it was clear that many students at CHS love to perform and read their poetry, "but there's a lot of poets at community that don't, they don't want to do slams, they just want to read their poetry and they want to write" Stone said. Creating a poetry club for those who don't like slams is the perfect solution.
Though the first full year of poetry club was a little rocky Stone and Miller did their best to get poets in the area to come, read, and share what they know. Last year they had lots of poets from the U of M, the community, and even brought a rap workshop [from the Neutral Zone]. Just like last year Stone has invited many poets to read; rap artist from the Neutral Zone, Jamal Buford, is going to come back, a poet from Grand Rapids, Patricia Clark, who will come in November, and a poet from North Carolina, Sarah Messier, who does one pause poetry, an organization to get poetry out to the world.
For returning club members this year is going to be fairly different from past years. "This year we would like to have students kind of lead the meetings and they will either bring a poem of their own or a poem of someone elses, " said Stone. So instead of Stone leading each meeting the students are welcome to provide their knowledge. As well as new student leaders, Steve Coron, the visual arts teacher, Jack Wagner , the jazz program director, and Michelle Briscoe, the dance body director have all been talked to about intertwining art, jazz, and dance into poetry.
Now Stone realizes that she won't be at Community forever, but she hopes that the poetry club will stay in place after she's left. "I just hope just like any other club here it becomes a normal club here as an option so tribes is a club for the athletes and ecology club for the green people" Stone said. She hopes that the students at CHS will feel that the poetry club is welcoming. She also hopes that every student no matter what they do will want to join the poetry club " Truthfully if you can write what is important to you it's going to help you no matter what you do" said Stone.
Creating a poetry club has been an excellent idea for people who have never written poetry and especially for incoming freshman like, Carson Borbely. Even though she has been doing Volume at the Neutral Zone for a couple of years Borbely said, " I decided that poetry club at Community would be good practice, so I'd have something to read there." A poetry club is not just a practice for people who are already poets, but also an introduction to the musical words of poetry to new poets just like Sophomore Isaac Scobey-Thal. Scobey-Thal said he didn't even write poetry until Kerry Fingerle came up to him and told him to join, "I wrote my first poem that day" Scobey-Thal said.
So the poetry club has inspired many to try something new and to try their skills at poetry and challenges others to explore further into their poems. With a hope that the new club will become a permanent club in Community High, poetry club tries to inspire the students to express themselves through rhyme, rhythm, and repetition.