Honoring Wounded Warriors
Most people have a relative, friend, or know someone who has served or serves in the military. The men and women who protect our country deserve to be honored and thanked for their service. That is exactly what Huron high school did on Friday September 14 in the wounded warriors football game. All of the family and friends of the Huron and Bedford football teams were invited to walk out onto the field with the teams, and were honored with a standing ovation by everyone in the stands.
The game got off to a quick start when Huron recovered a fumble early in the first quarter. The first points came in the second quarter, when Bedford scored a touchdown. This was just one of three scored by Bedford before halftime, making the halftime score 21-0. The second half opened with another touchdown for Bedford. Huron answered with a touchdown of their own. The size and skill of Bedford was just too much for Huron to handle as Bedford went on to win the game 42-14.
When asked about the significance of the game, the Huron athletic director, Dottie Davis, said,  "The significance is to honor those that have served. Oh my gosh they were all crying, it was so touching. It meant a whole lot to us and we will continue to do this and fight for our country in this way, it was awesome" Responded Davis when asked about how those who were honored felt.  "Our football staff worked tirelessly, they organized the whole thing and it's a production." Davis said about how much work went into planning this game. "When you host a home football game its a production, a lot of time and effort".
Davis was pleased with how the night went, even with Huron losing. "When we have our people crying out there to be honored, we all started crying, it was awesome".
About the Contributor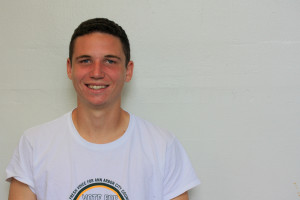 Kevin Turnbull, Sports Journalist
Kevin is a senior at Community. He has been on staff for two years, and plays soccer for Huron. Kevin is a sports writer. He also enjoys long walks on the beach and roses are his favorite flower. He won't walk with Fernando, as Fernando's walks are too short.