The End of an Era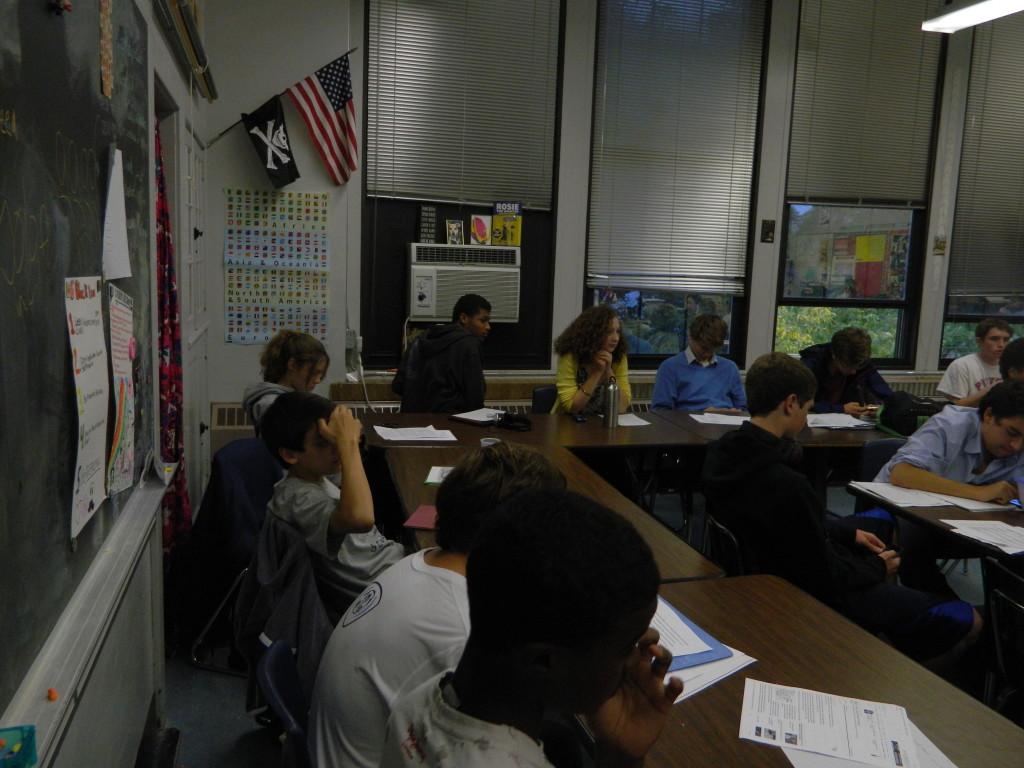 Jeffrey Ohl
October 26, 2012
It's 6 pm on a Wednesday night and a group of students are crowded into Chloe Root's classroom debating the "Innocence of Muslims" video. After a few minutes, the debate gets out of hand and Root has to step in to quiet some students down. Eventually the students settle down and order is restored.
This scene took place during Root's second week teaching Model UN, a club where students research, discuss world issues, and prepare for the late November conference. Root inherited the leadership position from Cindy Haidu-Banks, who held it for over five years
Root said that the decision to make her the teacher for Model UN wasn't her own decision, or even Haidu-Banks'. Haidu-Banks said that the transfer of leadership had nothing to do with her wanting to stop teaching Model UN, but was the result of a combination of budget cuts, the addition of a new class, and the graduation requirements that social studies teachers have to teach.
Haidu-Banks said that due to the budget cuts that occurred in the last few years, there can only be a certain amount of paid teachers working at Community, and that each of those teachers can only teach for a certain number of hours. The result is most social studies teachers teaching four classes per semester plus forum. This has been the standard number since the budget cuts.
Most of the classes that the social studies teachers teach are graduation requirements, (Real World Civics and Economics, U.S. History, World History), leaving only one elective per social studies teacher per semester. Before the budget cuts it might have been possible for a social studies teacher to teach two electives, Haidu-Banks said.
Haidu-Banks couldn't keep teaching Model UN because she was asked to co-teach Leadership for Social Justice, a class she helped develop with Janelle Johnson. This was her one elective. This meant that someone else would have to teach Model UN, and that someone was Root.
Although Root just began teaching Model UN, she is no stranger to the club. Root was a member of the club during her junior and senior years ('00-'02) at Community High School over a decade ago, and she was even a member of the Security Council, which is reserved for the most serious members of the club. There are only fifteen members of the Council at the entire Great Lakes International Model United Nations (GLIMUN) conference, out of over five hundred that attend the conference.
Even though Root has experience as a student in Model UN, she was nervous about her first time teaching the class. She also was afraid that she wouldn't be able to fill her predecessor's shoes. However, after getting her first meeting under her belt and getting to know some of the people that she would be teaching for the next semester, Root said that she was excited about the idea of teaching Model UN.
Although Root was energized about the idea of teaching Model UN, Root also knew that she had a lot to learn.
"It's just that there's gonna be a steep learning curve, I think it's just that I have to be humble and realize that I don't know how things are gonna work and take direction from my students more than I normally do in my class," she said
Root plans to learn a lot from students, but she also received advice from Haidu-Banks. Root and Haidu-Banks had lunch together a few times, where Haidu-Banks shared some of her methods of teaching class with Root.
While Root hasn't mastered the art of teaching Model UN yet, but she went through a similar experience last year when she took over Mock Trial from its former coach, Cheryl Grace.
Root felt the same way when she started teaching Mock Trial.
"I felt like I learned more from you guys [Mock Trial students] than you guys all learned from me," she said.
Root said that she didn't plan to change Model UN that much from how Cindy taught it. She said that she mainly just wants to make sure everyone gets to speak in front of people early on, so that they don't avoid speaking during the conference due to anxiety.
Root actually had an experience with this when she was a member of the club.
"I remember one conference I went and I barely spoke at all because I was so nervous," she said.
Sara León, a senior and Model UN student, has experienced both Haidu Banks' and Root's leadership.
She noticed one main difference between the two.
"Cindy spent her time mainly trying to get decorum down, and we [Model UN students under Root's leadership] were talking about the [world] issues," she said.
Since Root has only been the teacher for Model UN for a little while, León was not certain about how different the two would be.
"It's difficult to say right now, because we've only had two meetings," León said.
Regardless of how Root plans to change Model UN, she is enthusiastic about teaching the club. "I'm looking forward to it a lot, I'm excited," Root said.