Outback Bowl Preview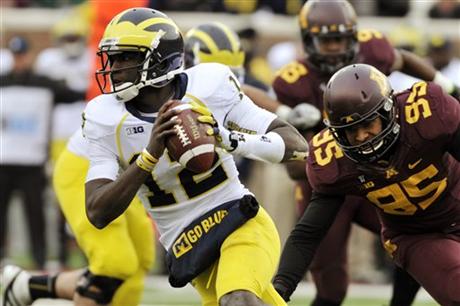 The University of Michigan Football team ended their regular season on a low note, losing to Ohio State in Columbus, Nov. 24. However, Michigan is expected to play South Carolina in the Outback bowl on Jan 1. South Carolina is led by Connor Shaw, the junior quarterback out of Flowery Branch, Georgia, who has 1,732 yards on the season. They have only lost to LSU and Florida, and are ranked #10 in the BCS standings.
Michigan's leading scorer this year may surprise you. While he was only racking up stats at quarterback in 4 games this year, Devin Gardner scored 114 points, rushing, receiving, and passing for a total of 1,348 yards. If Gardner had been playing quarterback all year, his projected yards would be 3,015 passing, and 231 rushing yards. The dynamic duo of Gardner and Robinson has stunned defenses and given fans new hope in Michigan's previously decrepit passing game. With Michigan relying on Robinson and Fitzgerald Toussaint to run the ball, many fans wondered what they would do after Toussaint broke his leg against Iowa. Gardner's amazing debut at quarterback in his junior year may be just what Michigan needs to fight back against the South Carolina Gamecocks.
South Carolina's running game took a bone-snapping hit when Marcus Lattimore took a helmet to his right knee against Tennessee, putting him out for an estimated 6 months. USC's remaining key players are quarterback Connor Shaw and wideout Bruce Ellington. Shaw is a junior and has played quarterback since he was a freshman. He has had his best year this year with 1,732 yards and 15 touchdowns this season. Ellington, a sophomore has also had his best year yet, with 564 receiving yards. But the team leader in yards is Marcus Lattimore. Lattimore's injury may make the game a easy win for Michigan, instead of it being a close, hard fought game.
Between the Wolverines' newfound offensive strength through Devin Gardner, and the Gamecocks' rushing leaders' season-ending injury, this matchup is looking to be an uphill battle for South Carolina. However, it isn't an unachievable feat, seeing how they held their own against the monster offense of #5 Georgia, and #11 Clemson. The meeting in Tampa, FL set to take place at 1:00 on New Year's day will be an exciting day for both teams, but my prediction for the score is Michigan winning 28-20.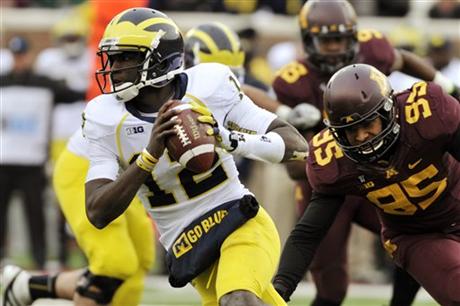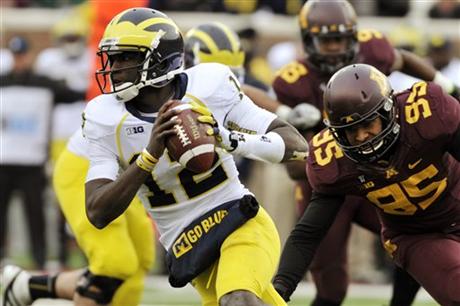 Gabe Kardia
About the Contributor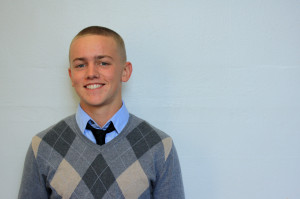 Gabe Kardia, Sports Journalist
Gabe is a junior in Haidu-Banks forum and this is his second year on Communicator. He commonly covers Michigan Football and Basketball, the Detroit Lions and Tigers and various local sports happenings. He plays football and runs track for Skyline and in his free time enjoys swimming, biking and watching How I Met Your Mother.