Heisman at Community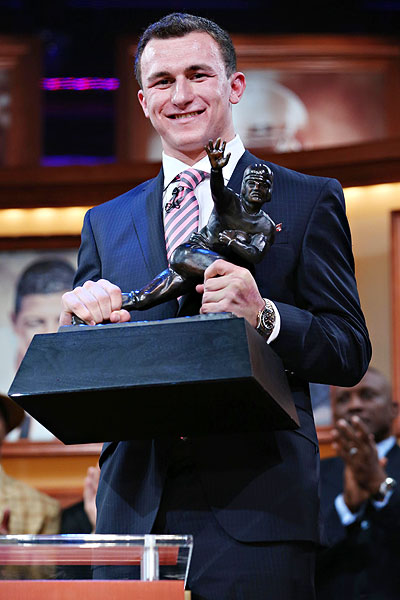 Kevin Turnbull, Jack Kozicz, Sports Writer
January 6, 2013
On Saturday Dec 8, the most prestigious award in college football, the Heisman, was given to Johnny Manziel, better known in the world of sports as Johnny Football.
The Heisman is awarded every year to the college football player whose performance is deemed to have exhibited the pursuit of excellence with integrity. Three groups of people can vote for who wins the Heisman, sports journalists, previous Heisman winners, and fans. Sports journalists are informed and knowledgeable about the subject. There are 870 media voters: 145 voters from each of six regions. Previous Heisman winners can vote for the current candidates as well. Finally the winner of a poll on ESPN.com gets one first place vote as well. Each journalist gets one vote, ranking the three candidates in order from first to third. A candidate gets three points for a first place rank, two for a second, and one for a third. The player who gets the most points wins the Heisman.
Manziel, a redshirt freshman quarterback at Texas A&M, led the Aggies to 10-2 season, and a BCS bowl game appearance against the Oklahoma Sooners on Jan 4. Manziel is the first freshman in history to win the Heisman. Manziel set the SEC record for total offence in a season with 4,600 total yards. He threw and ran for a combined total of 43 touchdowns, and became the first freshman in NCAA history to throw for 3,000 yards and rush for 1,000 in a season. In the 12 games that he played in this year, he won or shared the SEC Freshman of the Week nine times. The most memorable win of Manziel's Heisman winning season was the upset of then number one Alabama Crimson Tide, where he led the Aggies to a 29-24 win.
Senior linebacker from Notre Dame Manti Te'o came in second place in the Heisman race. It is surprising to see a defensive player in the Heisman race, for it is a usually an offensive award. Te'o, originally from Hawaii, debated whether to come back for his senior year, or enter the NFL draft. He decided to stay, and led the Fighting Irish to an undefeated season and with a chance to win the BCS national championship against Alabama on Jan 7. He finished the season with 101 total tackles, 1.5 sacks, and also had 7 interceptions. Te'o has done this though a lot of pain, as his mom and girlfriend both passed away earlier this year.
The final Heisman nominee was senior quarterback Collin Klein from Kansas State. Klein and the Wildcats went 11-1 losing only to Baylor. Klein finished the season with 2490 passing yards, 800 rushing yards and 37 total touchdowns. Klein got the least amount of votes from those select few who got invited to the Heisman ceremony in New York City. In his final game as a Wildcat, he will play in the Tostitos Fiesta Bowl, against the Oregon Ducks on Jan 3.
Community students had mixed reactions to Manziel's winning of the award. Noah Moorehouse, a junior at Community, said that Jordan Lynch should have won the Heisman, but feels that "it is good that a freshmen won for the first time ever." when asked why he thought Manziel won the Heisman, Moorehouse responded, "it is probably just because he beat Alabama." Emre Babbitt another Junior at community, "really wanted Manti Te'o to win, because he was the core of the best defense in the country" Babbitt feels that Manziel won " because of how he carved up the formidable SEC defenses, set the record for yardage, and the fact he did that as a freshman was quite amazing."
All three candidates showed they had what it took to be Heisman this year. Manziel's incredible season proved that he deserved to be the first freshman to win the Heisman.  With Manziel only being a freshman, we have to wonder if he will be able to repeat his amazing season next year, and how much longer he will stay at Texas A&M before he takes his talent into the NFL.