Michigan Basketball: Just the Beginning
The Michigan Basketball team has had an outstanding year so far, remaining undefeated. Last March, the Wolverines had a disappointing appearance in the tournament, losing in an upset in the first round. Despite losing two star seniors, Stu Douglass and Zack Novak, Michigan had a fantastic scouting year, acquiring five freshmen (one redshirt freshman).
While there are many reasons for Michigan's powerful start this season, one of the biggest is Trey Burke, and his decision to return to Michigan for at least one more year after considering going to the NBA draft. Michigan fans breathed a sigh of relief after hearing this. It is looking to be a good choice for Burke as well, as he is having an even better year this year. His shooting percentages are better both from 2-point and 3-point range He is on track to have a momentous season, as he is well on his way to surpassing nearly all of his totals from last year. Burke is already a top contender for awards such as the Naismith player of the year, and the Cousey Point Guard of the year.
Michigan's juniors are both big-impact starters. Tim Hardaway Jr. and Jordan Morgan have helped the team become the dominant force that they are, both of them looking to have their best years so far. Morgan is helping tremendously overall, setting a career high in rebounds on Thursday, Jan 3, against Northwestern. Hardaway has pressure on him to live up to the legacy of his father, a five time NBA all-star, Tim Hardaway Sr., and has done a tremendous job carrying out the family legacy. Hardaway had 21 points in the Northwestern game, but was quiet early in the game before raining down four in a row from beyond the 3-point line by halftime.
The big talk in Ann Arbor though, is the freshmen. There's Mitch McGary, the 6'10" monster forward out of Chesterton, Indiana, shooting nearly 62% from the field in ten games this season. Glenn Robinson III is the 6'6" forward from St. John, Indiana, and is the fourth player to play at Michigan who had a father in the NBA, and has been outstanding thus far. GRIII has started ten games, and is averaging 11.2 points per game. Nik Stauskas is flying under the radar on the Wolverines roster, and may be the best freshman so far this year while getting little recognition. Stauskas is a 6'6" guard out of Mississauga, Ontario who has been shooting the lights out from anywhere and everywhere with a whopping 13.5 points per game. Stauskas has astonished fans with his deadly accuracy from 3-point range with a 59% average, and a team-high average for free throws, with 90%.
There are many reasons as to why the Wolverines have had such a powerful start this year, and they will continue to dominate the Big Ten and the rest of the teams they play. Their starting lineup consists of at least two, sometimes three freshmen, and they still take early leads and hold them. However a big starting lineup isn't all it will take to remain one of the top teams in the nation. Michigan also has one of the most talented benches in the NCAA, full of experienced leaders, as well as young talent, ready to dive in to Michigan tradition. One of the most astounding things about this year's team is their accuracy. Any team can shoot over and over, but Michigan has precision shooters, and can knock down 3's all day long. Watching the Wolverines play shows their teamwork, calmness, and efficiency that has excited fans for the first 14 games. This hard hitting offense and lockdown defense will lead Michigan deep into the March Madness tournament. It may be too early to even think about who will be in the national championship game, but it is definitely in the back of fans' heads.
About the Contributor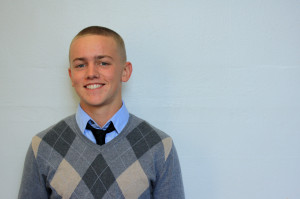 Gabe Kardia, Sports Journalist
Gabe is a junior in Haidu-Banks forum and this is his second year on Communicator. He commonly covers Michigan Football and Basketball, the Detroit Lions and Tigers and various local sports happenings. He plays football and runs track for Skyline and in his free time enjoys swimming, biking and watching How I Met Your Mother.