BCS National Blowout
Number one Notre Dame and number two Alabama faced off Monday Jan. 7 in the Bowl Championship Series National Championship game in Miami, Florida. Looking at a comparison of the two teams, they are similar in many ways, and in quite a few categories, Notre Dame is the superior team. Notre Dame's famous defense has given up and average of ten yards per game. However, the Fighting Irish didn't show this on Monday as Alabama scored on the opening drive. By Halftime, the Tide had rolled to a 28-0 lead.
Manti Te'o is the captain and leader of the previously impenetrable Notre Dame defense. Te'o came in second place in the Heisman race, and was surrounded by a very talented defense. A defense that only gave up more that two touchdowns in a game once this season, laid down and gave 'Bama four in the first half. Now this isn't to say that the game was simply Notre Dame's to lose, because Alabama is undoubtedly the best college football team in the country, with one of the best coaches in the business, Nick Saban. This is saying that Notre Dame came out onto the field Monday night unprepared for the hard-hitting, SEC(SouthEastern Conference)-weathered team that came out opposing them.
Saban claimed his fourth national championship in the last five years, and Alabama's third in four years. Saban was less than emotional after winning Monday's game, and said that he has a twenty-four hour rule. The team can celebrate this title for twenty-four hours and then they will get back to practice and focus on next year. This kind of discipline is what Saban teaches, what makes him such a renowned, successful and admired coach. Saban was considering taking a job with the Cleveland Browns, but ultimately declined, and it seems to have been a very good choice.
The SEC is famous for being the hardest-hitting conference in college football, and Alabama embodies that as they are the SEC conference champions. 'Bama is famous for having powerhouse running backs, and at the forefront of this is Alabama running back Eddie Lacy. Lacy dominated the field along with Freshman running back TJ Yeldon. Both backs racked up over 100 yards against Notre Dame, who couldn't make tackles all game. Lacy is a redshirt junior who practiced behind Heisman winner Mark Ingram, and Trent Richardson, both in the NFL now. Lacy is a powerful, fast, elusive running back who outmaneuvered Manti Te'o and the Irish, giving them their first and only loss of the season. Eddie Lacy was named offensive MVP and rushed for 140 yards.
Nick Saban has great pride in his defense as well as his offense. The difference-makers in the game on defense were Ha'Sean "Ha Ha" Clinton-Dix, Alabama defensive back, and CJ Mosley, Alabama linebacker, who made a combined fifteen tackles, and completely locked down Notre Dame's offense. Alabama's defense held Notre Dame to 0 until late in the third quarter.
The biggest factor in the game was the difference in rushing yards. Notre Dame had more passing yards than Alabama's star quarterback AJ McCarron, but this obviously didn't reflect in their poor performance. The statistic that was most surprising was that
Alabama had 233 more rushing yards than Notre Dame, who had only 32. The key to Alabama's success is balancing their offense. Running an almost equal amount of rushing and passing, and going to 2-3 running backs, and 5-6 receivers. Notre Dame played a poor defensive game, but until someone figures out how to stop the powerhouse that is Alabama football, the tide will continue to roll.
View Comments (1)
About the Contributor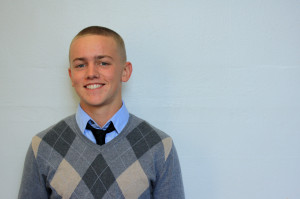 Gabe Kardia, Sports Journalist
Gabe is a junior in Haidu-Banks forum and this is his second year on Communicator. He commonly covers Michigan Football and Basketball, the Detroit Lions and Tigers and various local sports happenings. He plays football and runs track for Skyline and in his free time enjoys swimming, biking and watching How I Met Your Mother.