NFL Conference Championships

NFL Conference Championships
Without a doubt, playoffs in any sport are the most exciting time of the year. The best of the best, facing off with no room for error. The Ravens and 49ers might not be who everyone expected to make the championships at the beginning of the year, but the Falcons and Patriots were sure contenders.
San Francisco 49ers VS. Atlanta Falcons
The NFC Championship game kicked off with a quartet rendition of the national anthem sung by the Zac Brown Band in the beautiful Georgia Dome. The predictions for this game are almost perfectly split. 50.1% took the 49ers, and 49.9% took Atlanta. Both offenses have around 365 yards per game, and about 25 points per game. San Francisco has a better running game, and Atlanta has a better passing game. Defensively, the 49ers have every advantage but, Atlanta has the home field advantage. In terms of statistics, this game stacks up pretty evenly.
The Atlanta Falcons have had an unusually good season this year, but just barely made it through the divisional round against the hot Seahawks. The Falcons were up 21-0, and blew their chances of a shutout. They lost their huge lead, and came back with a fluke. The 49ers however, come into this on a hot streak. With Alex Smith getting a concussion mid-season, a young Collin Kaepernick came in and took heavy criticism when he stayed in after Smith was cleared.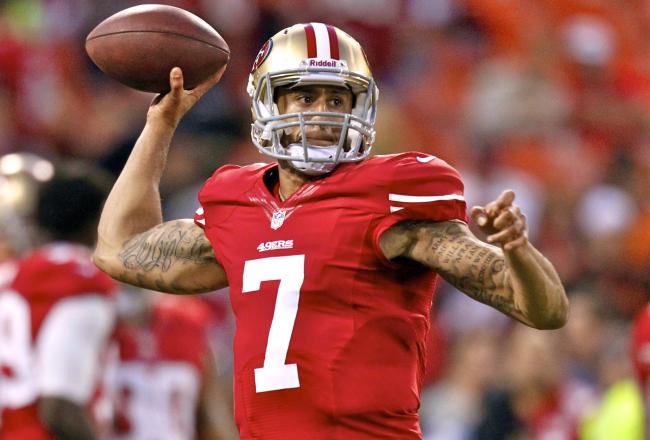 Kaepernick proved the critics wrong in the Divisional round game against the Packers, showing off his rocket of an arm with 263 yards passing. Even more impressive was his 181 yards on the ground, setting an NFL record for rushing yards by a quarterback. This gave Atlanta a dilemma as to where they should put their focus, as the 49ers already have a strong running game. Kaepernick brings a running threat, as well as a passing threat.
While most experts picked the 49ers to win namely because of their rock-solid defense, Matt "Matty Ice" Ryan came out on the opening drive and scored on a 46-yard deep pass to Julio Jones, who became a very popular receiver in this game. Kaepernick came out with the fans expecting just as much from him after the 579-yards the team put up against the Packers. By the end of first quarter, it was 10-0 Atlanta. The Falcons had 200 yards, while the 49ers had -2.
Kaepernick was obviously shaken by the crowd noise in the rowdy Atlanta stadium going into the game, and the crowd was at a fever pitch after Julio Jones racked up six receptions for 120 yards and two touchdowns. It was 17-0, and it looked as if San Francisco had been completely shut down. The Falcons had never lost a game that they had a 17+ point lead in, and it looked like easy ride to the Super Bowl from there.
The 49ers needed to do something to shut up the crowd so their young quarterback could settle in. On the ensuing drive, the 49ers proceeded to trash the Atlanta defense with their bruiser of a running back, Frank Gore, and speed demon LaMichael James, who rocketed in for a touchdown.
This seemed to rev up the 49er defense and they were able to make an easy stop on 3rd down, forcing a key punt that gave the offense a chance to close the gap. That's exactly what happened when Kaepernick got his hands on the ball. He  threw like a pro, and broke off his first big run. Kaepernick hit Vernon Davis for big chunks of yardage, and making the Atlanta defense look like a high school team. He hit Davis in the endzone for a much needed touchdown.
Matt Ryan certainly didn't want to lose this lead now, and threw with dead-eye accuracy to score again going into halftime. This would be his last touchdown of the year. The 49ers came out in the second half with newfound confidence and their ears ringing after no doubt getting the pep talk of a lifetime from fiery head coach, Jim Harbaugh. It obviously worked though, as the 49ers came back from halftime with the ball and drove downfield easily with a combination of James, Kaepernick, and Gore who ran it in for a touchdown.
Atlanta was shocked and their offense showed it when they sluggishly took the field, resulting in rookie corner Chris Culliver picking off Matt Ryan. This should have been San Francisco's chance to pull ahead, but they seemed to barely stumble down into field goal range, where placekicker David Akers missed a 30-yard field goal attempt, hitting the post.
While San Francisco missed their last chance at turning the game around, they were given another when Matty Ice finally melted, botching a snap that San Francisco recovered. Whoever said games are won in the fourth quarter was dead on.
Kaepernick made a big completion to Michael Crabtree, putting the 49ers in the red zone. However, missing opportunities was what they were doing best, so why stop now? Crabtree on a short pass got the ball stripped less than one foot from the endzone, and Atlanta recovered. The 49ers defense had kept Atlanta scoreless in the second half, and didn't want to stop now, so they came up with a big three-and-out to got the ball back to Kaepernick. Yet again, Gore was running well, and powered in for a touchdown, giving the 49ers their first lead of the game.
Atlanta ran down the clock, expecting to drive down and score one last time and stamp their ticket to the Super bowl. However they stumbled and found themselves in a fourth down situation going for it, and turned the ball over. The San Francisco 49ers ran out the clock, and made way to Super Bowl XLVII.
New England Patriots VS. Baltimore Ravens
Ray Lewis will retire after this season. He wanted to make a memorable year for his team, and they'd had quite a run. He was out with a tricep injury earlier in the season, and has only recently returned, but doesn't seem slowed down at all by this. Ray Rice has been proving his mettle for years, and this year in no exception. With nearly 2,000 all-purpose yards this year, Rice is a big component of this Ravens offense. At the beginning of the year, Joe Flacco claimed to be the best quarterback in the league, and was laughed at because of it. He's obviously looking to prove the critics wrong. Flacco, who has 4,670 passing yards this season, and no postseason interceptions, is looking to prove himself as a true NFL quarterback.


The playoffs aren't unfamiliar to the Patriots, and Tom Brady was looking to roll easily into the Super Bowl. The Patriots came out with lackluster effort, and were forced to punt shortly. The Ravens didn't do much better, finding a fourth down ever quicker. New England started to make a decent drive, but was forced to kick a field goal. The wind in Gillette Stadium was gusting, and Flacco, with the wind at his back, was overthrowing all his receivers in the first quarter. Both defenses were out to prove something, and stalemated the offenses.
However, in the second quarter, when they switched directions, Flacco could throw into the wind and gauge his power accordingly. He threw 5/5, along with Ray Rice rushing phenomenally, as he did all night. Rice was making defenders miss left and right, and barreled in for a touchdown. The Patriots struck back, driving downfield with a voracious Stevan Ridley running the ball well, as well at Tom Brady finding his targets.
Both teams came out in the second half looking for big plays. Flacco was getting overzealous with his passes. Brady was streaky all game, and Wes Welker dropped a few huge passes for the Patriots. Both teams had their DBs pressing, making passing harder, but the Ravens found a way around this by giving Rice the ball. They hit him on pitches, hooks, and screens, and he helped Baltimore into the red zone. Ravens tight end Dennis Pitta was blasted by Patriots Linebacker Jerod Mayo, only to get back up, brush it off, and score on the next play.
At this point, Baltimore had momentum, charisma, and resiliency as both teams were hitting hard. They drive down seemingly at will, with Rice and Bernard Peirce running very well. Flacco learned to throw quick, concise passes instead of lobbing bombs downfield, and Baltimore was settling in. Flacco hit the high-flying Anquan Boldin on the first of two arial touchdown passes.
On the ensuing drive from the Patriots, Ridley got rocked by safety, Bernard Poland, the "Patriot Killer." In 2008 he was responsible for Tom Brady's torn ACL. In 2009, he caused Wes Welker's torn ACL, and in 2012, he caused Rob Gronkowski's torn ligaments. Ridley immediately lost consciousness, and dropped the ball. He went into the "fencer's position" due to his spinal chord being compressed. He  left the game, not to return. He was dazed on the sideline, and needed help walking to the locker room. Ridley was later diagnosed with a concussion after the disgusting hit, and New England was put in a bad position. Baltimore with the ball, threw to Boldin again to put up 21 unanswered points.
New England was edgy and couldn't find their groove, running or passing. On fourth down, Brady, who, when running the ball earlier in the game, cowered behind a ref to avoid Ray Lewis, threw the ball away instead of running for an easy first down. The confidence of the Patriots was shot, and their authority diminished. Shortly after, Brady's pass was tipped and picked off, essentially losing the game at this point. Baltimore ran out the clock on the ground, burning through about five minutes and eventually gave the ball back. The Patriots, with one last chance, drove into the red zone where Brady threw another interception to end the game.
Super Bowl
The Baltimore Ravens and Jim Harbaugh will face his brother, John Harbaugh and the 49ers in the Super bowl. Both teams have killer defenses, and quarterbacks with everything to prove. Collin Kaepernick has perhaps become too built up in the media, and I don't think he will be able to perform in the pressure of the Super Bowl. Joe Flacco however, is more experienced, and wants to shed the nickname "Fluke-O" for good. This will be a tough defensive game, and should be fun to watch. My prediction is 23-28 Ravens on top.
About the Contributor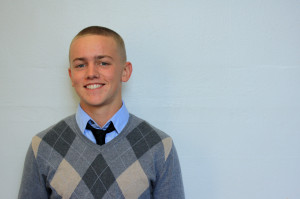 Gabe Kardia, Sports Journalist
Gabe is a junior in Haidu-Banks forum and this is his second year on Communicator. He commonly covers Michigan Football and Basketball, the Detroit Lions and Tigers and various local sports happenings. He plays football and runs track for Skyline and in his free time enjoys swimming, biking and watching How I Met Your Mother.