Michigan VS. Ohio State
When the Wolverines traveled to Columbus back in January, they came out weak and gave OSU an easy 20 point lead early. The freshmen had never been to as tough a venue as Value City Arena, and came into the game scared and unready to play. After making a slow comeback, Michigan lost a heartbreaker, 56-53 to Ohio.
Tuesday Feb. 5, was a different story. Michigan Head Coach, John Beilein put in four regular starters at tip-off: Trey Burke, Tim Hardaway Jr., Nik Stauskas and Glenn Robinson III. With Jordan Morgan's high-ankle sprain, Jon Horford started at forward. The crowd, as well as the Michigan players were decked out in bright yellow for Tuesday's "Maize-Out." The Michigan players were in maize from head to toe, and were ready to play this time. The fans were ready for revenge, and they were shaking Crisler Center from the beginning.
Coming off a tough loss to Indiana, the Wolverines came out looking for blood, and scored 12 unanswered early in the first half. Michigan looked very calm and collected, and took long shots while making it look easy. Sharpshooter Nik Stauskas was making long threes, and the team was clicking very well. Jordan Morgan came in later, his first time on the court since getting injured.
Ohio was back on their heels, but soon picked up some slack by playing tough defense. Aaron Craft was covering Trey Burke all game, and showed why he is a nominee for defensive player of the year. Craft played lockdown defense on Burke all night. Both teams started focusing mainly on defense and the scoring slowed significantly, but Michigan held a steady lead. Two minutes and two seconds before halftime, Ohio took the lead by one, quickly answered by big-man Mitch McGary. Ohio made another quick bucket before the buzzer to lead by one going into halftime.
Both teams played a strong first half, but Ohio had a slight advantage, reflected by the close score. Craft had completely shut down Burke for 10:00 going into halftime. The first half was closely matched and based upon the defenses.
Early in the second half, OSU extended their lead up to seven, but the game changed with a momentum-shifting alley-oop by Glenn Robinson III. Burke answered by making a three-pointer from way downtown. OSU retaliated by playing aggressive defense and fouling more, but it payed off as they had racked up five blocks at that point. Even with the tough Ohio defense, the crowd was excited as ever. Part of that crowd was ex-Michigan quarterback Denard Robinson and Head Football Coach Brady Hoke.
Tim Hardaway Jr. usually hits a hot streak every game. In this game, it came in the form of four long three-pointers in a row. Hardaway had six on the night, and led the team with 23 points. Even though Michigan's stars played well, the game stayed close. especially near the end of the game. The second half went very well for the Wolverines, who made 8-9 free throws. Michigan took the lead with under a minute left in the game with a dunk from McGary, but OSU tied it back up at 72 with 21 seconds left. Burke took a long three-pointer at the last possible second, but missed, taking the game into overtime.
Overtime started with the same lineup as tip-off except for McGary, who went in for Horford. The overtime was low scoring and controversial at points. The final two minutes of overtime were full of fouls and questionable calls. Craft was tough defensively, and was relentless around a loose ball. On the final play of the game Michigan had a two point lead. Craft took the rebound from a free throw and sprinted down the floor, closely followed by Burke and Hardaway. Burke missed the block, but Hardaway got a hand on the ball, ending the game. Craft laid on the floor, speechless, looking astounded that the referees had not called a shooting foul.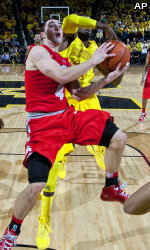 Though some have grievances or complaints about the calls in the game, it was a hard-fought battle by both sides, and Michigan earned the win that night with huge blocks in overtime. They had a season-high of 14 three-pointers, and moved to 14-0 at home, and 21-2 overall. Michigan will face Wisconsin, in Madison this Saturday, Feb. 9 on ESPN.
About the Contributor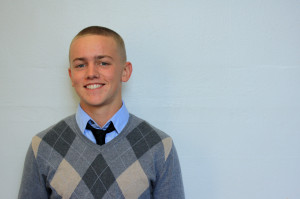 Gabe Kardia, Sports Journalist
Gabe is a junior in Haidu-Banks forum and this is his second year on Communicator. He commonly covers Michigan Football and Basketball, the Detroit Lions and Tigers and various local sports happenings. He plays football and runs track for Skyline and in his free time enjoys swimming, biking and watching How I Met Your Mother.