Michigan @ Wisconsin
Michigan traveled to Madison Wisconsin on Feb. 9th for a matinee game. The Wolverines had just come off an exciting overtime win at home against Big Ten rival Ohio State. Wisconsin is not a nationally ranked team in either the AP or the Coaches Poll and the maize and blue were favorites going into the afternoons game. A win would put Michigan in contention for a number one ranking and even though Wisconsin isn't a heavy hitter, they are a member of the Big Ten and the Wolverine's have struggled on the road against conference competition.
Starting for Michigan was the freshmen duo of Nik Stauskas and Glenn Robinson III, Trey Burke, Tim Hardaway Jr. and Jon Horford who has taken Jordan Morgan's starting job as he struggles with a high-ankle sprain. Morgan was benched all game due to the injury. The game started slow with no shots falling for the first two minutes. The Badgers' Ryan Evans hit the first bucket of the game and Stauskas answered to put Michigan on the board. Hardaway who was hot from behind the arc back on Tuesday hit a three to give Michigan some momentum.
After the first TV timeout Michigan Head Coach John Beilein put in Mitch McGary and Max Bielfeldt. McGary and Bielfeldt are pair of big men, using two big men is a style of play Beilein has flirted with throughout the season. He continued to use two big men for most of the game. Michigan struggles throughout the first half due to the point damage being done by Wisconsin freshman Sam Dekker. Dekker is a sharpshooter who has just recently started contributing to Wisconsin in terms of receiving serious minutes on the hardwood. Michigan got into a deep hole trailing Wisconsin by as many as nine points. Burke and McGary both got hot in the last few minutes of the first half. Burke hit a fadeaway jumper to give Michigan a 29-28 lead to conclude the half.
Robinson III struggled in the first half scoring no points and sitting more than usual in favor of playing two big men. On the road Michigan has often fallen behind in the first half and is known for having a more dominant end to the game. Beilein entered his starting lineup but replaced Horford with McGary. Robinson started the second half seeming to have received a wake-up call during the break. He shot a short jumper, got a board and threw down a dunk in quick succession, tying the game up 42-42. Michigans outside shooting was cold this afternoon and Stauskas who is typically a major contributor, bricked several three point shots.
With 9:06 to play the game was tied up 47-47. Hardaway got on a roll and had two long two pointers that, combined with a charge on the defensive end by McGary to give Michigan a 4pt. lead, their largest of the game. Burke got hot for Michigan but was answered twice by Wisconsin's Jared Berggren. Tie game 57-57 with 31.9 seconds to play. Michigan had the ball and the shot clock was turned off. Stauskas who often hits important shots at the end of close games couldn't get open and Burke was forced to dribble the game clock down. Hardaway got open and nailed a three pointer in traffic with four seconds on the clock. Timeout called by Wisconsin with 2.4 seconds showing on the clock, they were down by three. Wisconsin inbounded past half court to number one Ben Brust. Brust took one powerful dribble before launching a 40 foot jumper with a second remaining. The shot was good and the Badgers went wild. The game is headed into overtime.
Michigan made the questionable choice not to foul on Wisconsin's last possession. Overtime began with Wisconsin winning the tip. Both teams were bucketless for over a minute. Wisconsin got a two-pointer to kick off OT. Burke failed to answer with a three point miss but McGary locked down on defense and got Michigan the ball. Hardaway hit a two pointer and the game was tied at 62-62. McGary missed two shots including a breakaway layup. Wisconsin's Ryan Evans missed a jumper for the Badgers. Ben Brust who made the deep three to send the game into overtime hit another three to give Wisconsin a 65-62 lead. Michigan had several fouls to give, and had to foul Wiscon repeatedly to force them onto the free throw line. Michigan recovered the rebound off of a Wisconsin free throw miss and Trey Burke headed down court. Burke threw up a good shot attempt but it was no good. Michigan lost this Big Ten heartbreaker 62-65.
Hardaway, Burke and McGary were all in the double digits with 18,19 and 12 points respectively. Bielfeldt stepped up playing eighteen minutes which triples his average of six minutes per game. Stauskas and Robinson both had low scoring games with five and four points respectively. This loss extends Wisconsin's at home win record against Michigan to eleven straight contests. Michigan next game is against Michigan State and will be held in East Lansing at 9pm on Tuesday Feb. 12.
About the Contributor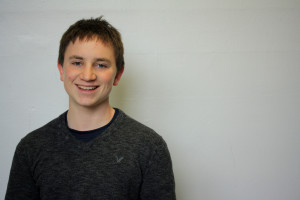 Jesse Rubin, Sports Journalist
Jesse is a junior and is beginning his second year on Communicator. He enjoys covering University of Michigan Basketball and writing Op-Eds about current issues in sports. He is a member of the Pioneer Men's Varsity Swim and Dive Team and often smells of chlorine. When he isn't in the pool or writing articles for Tracy he works at The Cherry Republic and enjoys playing pick-up basketball at the Y.