2013 Academy Awards Recap
Last Sunday, Feb. 24, was the 85th annual Academy Awards show, otherwise known as the Oscars, and while the Oscars are Hollywood's biggest night, they fell flat this year. I spent all day excited to curl up in my red carpet-worthy Snuggie and judge who was best and worst dressed, but I spent the entirety of Monday exhausted and hating myself for staying up.
To start off with, the host for this year's show was love-him-or-hate-him Seth McFarlane, creator of the television show Family Guy and director of 2012's "Ted"- and I was definitely in camp 'hate him.' It's not that I horribly minded that his jokes were crude, sexist and racist- it's that they weren't funny, although I suppose I'm biased as I've never liked Family Guy. If you're going to aim for edgy humor, your material has to be funny enough to be worth the controversy, and McFarlane did not deliver. His "We Saw Your Boobs" song was trending worldwide on twitter about five minutes after it aired, and brought about mixed reviews. While the actresses mentioned in the song's reactions were pretaped, many viewers sympathized with their evident discomfort and agreed that the joke was in poor taste, particularly since many of the actresses mentioned went topless for rape scenes. I personally cringed at his poking fun of actresses trying to lose weight, and following it up with an "It paid off. Lookin' good." Gross. The one bit of his opening montage I did find funny was bringing in Star Trek's Captain Kirk for a bit of futuristic meta, in which Kirk warned McFarlane that reviewers would call him the worst Oscar host ever. When the captain grumbled, "Why can't Tina and Amy host this? Why can't Tina and Amy host everything?" I was inclined to agree. Overall, the monologue dragged on too long- which served as an apt metaphor for the absurd length of the awards show as a whole.
The other new addition that caused a bit of a stir was the new exit music of the awards show. When winners went past their allotted 45 seconds in their acceptance speeches, the Jaws theme song would begin to play. However, in actuality, the only people cut off were the technical award winners, which I thought was horribly disrespectful. The music would have been hysterical had it cut off everyone, including Ben Affleck's slightly crazy sounding speech when "Argo" won best picture.
There were some good moments of the night. Nine year old Best Leading Actress nominee Quvenzhané Wallis- who was definitely the best dressed of the evening with her fashionable puppy purse- was adorable, and the camera cut to her cheering every time she was announced as a nominee. While I was upset that she did not take home Best Actress, Jennifer Lawrence was just as deserving, after giving an incredible performance in "Silver Linings Playbook." However, her moment of the night was when she tripped on her way to accept her award, sending Hugh Jackman and Bradley Cooper running to help her up. She gracefully recovered though, and said in her acceptance speech, "You guys are just standing up because you feel bad that I fell, and that's really embarrassing, but thank you."
The breakout stars of the evening were definitely the trio of long blonde haired beauties- "Life of Pi" cinematographer Claudio Miranda (who could actually be a stunt double for Lucius Malfoy- his locks were luscious), and surprise tie winners for Best Sound Editing, "Skyfall" editor Per Hallberg (with hair twin Karen Baker Landers), and Paul N.J. Ottosson for "Zero Dark Thirty."
About halfway through the three hour award show, the Oscars were replaced by the Tony awards, and there were performances from the movie musicals "Chicago," "Dreamgirls" and "Les Misérables." While I wish they had chosen a better song to represent "Chicago" (The Cellblock Tango, anyone?) the performances were all entertaining, and I know the Les Mis cast's live medley was the night's highlight for many viewers. Other memorable musical numbers of the night included the James Bond tribute, in which both Dame Shirley Bassey and Adele brought down the house with "Goldfinger" and "Skyfall," respectively. Barbra Streisand also performed a touching rendition of "The Way We Were."
The other talked-about moment of the show was the academy's choice to have First Lady Michelle Obama present the award for Best Picture via video conference. While she looked lovely, I found it very odd that they would have her present. I also admit that I was worried at first that "Zero Dark Thirty" had won, because having the First Lady present the award to the film about killing Bin Laden would have been really gross and propaganda-y. However, "Argo" won best picture, and the last five minutes of the ceremony summed up the whole sordid affair, when Ben Affleck crazily rambled through a several minute long acceptance speech. By this point it was around midnight, and I was happy to go to bed.
Here are the winners of the night (forever angry that "Moonrise Kingdom," which was my favorite movie of the year, won nothing. Thanks a lot, academy.) :

Actor In A Supporting Role
Christoph Waltz, Django Unchained
Animated Short Film
Paperman
Animated Feature
Brave
Cinematography
Claudio Miranda, Life Of Pi
Visual Effects
Bill Westenhofer, Guillaume Rocheron, Erik-Jan De Boer and Donald R. Elliott, Life Of Pi

Costume Design
Jacqueline Durran, Anna Karenina
Makeup & Hairstyling
Lisa Westcott and Julie Dartnell, Les Misérables
Live Action Short Film
Curfew
Documentary Short Subject
Inocente
Documentary Feature
Searching For Sugar Man
Foreign Language Film
Amour (Austria)
Sound Mixing
Andy Nelson, Mark Paterson and Simon Hayes, Les Misérables
Sound Editing (tie)
Paul N.J. Ottosson, Zero Dark Thirty
Per Hallberg and Karen Baker Landers, Skyfall
Actress In A Supporting Role
Anne Hathaway, Les Misérables

Film Editing
William Goldenberg, Argo
Production Design
Production Design: Rick Carter; Set Decoration: Jim Erickson, Lincoln

Original Score
Mychael Danna, Life Of Pi
Original Song
Adele Adkins and Paul Epworth, "Skyfall"
Adapted Screenplay
Chris Terrio, Argo
Original Screenplay
Quentin Tarantino, Django Unchained

Directing
Ang Lee, Life Of Pi
Actress In A Leading Role
Jennifer Lawrence, Silver Linings Playbook

Actor In A Leading Role
Daniel Day-Lewis, Lincoln

Best Picture
Argo
(Pictures courtesy of The Huffington Post)
About the Contributor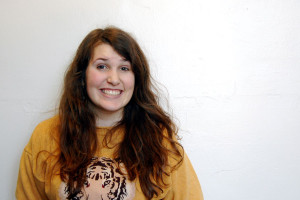 Hazel O'Neil, Writer
Hazel O'Neil is a junior, and this is her first semester participating in The Communicator. She just moved back to Ann Arbor after spending a year in Hong Kong. She likes drawing, her iPod, movies, and really good Thai food.