Ann Arbor Youth Venture to Israel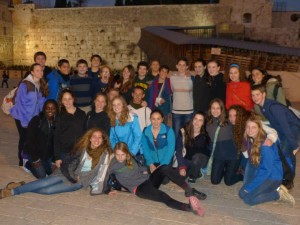 Twenty-two freshmen from Ann Arbor took a trip to Israel over winter break through an exchange program. I was one of them. We stayed with host families in a Moshav called Nahalal. In return our families will be hosting the kids from Nahalal this fall. We spent our days participating in activities with the Israelis. A Moshav is very similar to a Kibbutz in the fact that many of the people that live there are farmers. It does not share all the communal aspects of a Kibbutz though. In a Kibbutz people share their clothing, their crop; they don't own anything private. In a Moshav everybody owns their own house and all of their items are private. Nahalal is located in the northern portion of Israel, in the Jezreel Valley. It was the first Moshav established in Israel. Nahalal and Israeli culture in general is both similar and different to ours.
We had the opportunity to go to the kids' school twice. One time was for a tour and to go to class with the kids; the other time was for a Purim festival. Purim is basically a better and more exciting Halloween. Students do not have hot lunch at their school because most people pack a lunch and the others eat when they get home. Also, by the time they are in 10th grade, they are just studying two subjects very deeply. For example, one girl in our group was studying just biology and robotics. On the second day I went to the school it was Purim so there was a huge festival. People just walked around looking at everybody else's costumes and there was a party with a dance floor and bounce houses. At the festival there were all types of costumes from Skrillex to 5 gum.
On our trip we had the opportunity to visit the two biggest cities in Israel. The first one we went to was Jerusalem. Jerusalem is like no other place on the earth; it is absolutely magnificent. As we walked in to the Old City, which is the ancient part of the city, we were embraced by people of all different walks of life. The diversity there can be found nowhere else, there were nuns from Africa, tourists from China, and Ultra-Orthodox Jews. While we were in Jerusalem we went to the Western Wall. It was really amazing to go there because I had heard so much about it in religious school and I was finally there. I knew that people put notes/prayers to God in the wall, but I did not expect to see so many prayers/notes. I definitely felt closer to my Jewish identity going to the wall. Seeing all those prayers and knowing other Jews have traveled here from all over the world to pray to God. The only thing that I did not like about my experience at the wall was that males and females were separated and if a female went on to the males' side of the wall, she was arrested.
Tel Aviv was the other massive city we went to. I would consider it to be equivalent to our New York. In Tel Aviv we visited Independence Hall where the independence of Israel was declared. After this we went on a scavenger hunt through Tel Aviv. We spent most of our time during the scavenger hunt in a dense marketplace full of street vendors known as the Shuk HaCarmel. In the marketplace you can find clothing, food, crafts and jewelry. In the market I found it amusing finding fakes of many famous, luxury American brands such as Nike, Ralph Lauren, and Dolce & Gabbana. They also had really good authentic Israeli food in the market.
All of the families in Nahalal were extremely hospitable. They were so nice and accommodating. Israel is a place like no other and what was really nice is that we did not just tour the country but we were able to actually stay with an Israeli family. Honestly my favorite part of the trip was just hanging out with the Israelis. I want to go back to Israel as soon as possible. I look forward to hosting the Israelis in the fall and showing them Ann Arbor and our country.
About the Contributor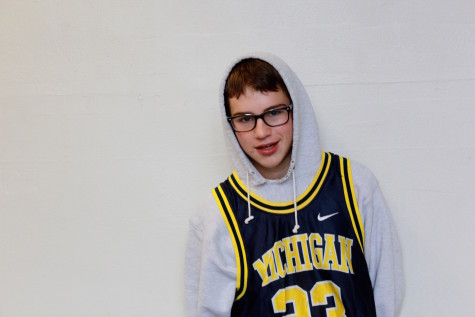 Abe Weiner, Business Manager
This is Abe's third full year on The Communicator. As the business manager, he is looking forward to maximizing The Communicator's financial intake.