2013 Mock Draft Team
2013 Mock Draft Team
Gabe Kardia
The football season is over but that doesn't mean there is no action in the football world. The NFL Scouting Combine was Feb 23-26 and showcased the biggest and best prospects for NFL teams to watch in the draft. This is an ideal team of the Draft Class of 2013. The Draft begins April 25.
OFFENSE
QB Geno Smith
Smith is a strong-armed quarterback, out of West Virginia, and the top QB prospect for the 2013 draft. He had an impressive draft performance, with a 4.59 40-yard dash showing that his value isn't only in his arm.
RB Eddie Lacy
Alabama is famous for producing explosive running backs, and Lacy fits the bill. He studied behind Mark Ingram and Trent Richardson and has tremendous talent. NFL teams know this despite his absence from the combine. Lacy owned the stadium in the 2013 national championship game, and earned his way there with his quick feet, battering ram-like hits and knowledge at his position.
FB Rex Burkhead
Burkhead was a big, powerful fullback for Nebraska and will be a high-value fullback in the NFL despite the fact that he will go late in the draft. He showed incredible athleticism, especially for a back his size, competing very well even among the tail backs
WR Robert Woods
While Woods wasn't outstanding statistically, he showed great hands and toughness at the combine, and coming out of USC, he is a promising back going into the NFL.
WR TJ Moe
Moe is a quarterback-turned receiver from Missouri who showed toughness playing through injury his freshmen year, and playing slot receiver the next three years. Moe performed very well at the combine showing his reliable hands as well as pumping out 26 reps on the bench press. Moe got first place in the bench press, the 3-cone drill, the 20-yard shuttle and the 60-yard shuttle
TE Tyler Eifert
Eifert was one of the key players in Notre Dame's 12-1 season and is a great blocker as well as being a big, reliable receiver. Eifert's outstanding senior season augmented his super combine performance, where he landed in the top 5 in every single event.
T Luke Joeckel
Joeckel is one of the top overall prospects coming into the draft, which is impressive for a tackle. He played a big part in Johnny Manziel's Heisman run and helped Texas A&M to their impressive season. He has good technique and mechanics, as well as quick feet.
T Lane Johnson
Johnson is a very versatile player coming out of Oklahoma. He went into college as a quarterback, and later turned into a tight end, and now plays tackle very well. He was a top performer in five events and ran an impressive 4.72 40-yard dash, which was .01 seconds away from first place. Johnson will look much like Riley Reiff going into the draft as he could play tackle or tight end in the league.
G Jonathan Cooper
Cooper is looking to be one of the first highly drafted offensive linemen from UNC since Harris Barton in 1987. He has made a name for himself in the Atlantic Coast Conference, earning many conference awards. He has a solid combination of size and quickness which will help him at his position. He also used to wrestle, which will drive his stock up more for scouts.
G Chance Warmack
Alabama's national title came from their always-sturdy running game, and the credit should go to their tremendous offensive line, of which Warmack was a key part. While he was an average performer statistically, NFL scouts know how he plays, and Warmack will be drafted early as a guard.
C Barett Jones
At the heart of Alabama's offensive line is Barett Jones, a big-bodied center who has lots of experience. Jones has played all five offensive positions and will likely be comfortable at whatever position he ends up. What he lacks in speed he will make up for with power and know-how.
DEFENSE
CB Dee Milliner
Milliner is a small but tough corner with blinding speed and good coverage mechanics. He knows how to press a receiver as well as shadowing closely. He had the second fastest 40-yard dash of the DBs and will likely be a first round draft pick.
CB Tyrann Mathieu
Despite Mathieu's off-field problems, he is an incredibly talented player with a lot of potential once he gets his act together. He has played multiple positions on both sides of the ball and has great instincts at any position. He showed good speed and ball skills during DB drills.
FS Matt Elam
Elam is a smaller safety but plays big. He has showed incredible hitting power and ability to break up plays. He is one of the top prospects at his position and was a leader for the Florida defense, and brings a positive energy to the field when he plays.
SS Shamarko Thomas
Adversity can bring a person down, or motivate them to come back even stronger, and Thomas did the latter. Thomas and his four siblings lost both of their parents in a nine month period. Thomas didn't let this take over his life, but used it as motivation. He had a dominant combine performance, getting first place in three events. What Thomas lacks in height, he makes up for in ferocity and hard hits.
OLB Zavier Gooden
Gooden had a stunning combine performance, getting top performer in six of the seven measurables. He is a very well rounded with speed, strength and agility and will provide any NFL team with a reliable linebacker.
OLB Cornelius Washington
Washington is a tall, long-armed backer with a lot of potential in the league. His size and strength give teams considering him a lot to work with and he showed his incredible athletic ability in the combine, landing as a top performer in every event he participated in.
MLB Manti Te'o
Te'o had a chance to go to the draft last year, but decided to stay for his senior season and boy did it pay off. He had an outstanding year with Notre Dame winning numerous national awards, took his team to the national championship, and finished second in the Heisman race. By staying an extra year he greatly improved his draft value.
DE Damontre Moore
"DaMonster" as his teammates at Texas A&M called him is a bid end and has even more size to gain at the next level. He has explosive power and impressed coaches at the combine. His 17.5 sacks speak for themselves, but his national awards help drive his value up even more.
DE Ziggy Ansah
BYU is not known for producing outstanding players, but Ansah has become a force on the d-line. Ansah has a great work ethic and knows what it takes to be an elite player.  When he began playing football halfway through college, he was small and thin. He gained size and strength and is now a good fit at his position.  He will need to be coached more on the technique needed for his position but is a good pass rusher as it is.
DT Barkevious Mingo
Mingo was a dangerous lineman for LSU against a tough SEC schedule and shows raw talent and agility. He has a long, lean build and had a very good combine performance. However NFL coaches will only see how wiry he is for a lineman. If Mingo can bulk up and retain his skills on the field, he will be a phenomenal player in the NFL.
DT Trevardo Williams
Coming from Jamaica, Williams has great speed for a DT which compliments his skills at his position. Williams' career at UConn got better every year, and he is looking like a high value player going into the draft. Like many collegiate players looking to move to the NFL, he needs to develop more power as well as size to be successful at the next level.
About the Contributor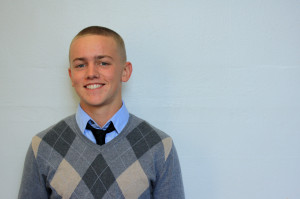 Gabe Kardia, Sports Journalist
Gabe is a junior in Haidu-Banks forum and this is his second year on Communicator. He commonly covers Michigan Football and Basketball, the Detroit Lions and Tigers and various local sports happenings. He plays football and runs track for Skyline and in his free time enjoys swimming, biking and watching How I Met Your Mother.