Michigan vs. Wisconsin: A Reprise

Michigan never expected to lose to Wisconsin when they traveled to Madison back in early February, but Ben Brust of the Badgers had other plans. The sharp shooting junior hit a 40-footer at the buzzer to send the game into overtime, and another three-pointer to beat the Wolverines 65-62. After a dominating win over Penn State in the opening round of the Big Ten Tournament, Michigan entered Chicago's United Center on March 15 eager for redemption against the Wisconsin Badgers, who are currently ranked 22 in the nation.
Starting for the Maize and Blue were Trey Burke, Tim Hardaway Jr., Nik Stauskas, Glenn Robinson III and Jordan Morgan. The Wisconsin starters were Ben Brust, Jared Berggren, Ryan Evans, Traevon Jackson and Mike Bruesewitz. The first couple of plays were sloppy and lethargic by the University of Michigan. Berggren blocked shot attempts by both Stauskas and Burke. Evans got Wisconsin on the board with a two-pointer, but this would be Wisconsin's only lead of the first half. Morgan was a non-factor and got benched after three minutes of play after racking up two personal fouls and two turnovers.
When McGary checked into the game to replace Morgan, Michigan gained momentum. His defense helped to contain Berggren, a 6'6" Badger with a dangerous outside shot as well as a solid inside game. McGary was also able to set effective screens for Burke. Along with McGary, Hardaway Jr. came on strong. Most impressive was his alley-oop, assisted by Burke.
Wisconsin suffered two five minute droughts in the first half. The first, caused by a travel called on Evans paired with several misses from behind the arc from the flaming redhead, Bruesewitz. The Badgers' second dry spell came when freshman Sam Dekker turned the ball over and then was blocked by Hardaway Jr.
To close out the first half, Wisconsin ran out the clock and drained a three-pointer to cut their deficit to three points.
Although Michigan maintained a lead throughout the first half, they allowed Wisconsin to control the tempo of play. Stauskas and Robinson III were unable to convert on their trips to the charity stripe. Burke was not his usual dominant scoring self; he turned the ball over more than usual, but stayed involved by feeding the ball to Hardaway Jr. and Stauskas.
Wisconsin committed two fouls early in the first half. Stauskas, who had botched his trip to the line in the first half, went 2-2, as did Hardaway Jr. The Badgers then let loose. Brust got a deep three, followed by Berggren who had two deuces in the paint to put the Badgers ahead 26-24. Robinson III headed to the line with a chance to tie the game up. He missed both shots and would be 0-4 for the game.
The Wolverines imitated Wisconsin and were silent for nearly six minutes. McGary, who was a rebounding force throughout the game, put back his own shot to end Michigan's lull. On Michigan's next possession McGary drew a foul and went 1-2. Wisconsin lead 30-28.
Hardaway Jr. and Burke worked to get Michigan back on top, with Hardaway Jr. using his sharp shooting, and Burke using his athleticism to get to the hoop. Wisconsin would not be shaken. They spread the rock between Brust, Evans and Jackson to hold on to and extend their lead. A Michigan miss allowed Wisconsin to go a run. Two made free throws by Evans and a three, courtesy of Brust forced Michigan Head Coach, John Beilein, to call a timeout as his team trailed by eleven.
Coach Beilein decided to go with two big men, Morgan and McGary, in hopes of containing Berggren. Wisconsin fouled McGary as he attempted an off balanced shot. He went 1-2 from the line. Burke got a steal and is fouled from behind on his breakaway. He made both. 56-48 Wisconsin. Wisconsin was unable to convert and Burke gets another Deuce forthe U of M, cutting Wisconsin's lead to six.
Hardaway Jr. draws an offensive foul, leaving Wisconsin with two unsuccessful trips into Wolverine territory. Burke misses a jumper but McGary is there to rebound and put it back from two more. Michigan cuts Wisconsin's lead to two points, forcing Bo Ryan to call a timeout.
The Badgers collected themselves after the timeout. Sending Frank Kaminsky, a 6-11 forward to play alongside of Bruesewitz. Kaminsky got a deuce on his first possession. Spike Albrecht fouled Evans who made the first and missed the second. Stauskus missed a three pointer fed by Hardaway Jr and Albrecht fouled Bruesewitz. Bruesewitz and his floppy red afro made both free throws, 61-54 with just over a minute to play.
Burke rallied with a quick two-pointer, but Kaminsky answered and Michigan was still down seven. Burke missed a three-pointer. Jackson was fouled by Burke and made two foul shots. Evans was fouled and makes one. With under 30 seconds to play Wisconsin was up by ten, 66-56. Burke nailed a three-pointer in a desperate attempt to stop Michigan's bleeding. Coach Beilein called his last time out to drum up a desperate game plan for the Wolverines. Jackson was fouled and made both of his free throws. Final: 68-59 Wisconsin.
Despite Michigan holding a lead the whole first half the Wolverines were not dominant enough offensively to put the Badgers away. Burke was quiet the first half, and Robinson III and Stauskas have both been plagued with the freshman slump. McGary played solid defense as did Hardaway Jr.. Morgan has been a disappointment all season due in part to an ankle injury, but primarily for his bad hands and lack of aggression on the defensive and offensive ends of the court. Michigan received a four seed for the NCAA Tournament and will be playing against South Dakota State on Thursday March 21 at 7:15. It should be an exciting matchup between Burke and the Jackrabbit's Nate Wolters, as both are high efficiency point guards, ranked third and second respectively.
About the Contributor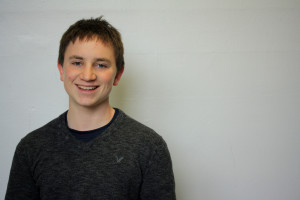 Jesse Rubin, Sports Journalist
Jesse is a junior and is beginning his second year on Communicator. He enjoys covering University of Michigan Basketball and writing Op-Eds about current issues in sports. He is a member of the Pioneer Men's Varsity Swim and Dive Team and often smells of chlorine. When he isn't in the pool or writing articles for Tracy he works at The Cherry Republic and enjoys playing pick-up basketball at the Y.