Sweet 16 preview: Michigan vs. Kansas
On Thursday March 28, the Michigan Men's basketball team will play the Kansas Jayhawks in Arlington, Texas. Michigan hasn't been to a Sweet Sixteen since 1994, while the Jayhawks have made it eight of the last ten years.
The Wolverines, a four seed in the tournament, came into the 75th NCAA Men's Basketball Tournament in the middle of a small slump. After starting the season 16-0, the Wolverines went 6-6 in their last 12 regular season games. The Wolverines rebounded well in the first game of the tournament, beating 13 seed South Dakota State University 71-56. The shining star for Michigan was Glenn Robinson III with 21 points, six rebounds, and one steal. In the round of 32, Michigan played one of their best games all season and crushed five seed VCU 78-53.
The Kansas Jayhawks are one of the last three one seeds left in this year's tournament. On their way to March Madness, the Jayhawks didn't lose a game from Nov. 15 until earlier in March, and won the Big XII Conference Championship. The Jayhawks started off in round two against Western Kentucky. The Jayhawks beat the 16 seed 64-57, which was a little closer than expected. Next, Kansas played The University of North Carolina, an eight seed. Kansas handily put UNC down 70-58 with Jeff Withey scoring 16 points, and grabbing 16 boards for the double double.
This will be the first true test for both the Wolverines and the Jayhawks. Trey Burke, a sophomore point guard, is Michigan's best player. He averages 18.8 points and 6.7 assists a game. With Burke as a brilliant ball handler, the best person the Jayhawks have to defend him is Elijah Johnson. Johnson is a senior guard, who averages 9.8 points and 4.7 assists. Johnson is a good player but Burke is up for the Wooden Award (Player of the Year) and will be hard to defend. The Jayhawks best player is Withey, a senior center. Withey averages 13.8 points and 8.5 rebounds. Withey stands seven feet tall, taller than anyone on the Wolverines roster, and weighs 235 pounds. Mitch McGary of Michigan will have the challenge of guarding Withey on Thursday. McGary, a 6' 10" freshman, has taken over the starting role, from senior center Jordan Morgan, midway through the season and has really been a strong force so far in the tournament. McGary dominated the VCU game for Michigan, but Withey is much bigger than VCU's big men.
I think this game will be close. I am a die-hard Michigan fan so I will try to be as neutral as possible when giving my opinion on who I think will win. To win this evenly matched game, one team has to come out with better guard play. If the Jayhawks can stop Burke then they will win this game easily, but if Burke gets hot early, this has the potential to be a great game. Burke and Co. will find a way to win this game. It's going to be close though. My final score: 72-65 Michigan.
About the Contributor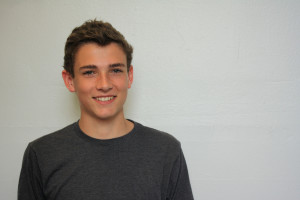 Jack Kozicz, Journalist
Jack is a junior at Community. This is his third year on staff. He writes primarily for the sports section, but also makes videos on all different topics. He rows for Huron and is in the occasional CET play. Jack is an avid ornithologist. You may find him walking along the beach with Kevin.