Zak Irvin: The Future of Michigan Basketball?
The 2012-2013 season was one that will remain ingrained in the minds of Wolverine fans for decades to come. The "Fresh Five" along with veterans Trey Burke and Tim Hardaway Jr. lead the Wolverines in an unexpectedly deep run in the NCAA Tournament that ended in a heartbreaking loss to Louisville in the National Championship game. Michigan has their sights set on another successful post-season and will be looking to incoming freshmen  Zak Irvin, Derrick Walton and Mark Donnal to help them accomplish the goal.
Donnal is a 6' 9" big man who should fit nicely into the rotation of Mitch McGary, Jordan Morgan, Max Bielfeldt and Jon Horford. Walton will have to step into the big shoes left behind by Trey Burke — who looks like as good an option as anybody for the number one NBA draft pick. Walton is also a small point guard at only six feet, but he has exceptional court sense. He doesn't have the scoring ability of Burke, but Michigan has multiple guys who can catch and shoot which will work well with a strong distributer. Donnal and Walton are both four-star recruits ranked in the ESPN 100, however Irvin is expected to be the standout of the trio.
Irvin hails from Indiana, a state from which Coach Beilein recruits heavily. He was voted Mr. Basketball in Indiana and played alongside Michigan State's Gary Harris at Hamilton Southeastern High School. He posted quality stats averaging  25 points, nine rebounds and three assists per game in his senior season. Recruited by Baylor, Purdue, Xavier and Big Ten rival Indiana, Irvin says he chose Michigan because of the coaching staff. When Irvin first committed to Michigan the summer before his junior year he probably didn't think he'd be in the starting five immediately, but with Hardaway Jr leaving for the NBA Irvin is the logical choice to play the three.
More than just his skills on the basketball court Irvin has the makings of a true Michigan Man. He has a strong work ethic, is a team player and is modest. He is a five-star recruit but said "To be honest, I don't think about rankings. I think all of us [Irvin, Donnal and Walton]will get minutes and make an impact." Irvin should fit in nicely with the Wolverine's chemistry as he and Walton spent time together while participating in the NCAA three-point shooting contest in Atlanta and he and Glenn Robinson III played against each other in high school.
Don't mistake Irvin's big smile and friendliness for a lack of competitive spirit. Devin Davis, Irvin's former AAU teammate will be playing for the Indiana Hoosiers next season and Irvin said "Emotions are definitely going to be running high during [the Indiana] game." Other than Davis Irvin will go up against another AAU teammate, Collin Hartman who will also be playing for Coach Tom Crean.
Irvin chose to play for a Big Ten school and Big Ten basketball is known for being extremely physical. When Michigan plays against Michigan State, Ohio State and Indiana the games are known to get rough with lots of fouls and body checking out of the paint and up on the three-point line. Irvin is listed as 6' 6" and 185 according to ESPN's Recruit Nation and with good hands and a solid mid range jumper he could be seeing some mismatches on the offensive end. That being said he is still a young and growing athlete and considers his biggest weakness his strength. "I gotta get stronger. [The] Big Ten is physical." Michigan saw the edition of its Player Development Center in 2012 which includes state of the art olympic lifting equipment that should help get Irvin to where he hopes to be by summers end.
Last year's incoming freshman all proved at one point in the season why Coach Beilein recruited them. From McGary's monster screens, Nik Stauskas' dagger threes, Robinson III's flying dunks, Carris Levert's swarming defense or Spike Albrecht's standout performance in the NCAA tournament the Michigan Freshman lived up to their hype. Michigan fans around the globe have high hopes for next season and Irvin thinks his class can help fill in the gaps left behind by Burke. "[Michigan] fell short against Louisville, there will be a target on our backs next year." Said Irvin, who thinks Michigan is poised to have another excellent season. Could Michigan find themselves playing in Cowboy Stadium for a NCAA banner in 2014? Only time will tell but Wolverine fans have the right to be excited for what the future holds for the Maize and Blue in the 2013-2014 season.
About the Contributor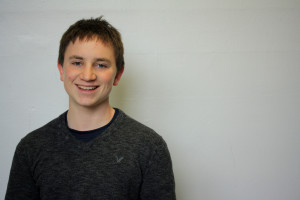 Jesse Rubin, Sports Journalist
Jesse is a junior and is beginning his second year on Communicator. He enjoys covering University of Michigan Basketball and writing Op-Eds about current issues in sports. He is a member of the Pioneer Men's Varsity Swim and Dive Team and often smells of chlorine. When he isn't in the pool or writing articles for Tracy he works at The Cherry Republic and enjoys playing pick-up basketball at the Y.