Comics Convention Comes to AADL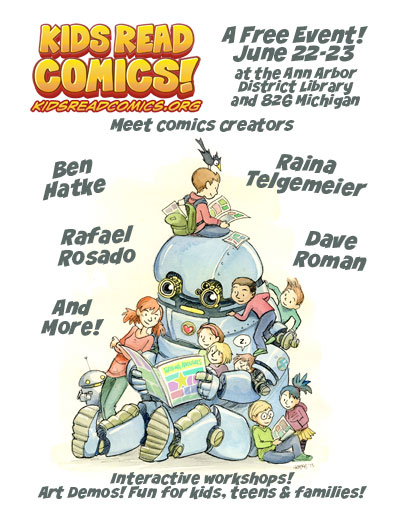 Kids clamor around tables, leaf through comic books, and get the signatures of their favorite cartoonists, all in the midst of a whirlwind of comic-convention activity. The event is like any other comics convention, except for one thing: it's set up in the downtown branch of the Ann Arbor District Library, and organized by local cartoonist and teaching artist Jerzy Drozd. The Kids Read Comics convention is now in its fifth year, and will take place this summer from June 22-23. "It's an opportunity for kids to come out, meet their heroes, and work alongside their heroes," Drozd said. "Admission is free, artist tables are free, and it's a big celebration of the medium of comics and especially comics for young people."
This year's lineup will feature a number of accomplished and well-known cartoonists, including featured artist Ben Hatke, author of Zita the Spacegirl; Raina Telgemeier, author of Smile and Drama; Dave Roman, author of Astronaut Academy and TeenBoat!; and Rafael Rasado, author of Giants Beware. As this year's featured artist, Hatke created the poster for the event. He also plans on bringing along his 10-year-old daughter Angelika so they can sell comics and lead workshops together. Other workshops will be hosted off-site at 826Michigan, the Neutral Zone, and the University of Michigan Museum of Art. Dominic's, a restaurant in downtown Ann Arbor, will host a meet-and-greet for the cartoonists and for those attending the convention. A draw-wall will be available for cartoonists and the public throughout the days of the event, and on Saturday evening, the Neutral Zone will host a cosplay and dance party. The weekend will conclude with the first annual Kids Comics Revolution Awards, organized by Drozd and Dave Roman and selected exclusively by kids.
"We've worked very hard to create an event that is cheerful and inviting and fun for kids and the cartoonists, so those who come tell their friends, and then more and more people want to come every year." While Drozd is glad to have a welcoming space such as a library to use for the event, he understands that such a space can only hold so many people. "If you think about a traditional comic convention, they're usually in these big tradeshow buildings where you can have two, three hundred different people tabling. But those places are usually big concrete buildings with no natural light; a library is a much more pleasant place to hold an event like what we want to do." Drozd isn't the sole planner of the event; he works with a group of five and many additional volunteers. Together, they coordinate the layout of the convention, the locations and timing of the different workshops, and other details, such as helping visiting cartoonists find their tables and making sure food is available to them. "The first six months of every year of my life is consumed by Kids Read Comics," Drozd joked.
For Drozd, one very important aspect of the event is making it open to all ages, and that means behind the tables as well as in the audience. As with previous years, Drozd will have a table reserved for students of his who are interested in selling their work in a convention atmosphere. "As long as you can print up a book, we'll give you table space," he promised. "We do have a table where three or four local Ann Arbor teens and kids will be selling their books, and most of them are former students of mine, which is kind of gratifying for me. I get to watch these young people who I've mentored grow into authors at my convention. That's pretty awesome."
The 2013 Kids Read Comics convention will take place on June 22nd and 23rd at the Ann Arbor District Library. For more information, go to www.kidsreadcomics.org.
About the Contributor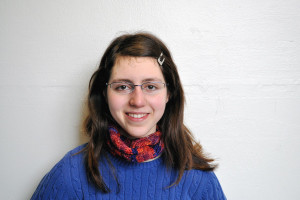 Susan LaMoreaux, Writer
Susan LaMoreaux is a duel-enrolled CHS senior, and takes many of her classes outside the building. She participated in Communicator during her junior year, and is thrilled to be back! When not doing schoolwork, Susan enjoys art, writing, cooking and baking, and walking her dog. She hopes to someday make quilts and write a graphic novel.