Poetry Night in Ann Arbor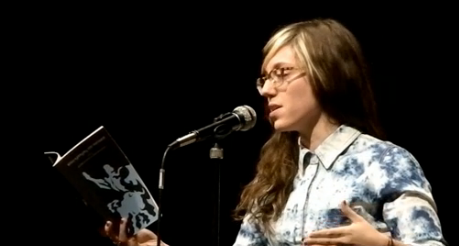 On Thursday, Nov. 29, the Neutral Zone hosted the 13th annual Poetry Night in Ann Arbor at Rackham Auditorium. This event gives aspiring poets in the area a chance to read their work alongside professional writers. This year, poets included students from four of the Ann Arbor public high schools, a handful of University students, and featured, professional poets Patricia Smith and Shira Erlichman.
Smith is an established, award winning poet and author. Her calm, collected manner on the stage at Rackham drew the audience in, bringing the room to a hush. Smith reads in a manner similar to how one would tell a story, creating an intimate connection between her and her listeners. Smith's stories included those from her own life growing up as an African-American woman, as well as a few persona poems where she took on the task of putting other peoples' struggles into words.
Erlichman is an up-and-coming musician and poet. Her writing is funny, charming, and engaging. The audience laughs, snaps, and shouts things up to the stage in a back and forth sharing between listener and performer. Erlichman's poetry deals with a variety of topics, especially gender and women's issues, but tackles these in exciting, interesting ways.
The laid back feel of the evening and the friendly atmosphere allowed students to be free to express themselves. None of the poetry was censored, and students were encouraged to tell their story as it needed to be told.
Both first time and competitive poets read Thursday night, but all were rewarded with the same electric enthusiasm from an attentive audience.
Watch footage from the night's readings below:
[vimeo]https://vimeo.com/54862339[/vimeo]
Patricia Smith
[vimeo]https://vimeo.com/54865673[/vimeo]
Eric Bayless-Hall
[vimeo]https://vimeo.com/54861459[/vimeo]
Caitlyn Fisher
[vimeo]https://vimeo.com/54864653[/vimeo]
Afton