Red Wings Thrash Bruins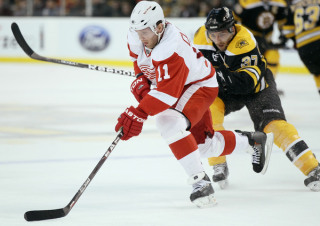 Last night, the Detroit Red Wings played their third preseason game against their new division foes, the Boston Bruins, thanks to the new Conference realignment. Since the 1974 realignment the Red Wings have been in the Western Conference. This season will be the first season the Red Wings will compete in the Eastern Conference. The Red Wings beat the Pittsburgh Penguins to open the preseason and then lost to former rival Columbus Blue Jackets. This game gives the Red Wings a taste of what they can expect from the Bruins in the 2013-14 season.
The Red Wings started Jimmy Howard at goalie, and he stopped 13 of 14 shots against him in the first and second periods, before being replaced by backup goalie Tom McCollum. The Boston Bruins decided to start rookie goalie Malcolm Subban, brother of star Montreal defender P.K., over Tukka Rask.
Abdelkader started the night off right for the Wings scoring the first goal of the game five minutes into the first period. After that the Red Wings didn't look back, scoring three more unanswered goals. The Bruins fought back at the end of the second, getting what is now considered a consolation goal from, the veteran center that cost the Bruins $1.8 million this offseason, Jarome Iginla. The third period was more of the same; the Wings scored four more to bring the goal total to eight, while only conceding one more. The Red Wings looked dominant and fresh from an early departure from the playoffs last year, keeping up with the Bruins much younger squad.
Both teams use these games to decide who gets a final spot on the roster. Players know that if they don't impress the coaches they will be sent back down to the farm team and have to wait until they get another shot.The three young guys that impressed the Wings against Boston are David McIntyre, Danny DeKeyser, and Joakim Andersson. Each of these young players scored a goal and showed signs that they were able to move up from Minor league play in the near future.
About the Contributors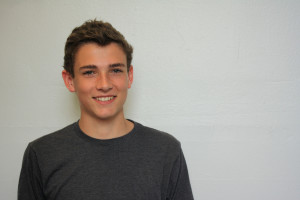 Jack Kozicz, Journalist
Jack is a junior at Community. This is his third year on staff. He writes primarily for the sports section, but also makes videos on all different topics. He rows for Huron and is in the occasional CET play. Jack is an avid ornithologist. You may find him walking along the beach with Kevin.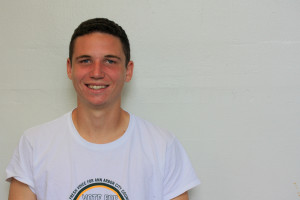 Kevin Turnbull, Sports Journalist
Kevin is a senior at Community. He has been on staff for two years, and plays soccer for Huron. Kevin is a sports writer. He also enjoys long walks on the beach and roses are his favorite flower. He won't walk with Fernando, as Fernando's walks are too short.