Heisman Watch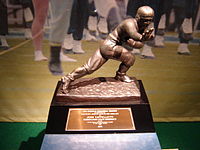 While last year's NFL Draft was devoid of high-caliber quarterbacks, the future looks bright with an abundance of promising field generals taking over the Heisman spotlight. Eight of the twelve current Heisman candidates are quarterbacks, including last year's winner, Johnny Manziel, National Champion AJ McCarron and strong-arm freshman Jameis Winston.
While quarterbacks dominate the Heisman race, the leading running back should show them some tough competition in the coming weeks. Georgia's Todd Gurley II is averaging 6.3 yards per carry, and he's doing it against some of the best teams in the country. Outside of a blazingly fast 75-yard touchdown run against Clemson, Gurley hasn't been flashy this year, but he has been consistent, dependable and powerful from Georgia's backfield. He will likely break off some big runs, and have some huge games when not playing top 10 teams. At 6-1, 232 pounds, he is a bruiser of a back with incredible speed, quickness and intelligence to boot. Gurley has 450 yards on 71 touches.
"Famous" Jameis Winston is a freshman phenom taking over the quarterback position at Florida State University after EJ Manuel was drafted to the NFL. He has taken the Seminoles to 4-0, never scoring fewer than 41 points. He came out of the gates fired up in the first college game of his career, embarrassing Pittsburgh with a 41-13 win. Winston completed 25 of his 27 passes for 356 yards. He has thrown for over 1000 yards and scrambled for 111. Winston is also incredibly elusive in the backfield – a skill not represented in the stat books – and often escapes an impending sack, and gets the ball to a receiver. (For example, this play against Boston College or this one against Bethune) He has been sensational so far, but he has yet to face a ranked opponent, or a solid defense. He will likely have an outstanding freshman season, and give the upperclassmen a run for their money in the Heisman race, but he won't continue to produce the outrageous stats he has in the first four games.
Marcus Mariota is the sophomore quarterback leading the Oregon Ducks this year, holding them at the number two overall rank in the country, second only to National Champion, the Alabama Crimson Tide. He is currently the forerunner in the Heisman race after his consistently explosive performances this year. Being yet another dual threat quarterback with blinding speed and a solid arm, in my mind what sets him apart from Johnny Manziel is his smarts in the backfield. Mariota knows, better than Manziel, when to sit in the pocket, and when to run – an instinct he came in with his freshman year. He averages 14 yards per scramble, hasn't thrown an interception yet this year and has 1003 passing yards on the season. Mariota is looking to have a strong sophomore year, and is my favorite to win the Heisman.
About the Contributor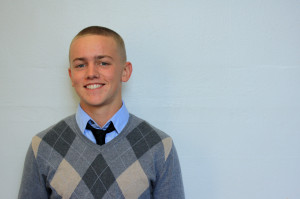 Gabe Kardia, Sports Journalist
Gabe is a junior in Haidu-Banks forum and this is his second year on Communicator. He commonly covers Michigan Football and Basketball, the Detroit Lions and Tigers and various local sports happenings. He plays football and runs track for Skyline and in his free time enjoys swimming, biking and watching How I Met Your Mother.