Stress Across the Grades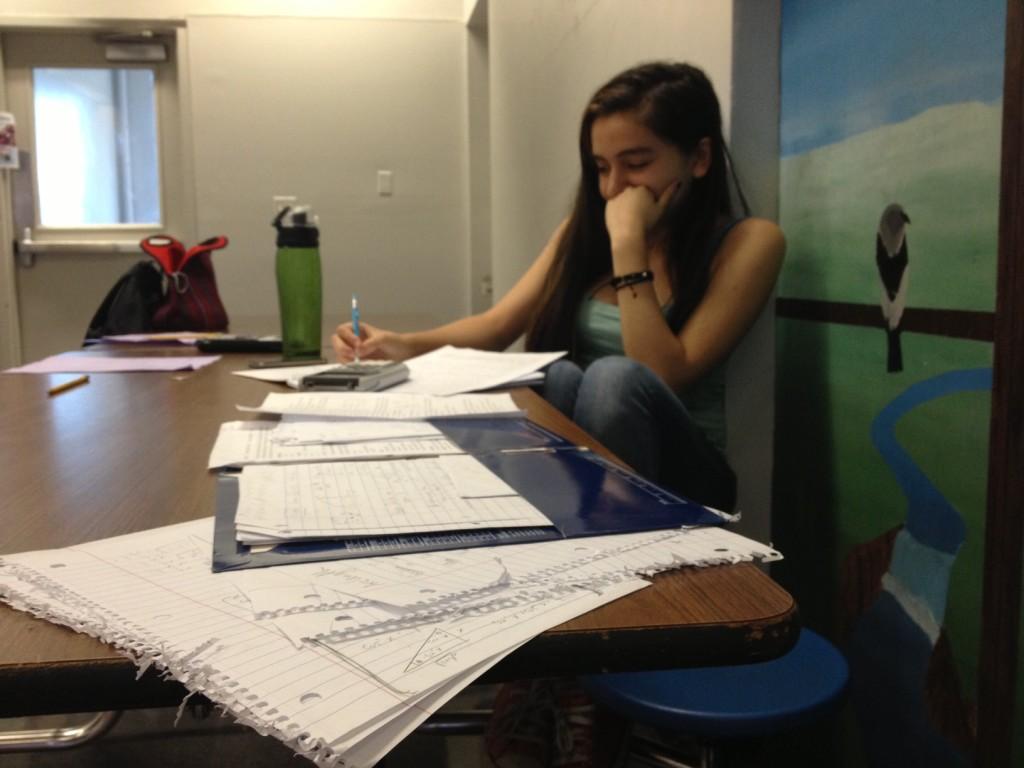 There is no doubt that high school is a stressful place. Standardized tests, social situations, college applications, and academic classes are all factors that can keep students up at night worrying. Everyone has a different experience when it comes to stress, and it varies across the four grades. For junior Clara Motino, "Everything is stressful."
Motino is taking a plethora of classes this semester, including Foundations of Science (FOS) 3 and 4, Calculus, second semester Analysis, and American Lit. Despite all this, she is mostly stressed about the ACT and SAT. "I'm not very good at standardized tests," she said.
Other juniors feel similarly. Lydia Krienke is dual enrolling at Huron high school to take AP Biology and finds it difficult to balance completing all the work for her class and planning for college at the same time. "College is fast approaching," she said. "You gotta do all your school work in the present moment but you also have to think about the future…it's a little scary."
Julian Stockton feels more stress about academics and tests this year than he did in his past two years of high school. He said he is more confident and comfortable in school as an upperclassman, but that the hype around the ACT and SAT is stressing him out.
Stress isn't exclusive to high school juniors, though. Freshmen, sophomores, and seniors are all experiencing different levels of stress about school, college, and myriad other things.
Sophomore Clara Keane is worried about grades. She is "taking a lot of hard classes" and is stressed about doing well in them. Keane is taking French 3AC, an English class at U of M, Environmental Science AP, AP US History, along with Algebra 2 and Dance Body. "I need a break from weekends," she said. "Weekends are supposed to be a break from school, but I just work so much on the weekends [that] I need a day to just rest."
Tenth grader Joseph Ferraro feels stress about his classes as well. Ferraro is doubling up on math classes this year, and he said that "Algebra 2 is amazingly hard compared to Algebra 1."
However, Gloria Fall, also a sophomore, is already feeling pressure about college. "Everybody's like 'Oh, colleges really just look at your sophomore and junior year the most,'" she said. "I want to get all As this year."
College worries many high school students, and the seniors especially are feeling the time crunch. Applying to college is a very stressful ordeal, but different seniors are stressed about different things.
Sofia Kromis, a senior, is worried about SAT subject tests. "They're required for one of the schools I'm applying to and [I found out that] I don't know anything about chemistry…by reviewing for the chemistry test. So now I have to learn chemistry again to take this test."
Another senior, Liam Sullivan, is stressing about the college applications he's been "trying to avoid for as long as humanly possible," while Sofie Sylvester is anxious about college as a concept.
"Going away from home, leaving all my friends, [and] having to create a completely new support system [stresses me out]," Sylvester said. Sylvester is applying to schools in Canada, and is worried about the distance from home and friends.
When upperclassmen look back on their freshman year, they don't remember much stress at all. And it seems that that is the case with this year's freshmen. Isaac Nation is enjoying most of his classes and isn't stressed about social situations. "[Community] is a very good school," he said. "It's very fitting. It's very accepting." The only thing Nation is stressed out about is remembering to do all of his homework every night.
Freshman Kim Pieske is feeling no stress at all this year. She said the transition from middle school to high school wasn't hard and that all her classes are going smoothly.
To the juniors and seniors, it may feel like there was never a time when something wasn't stressful. Freshmen and sophomores might feel apprehensive of the stress they feel now and the stress that their future years in high school will bring. Whatever the case, if you ever feel overwhelmed about school work or the future, talk to your forum leader or John or Diane in the counseling office. They are there to help you.