We On: An Insiders Guide to Michigan Basketball's Rise to Power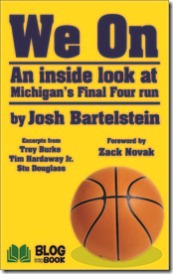 Most players are judged by their statistics, a way to quantify their value to the team, but some things can't be measured. Enter Josh Bartelstein. In four years with the Wolverines, Bartelstein played just 56 minutes and scored six points. He chose to walk-on to Coach Beilein's team after turning down full ride offers from all nine Division I schools who recruited him. Battling through two ankle injuries, one in high school and one in his final year at the University of Michigan, Bartelstein contributed to the team as a leader and a mentor. He was also a link between the inner sanctum of Michigan basketball and the outside world.
Starting in his sophomore year Bartelstein was asked by Assistant Media Director, Tom Wywrot, to write a blog. What no one knew then was that Bartelstein would end up chronicling three of the most significant seasons in Michigan Basketball's history since the days of Chris Weber and the Fab Five.
The premise of The Bartelstein Blog* was to provide fans with candid information about the team and coaching staff, as well as insight on more technical aspects of the game. Bartelstein captured a holistic view of the team from locker room antics to the daily grind of practice to rigorous classes. His blog created a vast following on MGOBLUE.COM, bringing thousands of intrigued fans to the website to read each new entry.
Upon graduating in May, Bartelstein decided he could do more to preserve the culture his anecdotes had created. In collaboration with another University of Michigan alum, Zack Price, We On was born. Price is the head of his own company, Blog Into Book, which helps electronically bind blogger's collections as e-books in order to sell them.
For Bartelstein, We On wasn't simply taking three years of his blog and putting them together; he added a whole new dimension to the story. Former Michigan Basketball Captain Zack Novak wrote the book's foreword and Stu Douglas, Tim Hardaway Jr. and Trey Burke each wrote pieces for the book as well. In addition to the added textual content, pictures and videos from both players and fans were included.
We On, in its entirety contains nearly 250 pages of content and is a must read (and watch) for any Michigan Basketball fan. Bartelstein added a handful of exclusives from the Michigan's Final Four weekend in Atlanta which are only available in the e-book. We On can be purchased on blogintobook.com and is compatiable with PC's, Apple products and the Kindle. With Michigan's first exhibition game of the 2013-2014 season on Oct. 29 against Concordia, We On is a great way to get back into a Michigan Basketball frame of mind.
Although Bartelstein's performance on the court was minimal, his contributions to the Michigan Basketball team were invaluable. He is a model example of what Coach Beilein can accomplish with walk-ons. His poise as a veteran member of the team helped pull together a group of highly talented underclassmen. Despite the struggles he faced personally because of his injuries, Josh Bartelstein has cemented his place in Michigan Basketball history, indefinitely.
* Bartelstein's blog will be continued in the 2013-2014 season by first year walk-on, Cole McConnell, under the new name Cole's World.
About the Contributor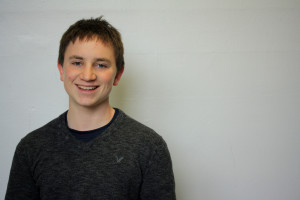 Jesse Rubin, Sports Journalist
Jesse is a junior and is beginning his second year on Communicator. He enjoys covering University of Michigan Basketball and writing Op-Eds about current issues in sports. He is a member of the Pioneer Men's Varsity Swim and Dive Team and often smells of chlorine. When he isn't in the pool or writing articles for Tracy he works at The Cherry Republic and enjoys playing pick-up basketball at the Y.