Detroit Tigers: We're Back, Baby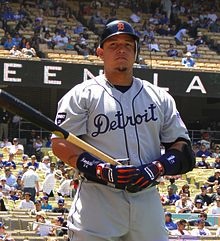 Hang on for a minute...we're trying to find some more stories you might like.
Last year, the Detroit Tigers earned their playoff berth in dramatic fashion as they finished off a 88-74 season. Miguel Cabrera won the batting Triple Crown for the first time since 1967, and was awarded the American League Most Valuable Player. Justin Verlander was named the starter for the All Star Game, and ended the season with 239 strikeouts (the most in the League) an Earned Run average of 2.64 (the second lowest in the league) and drew a no-hitter into the ninth inning, only giving up one hit. With discernibly one of the best batting corps in the country and a squad of first-class starting pitchers, many expected the Tigers to propel themselves to the status of World Series Champions.
In the American League Divisional Series, Detroit played Oakland in an exciting series, with Detroit winning in the fifth game. In the American League Championship Series, they faced the New York Yankees and swept them in four games. With this momentum, everyone and their mother predicted the Tigers to take home the title. They proceeded to travel to San Francisco and fall flat on their faces in the series, getting swept by the Giants.
This year, the Tigers are constructing a powerful run at the World Series again with the starting pitchers leading the way, and Cabrera, Prince Fielder and the Tigers' sluggers punishing pitchers across the board. Cabrera leads the league in most batting statistics and forces teams to do all that they can to prepare for him. The key to owning the playoffs this year will be the execution of starting pitchers, and the lack thereof by the bullpen.
While this has been one of Verlander's worst years in the league, it shouldn't be of any concern to fans considering the level at which he has performed since his phenomenal debut in 2005. Even though this has been an off year for Verlander, for any other pitcher it would be an exceptional season. So far in the playoffs, he has been pitching the lights out. He will be pitching the third game of the series with the Boston Red Sox.
The Tigers' relief pitchers have been notoriously inadequate in recent years, and this has become terribly evident in game two of the ALCS when the outfit of relief pitchers blew a 5-0 lead. This isn't the first time for this to happen this year, but it was perhaps the most consequential.  In order for Detroit to keep their postseason hopes alive, they need to keep the pitch count down for their starting pitchers, and their offense needs to continue to pummel opposing pitchers, something they failed to do in last years World Series.