A Split Decision
Faced with the dilemma of cramming four backpacks, four instruments, a few extraneous bags and coats, and a bag of chips into the miniscule trunk of a Subaru Impreza, four split-enrollers reminisce on how nice a van would be.
Sixty-four Community High School students currently split enroll between Community and another Ann Arbor public high school. Split-enrolling is the practice of taking a number of classes at one school while taking the rest at one's base school. These sixty-four students currently split-enroll with Community as their base school; students with another base school are permitted to split-enroll to Community. Students typically split-enroll in order to take orchestra, band, choir, or AP classes. Students from other high schools split-enroll to Community primarily for Jazz Band and Dance Body, which are only offered at Community.
According to CHS Counselor Diane Grant, there is a difference between split-enrolling and dual-enrolling. "Split-enrollers take classes at another public high school from Community," said Grant. Dual-enrollers, on the other hand, take classes at a college and Community. "It's a common mis-perception," she explained. Nonetheless, most students use the terms "split-enrolling" and "dual-enrolling" interchangeably.
Transportation
Through the 2011-2012 school year, there were shuttle buses to take students from one school to another. The shuttle bus schedules coordinated with the schedules of the high schools, and were a convenient method of transportation. Senior Allegra Corwin-Renner, who has split-enrolled all four years of high school, benefitted greatly from the shuttle buses her freshman and sophomore years. "My first two years, I always took the school bus that went from here to Pioneer," said Corwin-Renner. A cellist in Pioneer Symphony Orchestra, Corwin-Renner only takes orchestra at Pioneer. Unlike most split-enrollers, Corwin-Renner does not have a lunch forum; she has to get back to Community from Pioneer each day. "I've been in the Anderson forum all four years even though I've always dualed," she said.
Unfortunately for split-enrollers, the buses were a victim of the budget cuts before the 2012-2013 school year. For some, like junior Sarah Toner, this was the end of their split-enrolling. Toner had taken choir at Huron freshman year. "In freshman year they had the buses," she said. "The buses facilitated my dualing." After the shuttle buses were canceled, Toner had no way of getting over to Huron, giving up split-enrolling for sophomore year. Only an opening in her mother's schedule enabled her to start again: "My mom decided she could offer me rides until I got my license," Toner explained. She now takes AP Chemistry at Huron.
The Pioneer students were a bit luckier — five seniors had cars and were able to drive the other split-enrollers to Pioneer after lunch each day. This year, however, none of the seniors who split-enroll currently have both a license and access to a car. Split-enrollers have been forced to find new methods of transportation.
Split-enrollers use various methods of transportation; some either carpool with the few students whose parents can drive their own children to their respective schools each day, or take the city bus. Despite the challenges, split-enrollers more or less accept this system — "I personally don't mind not knowing day-to-day how I'm going to get [to Pioneer]," said Corwin-Renner. Nevertheless, new plans to carpool with other students are typically made each day; students often send texts along the lines of "Do you have space," or search out the split-enrollers with driving parents in the hallways.
Others, such as junior Alec Doss, eschew motorized vehicles and bike from Community to Pioneer. Though biking is a more reliable and constant method of transportation than hitching rides, Doss (who plays euphonium at Pioneer) said it is certainly more dangerous. "You run the risk of riding on downtown streets going quickly," he explained, adding that swerving in and out of traffic and being near large trucks are the most dangerous moments.
Overall, split-enrollers agree that the shuttle buses would make everything much easier. Toner, speaking on behalf of split-enrollers, pleaded, "Bring back the shuttle bus, please!"
Scheduling
Despite the transportation challenges split-enrollers face, Grant feels that the decreased number of split-enrollers this year cannot be attributed to the lack of shuttle buses. "I don't think [the number of split-enrollers] has changed much with the shuttle buses," said Grant. She feels the lack of availability is to blame. The last couple of years, class sizes have risen and the number of classes has decreased. Grant believes this has a particularly adverse impact on split-enrolling.
The counselors always sort problems out, but scheduling can be especially difficult for split-enrollers, who tend to struggle with Community's registration system. Sophomore Nesreen Mattar, a violinist in Pioneer Symphony Orchestra, went as far as to liken registration to the Hunger Games. "They even call it the arena," she laughed. Mattar reported coming out of registration with none of the classes she needed, and only got her classes "by bugging John [Boshoven] and Diane [Grant] every day."
Since Skyline is on trimesters, scheduling is nearly impossible, and split-enrolling to Skyline is virtually non-existent. Grant cited the implementation of trimesters at Skyline as the biggest change in split-enrolling. Sophomore Abe Weiner does not technically count as a split-enroller, since he does not take any classes for credit at Skyline; however, Weiner is joining the Skyline Junior States of America (JSA). "Basically it's a political debate-type club," explained Weiner. Though JSA is not a class, it meets at 2:35 PM on Thursdays — the same time as forum at Community. Being part of Steve Coron's forum, Weiner has been faced with a difficult decision between JSA and his current forum. "It's just hard, because at the end of the day, you want to do it all," he said.
The Perks
Challenges aside, nearly all the students who split-enroll say the upside greatly outweigh the downside. Most students stick with split-enrolling and appreciate the opportunities Community offers to do so.
Split-enrolling is not for everyone, particularly those who do not like the larger schools and their environment. As sophomore Meghan Napolitan put it, "I hated Pioneer with all my heart. I would never go back." Napolitan took German II AC at Pioneer her freshman year. Napolitan is in the minority among split-enrollers, though Grant admits that adapting to the culture of another school can be difficult for the student.
Grant advises students aspiring to split-enroll to be very prepared. "The first thing to do [if you want to split-enroll] is to figure out what you want to take and why," Grant said. She feels that many students believe split-enrolling is convenient or cool. Grant doesn't recommend taking classes at another school just because a student plays a sport there, either.
Nonetheless, most split-enrollers enjoy the time they spend at their second school. Split-enrollers develop a sense of camaraderie with each other. "We have so much bonding time with each other," said sophomore Anurima Kumar, as she talked with several other split-enrollers in the Pioneer band room. Kumar plays clarinet in Pioneer Symphony Band.
Overall, however, split-enrollers agree that the best part about split-enrolling is the classes they get the chance to take. "I can take so many more classes," Corwin-Renner said. As a senior, Corwin-Renner is running out of classes she hasn't taken at Community, and feels that Pioneer provides many more opportunities.
"Dualing can be a stress if you don't know how to handle it," Mattar added. "But it opens up a lot more opportunities for classes."
Toner agreed: "The rigorous AP [Chemistry] class is really wonderful."
Junior Marianne Cowherd, an oboist in Pioneer Symphony Band, summed it up: "Split-enrolling exemplifies Community's ideal of an open campus and gives students an opportunity to pursue their academic interests anywhere in the city. I think it's a really big part of what CHS is."
About the Contributor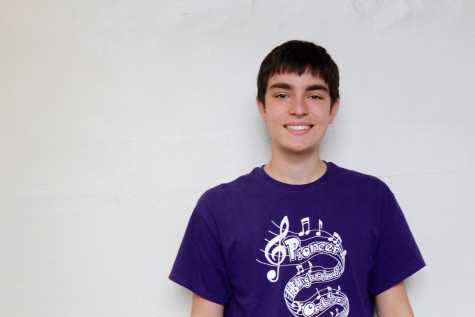 Matty Hack, Editor-in-Chief
Matty is a CHS senior and this is his third year on the Communicator Staff. He is a co-editor-in-chief and can often be found correcting pedantic punctuation errors. Matty also enjoys birds, playing violin and piano, science and petting his cats. He is pro-Oxford comma.