Being Average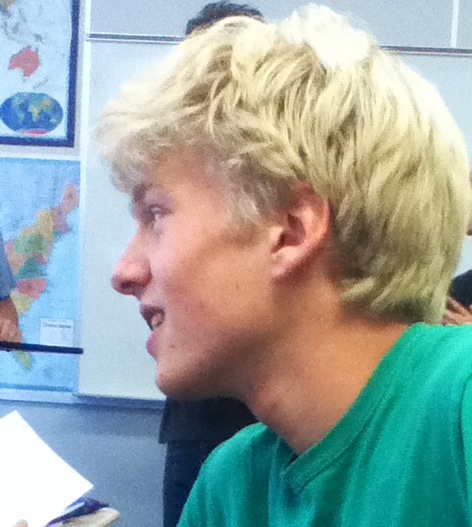 "THEY CALL ME AVERAGE J, AIN'T NOTHING AVERAGE ABOUT ME."
Singer, actor, rapper, runner, baseballer, pianist, saxophonist, logophile, natural blonde (maybe?). Smart, hilarious, talented, likable. How does he do it? What will he do next? How far will he go? How can he be stopped?
Jacob Johnson is a jack of all trades.
"SHOUT OUT TO THE PEOPLE WHO BE TRYING TO DOUBT ME."
Jacob "Average" Johnson's rap career dawned in his third grade year, when his parody of "Crank That (Soulja Boy)" reached school-wide popularity and made him a legend to children grades K-5. Johnson, for reasons he can't explain, left the game shortly thereafter, only to be pulled back many years later at Camp Al-Gon-Quian.
"At Camp Al-Gon-Quian we had something called 'rap battle archery,'" he said, "and in order to fire your bow you would have to rap battle someone." This later evolved into rap battle riflery.
"I soon discovered that I had a great ability to make up useless and otherwise insignificant mumbo-jumbo on the spot," said Johnson. But he, in his words, "signed up for the archery, not the rapping."
"Some bows were aimed, some rifles aimed," he said, "but they could never sting me as hard as my words stung them." Lyrical mastermind Average Johnson was reborn from this darkness.
In February 2013, Johnson brought his talents to Huron's Youth Factor, where he played the piano, the saxophone, sang and rapped in one stellar performance. He ended up losing the contest and the $100 prize, but he succeeded in making "Average J" a household name.
"LIKE A PENCIL I'M ON POINT, MAN. NOTHING EVER SPOKEN WRONG."
Jacob's love for wordplay stemmed from his love of words. If you follow him on Twitter you already know about the Jacob J Word of the Day; an online education program equal to Khan Academy and Wolfram Alpha combined. Johnson uses the internet or a good, old-fashioned dictionary to find long and unusual words, and sends them straight to your computer screen.
The Word of the Day is reliable. Some days it doesn't come until midnight, but it is always accurate.
"It all started back when I was in sixth grade. I was doing a film camp at the Michigan Theater when an idea struck me," Johnson said, "a dictionary hit me over the head, and I was rendered unconscious for about three hours. When I woke up, I saw the dictionary lying open in front of me and I was struck with a brilliant realization. What if every single day I could learn a new word in the English vocabulary? The Jacob J word of the day was born. And so was the idea of paying hospital taxes."
Jacob sees the word of the day as a way to give back to the community.
"That's all I really want," he said.
"RHYMES BE EVOLVING, YOU CAN CALL ME A POKEMON."
So what's next for Jacob Johnson? He plans to release his debut mixtape in the upcoming year, and the word of the day grows stronger with each post. You may see him playing the saxophone at a local restaurant, or you might catch him this spring as Pioneer's premier left-handed pitcher.
One thing is certain: there's nothing average about him.