Michigan Basketball Regular Season Preview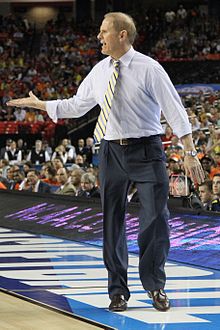 Tonight, Nov. 8, a new banner will rise to the rafters of Crisler Center in commemoration of the 2012-2013 Michigan Basketball team's run through the NCAA Tournament. The celebration of all the hard work of last year comes on the eve of Michigan's first regular season game against University of Massachusetts Lowell.
Michigan has undergone a multitude of changes since last April. Losing their ace point guard and their defensive general to the NBA, in addition to the graduation of five seniors could prove detrimental for many teams, but the Wolverines look to continue their excellence into 2014. When asked about his team's goals for the season, Coach John Beilein was straight forward, "I think it's just champions. What we're gonna say as we go out on the floor is champions." Although his goal may seem overly brash, it's not. Beilen is known for being a level headed guy who promotes fundamental basketball and strong leadership. "What's the next thing you can win? What are you trying to be a champion of? You can't be talking about the Final Four when you still have to go to Puerto Rico [tip-off]. Be champions of this game."
Beilein is not concerned about the skills of his young team which, includes five sophomores and six freshmen. He has been impressed by the increased confidence of Glenn Robinson III, "It's a good problem to have that he is more team orientated," he said of the sophomore forward. Robinson's confidence has already been shown in games, he lead Michigan in their slaying of Concordia by scoring 33 of the teams 117 points. He again posted double digits against Wayne State.
Derrick Walton Jr. has proven himself capable of filling the shoes left behind by Trey Burke. The freshman, who took the starting job of Spike Albrecht in Michigan's second exhibition game, has a much different style then Burke but is proving plenty effective. "I think they have a lot of same qualities, but they are different players. I think Derrick is much more 'I'm going to make the right play'," said Beilein. Walton Jr. is much more of a distributor, which was on full display against Wayne State, as he helped four players reach double figures. He is also a force to be reckoned with on defense.
Tim Hardaway Jr. was the rock of Michigan's defense last season, and with him gone to the New York Knicks and Mitch McGary benched do to a nagging back injury, it would seem as if Michigan should be struggling defensively. Walton Jr. has put actions behind his mantra of not being scored on. In addition, Nik Stauskas and Caris Levert have both emerged as active defenders. "Caris is really taking over that role [as a defensive leader]. We can put a defensive team out there that's really good. We can put four or five guys out there that can really guard somebody," said Beilein, who believes Michigan has the potential to be a better defensive team this year than they were last season.
McGary remains the question mark for the maize and blue. He is expected to return by December, however that won't be in time for the Puerto-Rico Tip-off, a tournament that includes members of last years NCAA Tournament, VCU and Georgetown. As long as McGary makes a full recovery, it looks as if nothing can stop the boys in blue on their march towards being champions.
* Brad Anlauf was added to the roster as Michigan's fourth walk-on for the first regular season game of the year. Anlauf was a previous member of the Michigan Football team.