Community High Forums Raise Money for Food Gathers
On Tuesday, November 12, forums crowded into the theater to hear Mary Schlitt, Director of Development for Food Gatherers, talk about the organization and how students can raise money to support food needs in Washtenaw County. "The easiest and fastest ways to raise money is to ask people you know" Schlitt said, "but before you do that you have to be informed and know a little bit about the organization so people should go online and visit Food Gathers website look at a couple materials, learn a little bit about us, just go and ask your friends and family if they will contribute and make a donation."
 Founded 20 years ago by Zingerman's, Food Gatherers has since delivered 60 million lbs of food to people in need. The food that it gathers is distributed through 150 other nonprofit organizations such as Ozone house, Meals on Wheels, Catholic Social Services, and the Delonis Center. Food Gatherers rescues food that has not expired but would otherwise be disposed of to lighten inventory. This food comes from 300 grocery stores every day of the week and year, supplying 70% of the total food gathered yearly.
Community High School students Cody DeVee and Dylan Stephens shared about the ways in which they were able to raise significant amounts of money for Food Gatherers last year. While Devee raised money by going door to door and requesting donations, Stephens collected cans and bottles from his neighbors to turn in for recycling. He chose this method as an alternative to asking for direct donations, knowing that some of his neighbors might be suffering from economic difficulty.
For four years CHS students have been raising money to donate to the organization, but as Schlitt informed students, local food needs have changed drastically in the past year due to national budget cuts to SNAP made on Nov. 1. SNAP, formerly known as Food Stamps, will provide 10 million meals less this year locally and 3.4 billion meals less nationally. This means that Food Gatherers and other similar nonprofits will be depended on more heavily to supply food than in previous years.
As Schlitt explained, donating to Food Gatherers is an efficient way to help counter that loss of 10 million meals locally, because every dollar donated supplies three meals. Thanks to the generous work of volunteers, who do 70% of the woork, Food Gatherers is able to maintain this efficiency by having just twenty-four full time employees. Schlitt is one of those employees and she chose to work for Food Gatherers because she likes the direct service model of the organization.  "I get to interact with people everyday, not only the people who receive services, but the volunteers and the donors that make alleviating hunger possible in our community," Schlitt said.
Schlitt enjoys being a part of the yearly ceremony at CHS to celebrate students giving donations to Food Gatherers. "What really inspires me is how much people cheer on their classmates when they raise money. It doesn't matter how much it is. When they get up and talk about the inventiveness of how they asked for money and the ways that they raised it, people are so excited and eager and cheering on their classmates. It is an emotional experience and when people share their stories of why they thought it was important to raise money it inspires me as well." Ideas for fundraising, as she told students, are "only limited by your own creativity."
 After the kickoff, many forums discussed ideas of how they might raise money. The Dudley forum first talked as a whole and then split up into smaller groups to come up with more ideas and how they might be carried out. Ideas discussed included selling coffee, having a bake sale, gathering cans, asking for direct donations, and possibly playing jazz at a local Cafe. Junior Lydia Evans said she plans on selling Coffee, and possibly tea or hot chocolate at school in the mornings. If all goes well she will be playing jazz with other forum members at Cafe Zola where they played to raise money for Food Gatherers in past years.
About the Contributor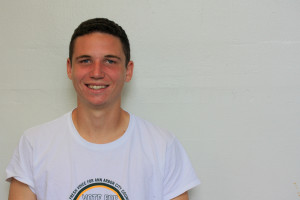 Kevin Turnbull, Sports Journalist
Kevin is a senior at Community. He has been on staff for two years, and plays soccer for Huron. Kevin is a sports writer. He also enjoys long walks on the beach and roses are his favorite flower. He won't walk with Fernando, as Fernando's walks are too short.