"The Legend of Zelda 25 Anniversary Special Orchestra CD" Hyrule Symphony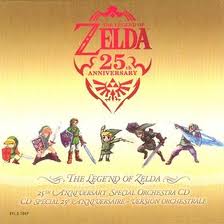 Jasmine Chang
December 5, 2013
If one had no idea what they were listening to, they might think the music is classical, like Mozart or Beethoven. There are no lyrics, no swing and no modern feel. The songs are performed by a full orchestra. But, this orchestra is different, it's the Hyrule Symphony Orchestra, a group only playing music from the video game series The Legend of Zelda. Their soundtrack, "The Legend of Zelda 25 Anniversary Special Orchestra CD," was released alongside "The Legend of Zelda: Skyward Sword," to show appreciation to the fans of the video game series. The pieces, ranging from intense battle themes to soft melodic songs, were all classics any fan would recognize.
Perhaps the most touching song of the album was "The Legend of Zelda Main Theme Medley." The main theme, originally composed for the first game of the series, recurred in many Zelda games with slight variations to them. It is a song with a triumphant vibe, fitting of a hero. The medley brought together all the variations to create a song that is more intense than before. Although the beginning of the piece was solemn, the arrangement was well done, as it fully utilized the ability of an orchestra to change in volume and style to produce a powerful ending.
The other medley, "The Legend of Zelda 25th Anniversary Medley," was a collection of the finest music appearing the Zelda series. Despite the wide variety of the songs, no transition felt awkward. A strong section, played at fortissimo by horns, could melt into a sad solo played by a violin. The differing styles change the mood throughout the song several times. Like a roller-coaster ride, the medley goes through many ups and downs even a slight pause- to arrive at a peaceful finish.
The two symphonic movements in the soundtrack were both game specific. The musical style of each piece was similar to that of the game it was derived from. "The Wind Waker Symphonic Movement" boasted a more carefree feeling in accordance to the ocean concept of "The Legend of Zelda: The Wind Waker." In contrast, "Twilight Princess Symphonic Movement" was darker and more mysterious, like "The Legend of Zelda: Twilight Princess."
Some songs were deemed the best of the best, and were given a spot of its own in the soundtrack. "Kakariko Village" had a smooth line produced by string instruments. "Gerudo Valley" presented blasts of sound, giving off an energetic feeling, but with hints of weariness. "Great Fairy's Fountain Theme" featured an impressive harp solo, combined later with vocals and flutes. "Ballad of the Goddess," also beginning with a harp solo, gave a proud feeling of accomplishment.
With many different styles, transitions and techniques, the Hyrule Symphony Orchestra has captured the many different sides of Zelda. The songs were performed to set people's hearts soaring, and the orchestra has succeeded. Fan of Zelda or not, "The Legend of Zelda 25 Anniversary Special Orchestra CD" will open a vast new world.