Michigan vs. Ohio State: Win, Lose or Draw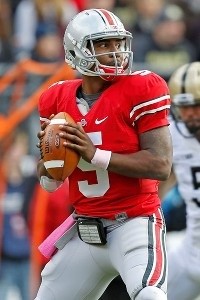 Hang on for a minute...we're trying to find some more stories you might like.
On Nov. 30 the Michigan Wolverines and the Ohio State Buckeyes faced off in what is undeniably the biggest rivalry in college football. Known to fans simply as "The Game", the match has been won by OSU eight of the last nine years, and after the year Michigan has had, this didn't seem like it would change.
OSU is undefeated under their new Head Coach Urban Meyer for the last two years. Michigan, recovering from the "Rich Rod" era under Head Coach Brady Hoke, was 7-5 on the season and only won three of their games comfortably. Offensive Coordinator Al Borges was criticized most of the season for his questionable play-calling, but against a bitter rival he somehow fabricated the best-called game of the year.
Michigan, despite being the clear underdog, went into the game fixed on ruining OSU's potential perfect record in the last regular season game of the year. Michigan came out strong tied 21-21 at halftime. Both offenses were executing at a high level with Michigan's Devin Gardner passing for 451 yards and OSU's Carlos Hyde rushing for a combined 379 yards.
After coming back from a 14-point deficit and scoring three touchdowns in the quarter, Michigan's coaches faced a tough decision: should they kick the extra point and send the game to overtime or go for the two point conversion and decide the game right then and there. Hoke went to his seniors to help make the decision as it would be their last game against OSU.
With Gardner in the shotgun, Fitzgerald Toussaint in the backfield protecting him, and three receivers stacked to his right, Michigan decided to go for the win. Gardner looked to Drew Dileo who ran a short hitch route and fired, only to be picked off by an OSU defender, effectively ending the game.
Much backlash immediately flooded into the sports media world as to whether attempting the two-point conversion was the right decision and many people's first thought would be to tie the game and take your chances in overtime. Had the coaching staff settled on kicking the extra point, the game would've likely be won by OSU in overtime. The key to winning in overtime in college football is a strong defense and a competent offense. While both teams had high-caliber offenses, the Buckeyes superior defense would've been the deciding factor. Going for two gave Michigan the best chance of winning the game, and Brady Hoke should be commended, not ridiculed, for his brave call.