Wolverines Establish Dominance in Big Ten
On Jan. 25, the Michigan Basketball team visited the third ranked Michigan State Spartans in East Lansing. A hard-fought battle from both teams resulted in the Wolverines winning 80-75. MSU fans credited the loss to the absence of Adreian Payne and Branden Dawson to injury, but Michigan was without starter Mitch McGary as well.
As the Spartans traveled to Crisler Center on Feb. 23, Payne was healthy, and each team had one high-impact starter on the bench: no excuses. State came out swinging and took control of the boards early. Adreian Payne made an impact rebounding as he amassed 11 of the team's 13 rebounds and 12 points for a double double.
After ten minutes of play, MSU was up 22-11 and Michigan looked lost and out of sync. Moments later though a steal by Zak Irvin and immediate 3-ball by Spike Albrecht sparked a 10-0 run.
With 0:03 left in the first half, Caris LeVert nailed a three-point jumper to make it 36-34, Michigan State's lead. A shaky first half transformed into a game to be taken by whoever wanted it more.
Nik Stauskas opened up the second half by tying the game up 17 seconds in. He soon caught fire and took control of the game. By the time Stauskas had 12 second-half points, Michigan State's entire team had 12. With this momentum and the first Michigan lead in over 26 minutes, the Wolverines went on a 13-0 run that opened a game-winning gap.
The story of the game for Michigan–usually shots from beyond the arc–was the assist to turnover ratio. This is evidence of the playout of the game, as the Wolverines has 15 assists and only three turnovers and State had one turnover for every assist.
Nik Stauskas was named the Big Ten player of the week (25 pts. 5 asst. 3 reb.) after his critical second-half performance. Denzel Valentine made the biggest impact for MSU (13 pts. 3 asst. 8 reb. 1 blk.). Michigan is currently the only team in the big ten with a better winning percentage in the Big Ten than overall. They are precariously balanced atop the conference after a tough stretch of games. The Purdue Boilermakers host Michigan Feb. 26 at 7:00.
About the Contributor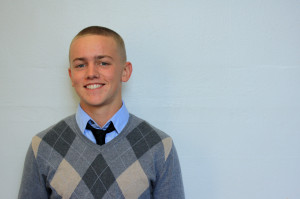 Gabe Kardia, Sports Journalist
Gabe is a junior in Haidu-Banks forum and this is his second year on Communicator. He commonly covers Michigan Football and Basketball, the Detroit Lions and Tigers and various local sports happenings. He plays football and runs track for Skyline and in his free time enjoys swimming, biking and watching How I Met Your Mother.