Winter Weather Hits Ann Arbor Hard
During many days of the 2014 winter, an important winter necessity has been missing from the shelves of many stores in Ann Arbor – salt. "We have been out for a while, we just got some in this morning, and it's all sold out," one Ann Arbor Meijer employee said. The explanation for the salt shortage at many stores in Ann Arbor is clear: people are panicking because of the extreme temperatures and weather. "Every time we get a shipment in, it's pretty much gone by 10:00 in the morning," said a Target employee. Supermarkets like Meijer and Lowe's have ice-melt, a melting compound, but most stores have been stripped of their salt supply.
The salt shortage epidemic isn't just affecting individuals and stores. Many cities have been running low, and it could be making driving on the roads more of a gamble.
As temperatures have been dropping surprisingly low, many schools across Michigan have closed. Community High School has had four snow days total, and other schools around the state have cancelled school more than that. Michigan law states that schools can cancel a maximum of six days in order to receive funding from the state. After that, they have to start making up time. The night of a snowstorm, many students are left wondering if school will be in session the next day.
The hype surrounding snow days has existed for a long time. When David Sukhin of New Jersey was in sixth grade, he found himself asking this question. "I wanted to see if I could predict a snow day the next day," Sukhin said. Eventually, he developed an algorithm that predicted the probability of a snow day. His original idea developed more, and he put it online for everyone to use, and it's what is now known as the "Snow Day Calculator." The device uses data from weather.gov to predict if there will be a school closing. The calculator has gained popularity over the years due to student curiosity. "When there are snowstorms, about a quarter million people go check their predictions," Sukhin said. Now, a sophomore at MIT, Sukhin still works to improve his calculator. "[I am] improving the algorithm and getting it to learn on its own," he said.
Some Community students use the calculator, and have had an exceptional number of opportunities to benefit from it this winter. "[I used the calculator] probably this year when we had the three snow days," said Natalie Bullock, a freshman at Community.
The bad weather that has warped Ann Arbor has left parents worried, and students constantly anticipating a day off. Ann Arbor had a record total snowfall of 37.8 inches in January alone. And according to "Weather Underground" and the "National Oceanic and Atmospheric Administration," this recent cold weather and excessive snow isn't exactly normal. Part of the polar vortex (a low pressure area near the North Pole) that is usually located over Siberia and northern Canada, broke off and is currently located over Michigan and part of Canada. The result is the cold air and snowstorms that have hit much of the United States.
Frostbite worries and concern for hypothermia might come to a halt soon however, because spring is less than a month away.
Sources:
http://www.nbcnews.com/storyline/deep-freeze/pinched-salt-shortage-leads-dangerously-slippery-streets-n22516
http://www.crh.noaa.gov/eax/?n=polarvortex
http://www.wunderground.com/news/polar-vortex-plunge-science-behind-arctic-cold-outbreaks-20140106
http://www.mlive.com/news/bay-city/index.ssf/2014/01/mid-michigan_school_districts.html
http://www.mlive.com/news/ann-arbor/index.ssf/2014/02/ann_arbor_sees_record_snow_fal.html
About the Contributor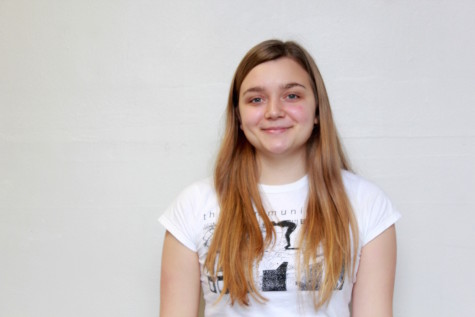 Sophia Werthmann, Editor-in-Chief
This will be Sophia's third year on staff. Her favorite things include 80 degree weather, acting, playing piano and bulletproof coffee (coffee, coconut oil, butter).