Community Kitchen: Tracy's Grandma's Chocolate Chip Cookies
The Communicator Online is beginning a new feature segment: Community Kitchen. We hope to bring together recipes from teachers and students at CHS and share them with our readers. If you have any special family recipes and/or stories to share, please send them to chscommunicator@gmail.com
CHS English teacher, Tracy Anderson, brought in a mouthwatering batch of chocolate chip cookies for students taking the MME in her room on Mar. 7. These treats not only brightened the strung out standardized-test-takers, but continued a tradition begun by Anderson's grandma many years ago.
"When I was growing up," Anderson said, "my grandma would always make these cookies at our family cottage in Spread Eagle, Wisconsin.  We would swim all day, and she would surprise us with warm cookies mid-afternoon.  We would sit on the porch and eat as many as we could.  She always made us wait 30 minutes before we went back into the water."
Here's the recipe:
2 sticks of butter (real, unsalted butter)
3/4 c. white sugar
3/4 c. brown sugar
2 eggs
1 tsp. salt
1 tsp. baking soda
1 tsp. vanilla
2 1/2 cups of flour
2 cups of chocolate chips
Take the butter out and let it soften for a few hours.  If you don't have a few hours, just stick it on top of the oven when you turn it on.  Put the butter in the mixer and let it go for a few minutes.  Add the white and brown sugar.  Let it go for a few more minutes.  Let it get nice and soft.  Add two eggs.  Beat for 15 seconds or so.  Add the salt, baking soda and vanilla.  Beat for another 15 – 30 seconds.  Add the flour in a few parts.  Keep on mixing it until it looks like perfect cookie dough.  Add two cups of chocolate chips and stir it all up.  Spoon onto a cookie sheet.
Bake it between 325 and 350.  It usually takes around ten minutes.  If they are still a bit mushy in the middle, that's ok.  Let them sit on the cookie sheet and they will end up perfect.
Dip them in milk for an exquisite afternoon snack.
Leave a Comment
About the Contributor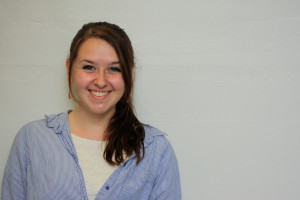 Hannah Hesseltine, Journalist
Hannah Hesseltine is a senior at Community High School beginning her first year on the Communicator staff. Although her passion lies with musical theatre, she is thoroughly interested in writing and hopes to further this additional love as a journalist. Outside of class, Hannah is deeply immersed in the arts at both CHS and Pioneer High School. She has participated in numerous musical productions with Community Ensemble Theatre and Pioneer Theatre Guild and sings in the PHS A Cappella choir.