Richard Sherman: A Quarterback's Worst Nightmare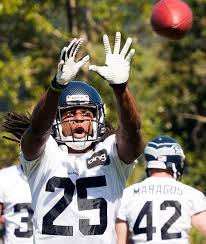 "Well, I'm the best corner in the game! When you try me with a sorry receiver like Crabtree, that's the result you gonna get! Don't you EVER talk about me … don't you open your mouth about the best. Or I'm gonna shut it for you real quick." Richard Sherman, all-pro cornerback of the Seattle Seahawks, said this to Erin Andrews after a playoff game against division rivals the San Francisco 49ers. The game took place on January 19th, in Seattle. This bold statement got him into hot water, but if you look at the stats, he has the numbers to back up his statement.
Like everybody, Sherman has flaws. One of his biggest problems this year was covering smaller receivers. In week five, against the Indianapolis Colts, Colts receiver T.Y. Hilton burned Sherman for 140 receiving yards and two touchdowns. Another thing Sherman does is rely on his physical ability to get his body out of position. An example of this is the play where he tipped the ball to Malcolm Smith, who intercepted the ball. His hips are way out of position, but his long arms compensated for it.
In the 2011 draft, Sherman was selected in the 5th round, as the 154th overall pick. He was the 23rd DB taken in the draft and has the most interceptions, and tackles among the defensive backs taken in 2011. Sherman has another weakness: His speed. He runs a 4.54 40 yard dash while Darelle Revis runs a 4.38. I think that this is what is holding him back from being the best without discussion. Most elite corners run sub 4.4 40's. If Sherman wants to take the next step, he needs to gain some speed.
In the 2013, Sherman was the least targeted corner, but he had caught the most interceptions, with eight. He picked off 16% of the balls thrown his way, which is by far the highest percentage in the NFL this year. In his first three seasons, he had more than double the number of picks that hall of famer Deion Saunders. He has also lead the league in picks two of the last three seasons. Since entering the league, Sherman has caught 13 more interceptions than the Revis, who many consider the best corner in the NFL. Last season Sherman had six more picks than Revis. But that's not the only thing Sherman has Revis beat on: Sherman has 56 more tackles than him. Sherman's stats aren't marginally better than Revis's, they're a lot better.
People need to give Sherman credit. He's earned it by having the top stats since entering the NFL. It's amazing that within three years of entering the league he's at the top of it.