It's a Privilege to Pee at CET: URINETOWN in Full Swing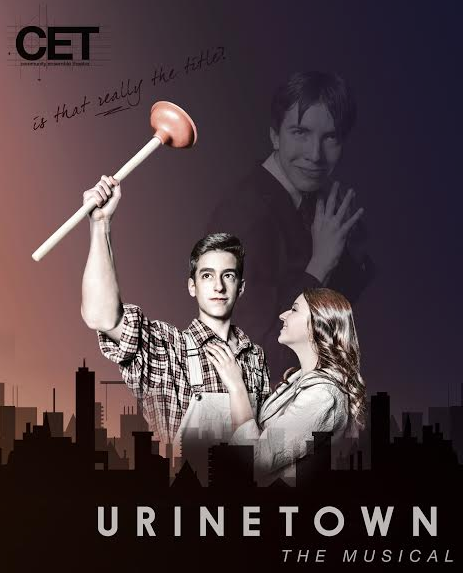 Every afternoon, Community's Craft Theater is bustling: student actors sing about the right to freely pee amidst the tech crew gluing rusted faucets to the various pipes lining the set. This company is in the final weeks of creating the mythical, mucked-up world of "Urinetown."
URINETOWN: THE MUSICAL takes place in a dystopian society and tells the tale of a young man named Bobby Strong. While all the citizens have suffered through harsh water consumption laws set in place by the carefully cruel Caldwell B. Cladwell, Bobby dares to dream of a better tomorrow for his people. Through a Tony Award-winning score and tear-inducing hilarity, director Quinn Strassel and his largest cast to date aim to show their audiences that URINETOWN is a lot more than a show about pee.
For Strassel, misconceptions regarding the title are a real concern. "I think audiences might look at a show like Urinetown, not knowing anything about it and how funny it is, and say: 'You know what, if I can miss one, maybe it's the one with Urine in the title.'"
However, those involved in the process know how special the production will be. CHS Sophomore Milo Tucker-Meyer is portraying the villainous—and hysterical—corporate tyrant, Cladwell, and is optimistic about next week's performances.
"I mean, just look at the poster," said Tucker-Meyer, "look at my face, look at Isaac's forearm—it's gonna be fun."
As the 20th show on Strassel's directing resume and part of his fourth year at CET, URINETOWN will represent a huge achievement for Community High School's theatre arts organization.
"This show is the culmination of a lot of the work we've all been doing for the past four years to build this program into something really special," Strassel said.
When he got here four years ago, CET didn't involve nearly as many students, and has since evolved into a well-oiled machine. This show will be a chance to show how the program has matured and how professional it has become.
"I think it's just an extraordinary show with an extraordinary cast and crew," said Strassel. "I'm really proud of where we are as a program, and what this show is going to be."
Although Strassel is optimistic, he and his production team have had to face a few setbacks. Due to unexpected number of snow days in the Ann Arbor Public Schools, the cast lost a week of rehearsals from an already tight schedule. Furthermore, undergoing the culmination of singing, dancing, and acting that musicals demand has never been easy for CET.
"The biggest challenge for us is always the music," Strassel explained. "We don't have the choral program to support a musical, so for us it's always about, 'can we get 40 people to sing and learn all the music?' That is always our big challenge."
Luckily, Strassel has a secret weapon: a miraculous music director. Brian Rose has been involved with CET since 2012. He has directed both the cast and the pit orchestra in CET's past productions including AVENUE Q, EVITA, and served as the vocal coach in last year's presentation of student-directed work, JUST DESSERTS.
 "Brian Rose is extraordinary at getting the best out of our group," said Strassel. "Even though [music is] our biggest challenge, I also think it's something we're going to do really well."
Rose has been a special asset to students like CHS junior, Ben Wier. In his third CET production—and his very first musical—he has taken on one of the leading roles. After playing police officer, Connor, in CET's fall production of BOB: A LIFE IN FIVE ACTS, Wier is reprising his performance this spring as Officer Lockstock, the pompous narrator of URINETOWN.
"I've never done a musical before," said Wier. "I've never had to sing and dance while acting. Memorizing lines while looking like you mean it—that's the toughest part."
Wier and the cast have spent the last two months meeting these challenges—perfecting the music, the choreography, and the layered comedy that gives URINETOWN life.
"I hope our full community comes out to see it," said Strassel. "I'm just looking forward to seeing all the talent and all the positive energy that we've built manifest itself into a show that's really going to knock people's socks off."
Come see URINETOWN: THE MUSICAL at Community High School on 3/21 at 7:30 PM, 3/22 at 1 PM and 7:30 PM, and 3/23 at 2 PM. Tickets are available online at www.showtix4u.com: $8 for students and $12 for adults.
Leave a Comment
About the Contributors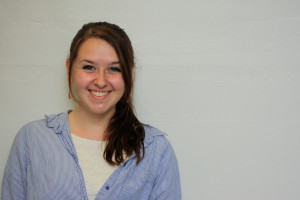 Hannah Hesseltine, Journalist
Hannah Hesseltine is a senior at Community High School beginning her first year on the Communicator staff. Although her passion lies with musical theatre, she is thoroughly interested in writing and hopes to further this additional love as a journalist. Outside of class, Hannah is deeply immersed in the arts at both CHS and Pioneer High School. She has participated in numerous musical productions with Community Ensemble Theatre and Pioneer Theatre Guild and sings in the PHS A Cappella choir.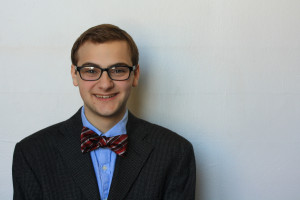 Oren Steiner, Journalist
Oren joins the Web staff after his journalism debut last semester on Print. He is a senior at CHS and participates in theatre at Community Ensemble Theatre and Pioneer Theatre Guild. Oren is an Agnostic Pastafarian and enjoys eating popcorn!