Sean Jacobi Wins Best in Show
Photographs by Sean Jacobi
They/Them/Theirs used as a singular pronoun
The Potential art show was judged this past weekend, and Community's own Sean Jacobi won the top award. Potential is an annual event at the Ann Arbor Art Center, which was co-sponsored by the Neutral Zone this year. Works are submitted by high schoolers all over Washtenaw County to one of four categories: best jewelry, best two-dimensional work, best three-dimensional work, and finally, senior portfolio, where seniors are allowed to submit four works. Jacobi submitted four photographs for the senior portfolio award, and won best in show.
For Jacobi, winning this award means much more than being a good shot. "Photography has always been one of my passions," Jacobi said. "When I was seven, I got a really cheap camera, and I fell in love. Whenever I am stressed out, I go for a walk and take my camera. I guess in a way, my camera and my art are extensions of me. When I won best in show, I was overjoyed, for not only was my art validated, but I was."
Oddly enough, Jacobi almost didn't enter the show at all. "I have to really thank my teacher, Steve, and my best friend and partner, Max Bonilla and Charlotte Wolf (respectively), for always believing in me," Jacobi said. "Originally, I wasn't even going to submit to the show because I thought I wasn't good enough. Through the whole way, they pushed me and told me I was."
Steven Coron, Jacobi's art teacher, couldn't be more proud of them. He urged Jacobi to enter, and he was ecstatic when he found out that Jacobi had won best in show. "I think the reason why Sean won this award is that all their pieces are really well-done," he said. "They had a nice variety of genres of photography. I think that's what's most compelling about their work in my class: their sense of composition. You can tell they really know a lot about it, and they've been paying attention when we talk about composition. They're really nailing it. I'm so happy for Sean."
People have asked Jacobi what the meanings of their photos are. Although Jacobi has a direct answer, it's not what the asker typically expects to hear. "Many people ask, 'Oh, what's this mean? What's the story behind this photo?' and I always laugh, because that's my point. I want everyone to take what they want from my photos – they are all stories. A picture of legs and arms on the beach could be a depiction of the human form to one person, or a story of building a sandcastle to another. It's about the mystery and connection."
Winning best in show isn't just an honor for Jacobi; it's a gateway to their goals. "It's my dream to be a photographer, so this was a major morale booster. This experience has been amazing, and I now know I have what it takes to achieve my dreams."
About the Contributor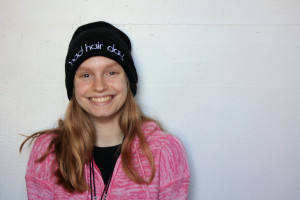 Alona Shewach, Journalist
Alona is a senior who started on Print this year and transitioned to Web as well to help out.