Getting to Know Jenny Imperiale
Jenny Imperiale knew it was going to be hard getting a job. She graduated from Eastern Michigan University in the middle of the school year, recognizing that it is very difficult to get a teaching job at that time of year.
Her luck changed when Community High School science teacher Courtney Kiley (who is currently on maternity leave) called Imperiale, offering her a job as her long-term substitute for the remainder of the year. Kiley had heard about her from Mike Gottliebsen another substitute at Community as well as a coach for Pioneer's Water Polo team.  "I was very excited because I didn't expect to get a job," said Imperiale.
That phone call started Imperiale's first teaching job. She grew up in Ann Arbor and attended Pioneer. "I really was not that interested in science while I was in high school because we never really went into depth into anything," said Imperiale. However, when she went to the University of Michigan, she was able to go in depth into biology, which sparked her interest. After she went to the University of Michigan as an undergraduate, she went to Eastern Michigan University, where she obtained her education degree.
Now, she is at Community, and loves it. "The kids have been great since the first day. Everybody has just been very welcoming and kind," said Imperiale.
She does, however, think it is different from Pioneer, where she was a student teacher and the two other major high schools in Ann Arbor. But this is a difference she has enjoyed. "There is more trust here between the teacher and student than at Pioneer, where you have to get a pass just to leave the classroom," said Imperiale.
Some of the negative stereotypes about Community that Imperiale heard growing up have also turned out not to be true according to her. "When I was growing up, Community had this reputation to be more of a laid back, chill school where kids smoked weed but being here now I know that it is not that type of school," said Imperiale.
Even though Imperiale feels that Community may be more of a relaxed school, the block scheduling and unique curriculum that Community's science program offers allows kids to learn a lot according to Imperiale. She enjoys the curriculum at Community because it integrates all the different sciences together, and she believes that science itself is integrated, so it should be taught that way. She also likes the block scheduling because it gives time to do beneficial labs that other high schools in Ann Arbor simply don't have the time to do.
Even though Imperiale is happy to have a job and be at Community, she has encountered some challenges. "It is difficult coming into a class in the middle of the year because the teacher has established relationships with their students and having someone new come in can shake that up," said Imperiale. Although she enjoys the extra time block scheduling allots, she also finds it difficult getting used to the fact  that on one day she is teaching one subject, and on the next she may be teaching a completely different one. The final challenge that Imperiale has encountered has just been taking on the massive workload that Courtney has, teaching three different subjects.
"I've never had to do three preparations before, only one, so it has been difficult getting used to that," said Imperiale.
Outside of school, Imperiale enjoys being outside with her dog and knitting. She also likes to bake and cook,  especially cookies.
She also has the unique talent of having a photographic memory. This allows her to recognize people's faces even if she does not know their name. "In movies, I'm really good at picking out actors that have been in other movies and even though the people with me might not agree, I am right," said Imperiale.
Imperiale has embraced the difficult role of Kiley and has done so with success. She looks forward to getting to know the students better as well as the school. Imperiale is glad she has had this opportunity to teach at Community and in future years would love to stay a teacher in the district. But for now, you can catch her in room 318 or at Zingerman's Deli, her favorite restaurant in the area.
About the Contributor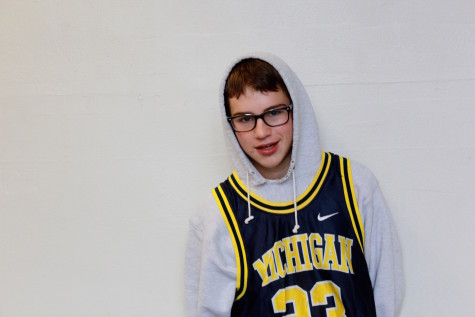 Abe Weiner, Business Manager
This is Abe's third full year on The Communicator. As the business manager, he is looking forward to maximizing The Communicator's financial intake.