A Tradition Unlike Any Other: The Community 3v3
Originally published on May 5, 2014:
With May comes Spring, and we all know what spring time means to the back lawn of Community High: The annual 3v3 tournament.
 The basketball court, with it's shattered backboard and uneven pavement, becomes a flurry of activity every lunch, with men and women competing for the pride of being the best basketball players in a school where everybody is quite mediocre.
Senior Quentin Faro, who is participating in this year's event, said "It's a fun, Community thing, that only we do as a school."
Even the teachers get in on it. Senior Casey MacDonald has teamed up with long-term FOS sub Jenny, english teacher Tracy, and FOS teacher Marcy. They may not terrify you with their skill, but their ability to give you zeros if you beat them certainly does.
 Jenny is relatively new to the school, and she had some doubts when MacDonald first approached her about playing "I was a little nervous, I haven't played basketball since middle school and I wasn't any good back then. I also don't know any of the rules, except for traveling, so I'm just gonna make it up as I go." When asked about her expectations, she gave me a wry smile and just said "I'm expecting to have a good time and not get trampled"
This year's tournament consists of 22 teams in a double-elimination style format. This format gives the teams a little leeway, because you have to lose twice to be knocked out.
It promises a lot of yelling, a few scraped knees, and always some dramatic finishes. Come out and cheer on the cute boys(or girls, if you're into that sort of thing)
About the Contributor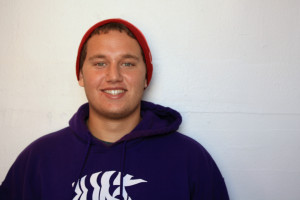 Emre Babbitt, Sports Journalist
This is Emre's first and last semester in Communicator. As a second semester senior, he plans on not doing a lot. Including this profile. He's only really doing it because Sophia won't stop bugging him about it. He's a cool guy, and a very eligible bachelor. Ladies, get on that.