Underclassmen Hoop Dreams: 3v3 Basketball
Every March, America hovers around their TV's to watch March Madness, the ultimate basketball competition. Every May Community High students hover around the Back Lawn, more specifically the black top to watch teams of three compete in the annual 3v3 tournament.
As a junior, this will be my third year playing in the tournament. I have gone through the terrible freshman year games when I was too short to get any rebounds, the slightly better sophomore year when I wasn't quite as strong to play with the upperclassmen, but I still had pride on the line, and now junior year. My team finally has a legitimate shot. We are bigger, stronger, faster, and (most importantly) older.
But why should it matter that I have fought through two tournaments already? Why can't a freshman or sophomore team win the $210 this year?
These are the five underclassmen teams that could surprise a couple of people this May.
1. Dream Team (+ Frances)
Freshman basketball up-and-comer Jack Belden leads his harem of sophomore and freshman girls on the court. Belden, Sophie Steinberg, Helen Kulka, and Frances MacKercher have made some waves already by beating an all junior team in their first game. Belden is the all-time starter and gets inconsistent help from Steinberg, Kulka, and MacKercher. The girls have shown some promise on defense during their second game (a close loss against Nick Midds 5-7). They locked down many of the players on the opposite team, mostly by fouling, but if Fernando doesn't call it then it seems to be a good strategy.
The Dream Team (+ Frances) are still alive in the tournament, but if they lose one more game their upset-hopes will be crushed. Look to see Belden get more and more frustrated as more fouls are called against his teammates, and more and more pessimistic as he can't continue to score all the points for his team.
2. Nick Midds
Nick Middleton, Graham DePriest, Sam Works, Chase Dudley, and Dom DiFranco make up for what they lack in skill by having one of the deepest teams in the tournament. Usually teams are limited to four players, but somehow this team pulled strings to add another member. Nick Midds beat Dream Team (+ Frances) 7-5 in their first game.
Nick Midds started off a little shaky on defense allowing Dream Team (+ Frances) to score on their first several possessions. Middleton was benched after a very sluggish performance on defense, but seeing as they have five people it was not a problem to find a sub for him. DiFranco and DePriest started on the bench and provided support and rests to the other three players. Bench depth proved itself as DiFranco led the team in scoring and Dudley added something more than just points. "I am the strongest player on my team," Dudley insisted before correcting himself by saying "No wait… I am the strongest player in the league. This team could make waves by staying the most rested team in the tournament and possibly the cockiest.
3. Team Loose
Abe Weiner, Sebastian Iniguez, Taylor Erhardt, and Brendan O'Reilly are looking to prove themselves to their upperclassmen opponents. Weiner, the captain, looks to lead his team with charisma, smarts, and tenacity. "Abe's the name and Weiner's the game," is Weiners new chirp. Iniguez is the tallest player, so the others should be leaning on him heavily when it comes to rebounds. Erhardt and O'Reilly will likely lead the team in shooting, with Iniguez being the leading defender and rebounder.
Weiner will help his team with words of wisdom and the swagger of someone two feet taller. If these guys face shorter teams they shouldn't have too much trouble raising a couple eyebrows.
4. Sex Pistols
The Sex Pistols feature a very deadly freshman duo in Ronan Clague and Alex Raschke. The two freshmen have led Alex Wood, the junior, affectionately known as "Woodsie" and James Nedeltchev to two victories so far. Now I know Woodsie is a junior but this is his first year at Community so he is pretty much a freshman. Clague and Alex clearly have some basketball background, for they have made almost every shot they take.
Even though Woodsie stands head and shoulders above the competition (actually he does, he is close to 8 feet tall and he has sixe four shoes) he has had no impact in the rebound department. "I'm my team's best player," says Woodsie, yet he has done absolutley nothing to prove that to us. Woodsie needs to get his act together if he wants the Sex Pistols to advance deeper into the competition.
The Sex Pistols will rely heavily on Clague and Alex as they look to move on in the tournament. The only thing that could inhibit their advance is poor shooting from the freshmen and Woodsie. Seriously Woodsie, get some rebounds.
5. Hali's Hoop Squad
Hali's Hoop Squad, like the Sex Pistols, features a junior, but she never plays. Hali Sturgis is the center of the team, the team is named after her, but she serves mostly as motivation for her team made up of freshmen and sophomore boys.
Sam Rickman, Ryan Watt, and Colin Jones make up the players for Sturgis' team. They aren't the best at basketball, but with consistent support from Sturgis they have found the will to win one of two games (beat Sexy Mofos 7-1 and lost to sportzboise =P 7-2).
Hali's Hoop Squad needs the continued support from Stugis to move on in the tournament. If Sam, Watt, and Colin can channel her enthusiasm into points they might have a chance to win the whole tournament.
These five teams should have the best shot to send the senior teams home early, but it's tournament time, and anything can happen in 3 v 3 basketball.
About the Contributor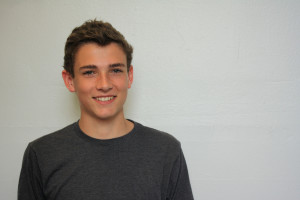 Jack Kozicz, Journalist
Jack is a junior at Community. This is his third year on staff. He writes primarily for the sports section, but also makes videos on all different topics. He rows for Huron and is in the occasional CET play. Jack is an avid ornithologist. You may find him walking along the beach with Kevin.