Bob Ferguson- Experiencing the Korean War from Germany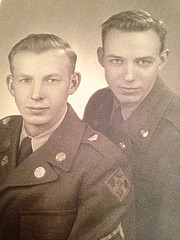 When someone says they were in the army, most people assume they fought. That wasn't the case for Bob Ferguson. He was the first draft pick for the Korean war in the state of Michigan and was sent to Germany to work in psychological warfare. "I was assigned because I had worked in an advertising agency so they knew I was familiar with bullshit," Ferguson said.
Ferguson's job in psychological warfare was to make propaganda. In his case, propaganda was made to convince the opposing side, the North Koreans, to surrender and to generate public support on the side of the South Koreans. The hope was that the North Koreans would hold the leaflets that had been dropped from airplanes above their heads and walk to the enemy lines to surrender. According to Ferguson however, the people that had surrendered would usually be killed. "In real life they would just shoot the guy. They would have to take another prisoner, process them, and keep them somewhere so they'd just shoot him. All's fair in love and war," he said, "and this is the war part."
If someone was drafted, Ferguson's position wouldn't have been a horrible one to be stuck with. In fact, he never even felt endangered. "I never felt like anybody was shooting at me particularly, so no, I did not feel I was ever in danger," Ferguson said. His office in Germany wasn't exactly a scary place to be. Ferguson said, "I think that my attitude toward being drafted or being sent to war was, if it's my turn to go, then accept that and go." He went willingly and benefitted from the experience. The largest benefit of the war were the friends that he has made, some of whom he's still in contact with. One friend he still talks to is David Lillianthall, whose father was in President Truman's Cabinet.  "We just palled around together," Ferguson said.
Ferguson grew up in Detroit during the Great Depression with his parents and his brother, Gordon. Luckily, their family was never in too rough of a situation. His father always had a job and he always had enough food in his belly. "I remember going to school with pants with holes in the knees, but I always had food to eat," he said.
Ferguson might have served in World War II, but they told him he was too skinny, so he waited until the Korean War to have his chance. In the meantime, he spent his days at home working in advertising and doing art, which ended up being his long term professions. He was able to develop those skills even more in Germany. After the war, he opened his own advertising agency called Ferguson Advertising, where he worked until retirement.
Now, you can find Ferguson with his wife, Suzanne, in Ann Arbor, Michigan. He has two sons, two daughters, three stepsons and an abundance of grandchildren. Between growing up during the Great Depression and being a part of the Korean War, he has many stories to tell.
About the Contributor
Ella Mosher, Staff
Ella is a first year staff member for Communicator and a Sophomore. She loves reading and is hoping that this class will get her more interested in writing! She is looking forward to a year full of improvement.